Oh hai.
Welcome to the Slutty Food Blog, where I like to take seemingly boring holiday leftovers and slut them up with a sinful cheese sauce and call it a Kentucky Hot Brown.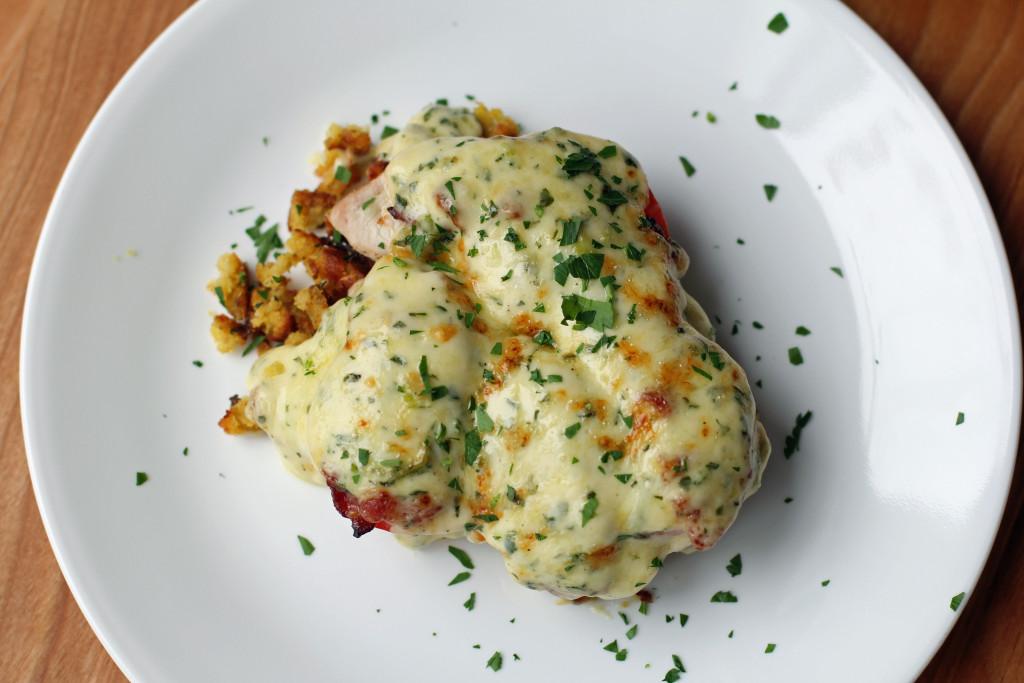 Seriously though – I know these pictures don't tell much of the story, but you will just have to trust me on this one.
This is actually the third recipe I have written down in my notebook to share with you.  About a year ago now, I started planning out how I was going to start a food blog.  I started writing down recipes that I wanted to share and I had lots of recipe ideas that I had yet to execute so had some recipe testing to do – this was the third recipe that I tested and decided, ok, that's it, I've gotta do this food blog thing.  This was the recipe that made me realize that I could wing it and be creative in the kitchen and succeed.  Until last year, I had always thought I wasn't that type of cook.  But this one's a game-changer for me.
So here we are.  These pictures are a year old now, and I've done what I can to spruce them up in Photoshop, but you'll just have to trust me on this one.  I literally couldn't share this recipe any earlier than now because when else do you have leftover stuffing + leftover turkey except this time of year?
(Also BTW PS, I realize I'm a little late to the leftovers game here, please forgive me.  It has been a hectic week.  I need a weekend from my weekend, nomesayin'?)
(Also PPS, because the last 5 days have been crazy city, I didn't get to make this for myself, and now I has a sad, but bonus I have an extra turkey so there is hope for me yet.)
Speaking of which – my extra turkey?  Shout out to Whole Foods Market in Jenkintown for literally saving my Thanksgiving dinner!  So over a month ago now, Whole Foods opened up their holiday ordering program, where you can reserve a turkey, the size of your choice, and select the pickup date so you will be sure to have a fresh turkey for Thanksgiving.  I have done this for about 4-5 years now and I have never once been disappointed in the experience or the quality.  I love having a fresh (not frozen!) turkey for Thanksgiving and will probably never do a frozen turkey ever again.  So anyway, this year we weren't hosting a huge amount of people so we decided to reserve a 7-10lb bone-in turkey breast.  I go to pick it up two days before Thanksgiving, and the biggest turkey breast they had left was 6.86lbs.  At first I thought damnit, that's my fault, maybe I should have scheduled an earlier pickup date.  I was bummed, because to me this meant little to no leftovers.  But as I was driving home I got more and more irritated with this.  What was the point of me reserving it online ahead of time, if I couldn't be sure that I'd get what I'd reserved?  If that was the case, I could have picked up a fresh turkey breast at any point in the year (they sell them year-round), and tossed it in the freezer and thawed it before Thanksgiving.  So I got home and wrote them a letter expressing my disappointment, saying that I would probably go a different route next year if I couldn't be sure I was getting the size turkey I had reserved.  Because let's be honest, anyone that cooks knows you have to plan for 1/2-1 lb per person, and at 6.86lbs, this turkey breast would barely cover it for my feast.
The next day I got an email from the meat department manager, saying how sorry he was that this had happened, and that he had just gotten another shipment of turkey breasts and he put a 9lb one aside for me free of charge.  Dude!  I can't tell you how thankful and grateful I was!  I raced to the store to pick it up and thanked him profusely.  He literally saved my Thanksgiving dinner, and I couldn't have been happier.
This is why I love Whole Foods.  They make things right.  I couldn't be more appreciative.
So yeah, I tossed that 6.86lb turkey in the freezer and maybe I'll make it at Christmas or New Year's or something.
And this Kentucky Hot Brown will promptly follow.  I swear.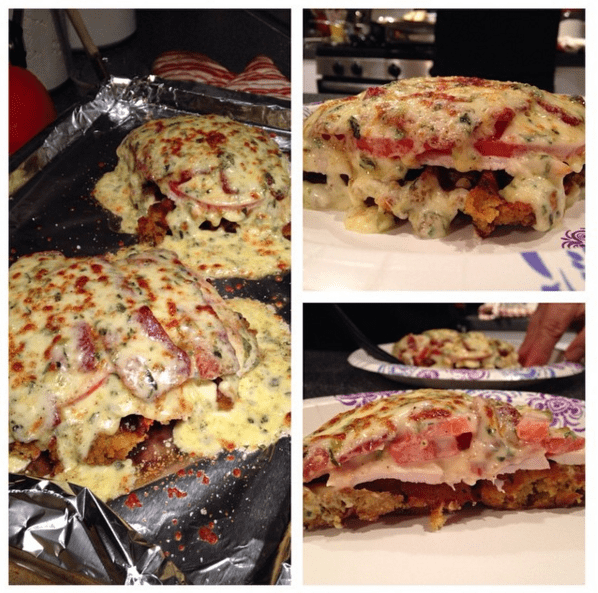 So let's talk about a real Kentucky Hot Brown.  A real Kentucky Hot Brown is an open-faced turkey sandwich topped with bacon, tomatoes, and a decadent white cheese sauce called Mornay sauce.  I was fortunate enough to have a real Kentucky Hot Brown when I visited Lexington in January of this year: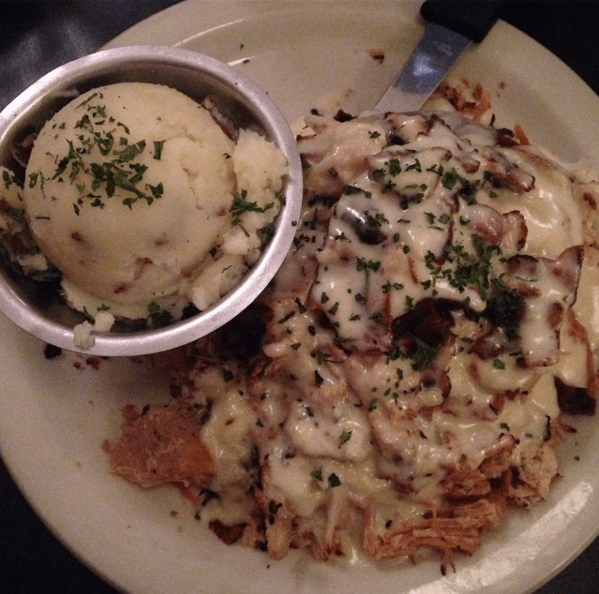 And it was amazeballs.  But before I had a real one, I developed this one, based off of an idea I had.  See my friend Ben had told me many times about the Kentucky Hot Brown, how when he goes home to Kentucky to visit he always has to stop by the hotel where it originated to get one.  I have seen many pictures and have loved it from afar before ever trying it, and then I came up with this slutty version.
We're talking about leftover cornbread stuffing, smashed into a waffle maker to make it crispy.  Topped with layers of warm, tender turkey, and crispy bacon, and juicy tomatoes.  And then blanketed with a thick, cheesy sauce.  A little sprinkle of Parmesan on top, then under the broiler it goes to make it brown and gooey.  And there you have it, a Thanksgiving Leftover Kentucky Hot Brown.
No, it's not textbook and no, it's not traditional but yes, it is sluttacular and yes, it is good and yes you will say oh Cristin, Cristin thank you for sharing this recipe with me.  ?
Add this to your list of Ways to Use Leftovers, and thank me later.  Make this and post it on Instagram and tag me!!  @sluttyfoodblog
Thanksgiving Leftover Kentucky Hot Brown
Ingredients
Leftover turkey (see Notes)
Leftover cornbread stuffing (see Notes)
1 tomato, sliced to your preferred thickness
About 1/2 package of bacon, prepared to your liking (feel free to make more if you're a huge bacon fan)
1/4 cup grated Parmesan cheese
Minced parsley and green onions for garnish
Mornay Sauce:
1.5 tablespoons butter
2 tablespoons minced parsley
1/4 cup sliced green onions
1 tablespoon flour
1 cup heavy cream
2 ounces shredded Gruyere cheese (see Notes)
2 ounces grated Parmesan cheese (see Notes)
Salt and pepper to taste
Directions
1. Start with the Mornay sauce: Melt butter in a saucepan over medium heat, and add the green onions and parsley and saute until the green onions have softened. Add the flour and whisk together, cooking for about a minute. Whisk in the heavy cream, raise the heat, and cook until the sauce begins to simmer and thicken. Once the sauce has thickened, add in both cheeses, and salt and pepper to taste. Whisk until well combined, then lower the heat and keep warm.
2. Reheat leftovers: For the turkey, reheat in the microwave on 50% power until warmed through. For the stuffing, preheat a waffle iron. If you have a Belgian waffle maker, you will need more stuffing, about 1 cup per stuffing waffle. If you have a thinner waffle maker, bank on using 1/2 cup stuffing per waffle. Mound the stuffing in the center, and press down real hard to compact it together. Cook until the stuffing waffle is golden brown – should be however long it normally takes to cook a regular waffle, about 5-7 minutes. When the light goes out, it's probably done, but check it and see. When they are done, remove them to a foil-lined baking sheet that fits into your broiler.
3. Get ready to assemble!: Preheat the broiler to high. On top of each stuffing waffle, layer slices of turkey, slices of tomato, and slices of bacon. Then pour as much Mornay sauce as desired on each pile of deliciousness. Then, sprinkle with some of the extra Parmesan cheese. Broil for 1-2 minutes, but watch it – some broilers are hotter than others. Remove from broiler to a plate so you can devour it. Top with extra parsley and green onions for garnish if desired. Then grab a knife and fork and dig in!!
Notes
1. So since this is a recipe that uses leftovers, it's kind of hard to approximate quantities out. Also, this is completely scalable – do you want a big Kentucky hot brown? Or are you on a diet (what craziness is this) and only want a small one? You decide. Just know that if you're trying to feed like 4 people, you better have a good amount of turkey and stuffing leftover. If you don't have enough leftover stuffing, then make a box of Stouffer's cornbread stuffing fresh, and….
2. Roast a turkey tenderloin if you do not have any (or enough) leftover turkey. Turkey tenderloins are great by the way – I find them fresh at Whole Foods year-round. Season that baby up however you'd like and roast it in the oven at 350 degrees F for about 35-40 minutes, or until the internal temperature reaches 165 degrees F.
3. As for the cheeses, I would recommend actually weighing them, because the weight is different than the measurement. When I weighed 2 ounces of Gruyere cheese, it came out to about 3/4 cup; and when I weighed 2 ounces of grated Parmesan cheese, it came out to about 1/2 cup.