Hey guys!
Long time no talk.  I know.  I'm sorry.  My bad.  My job is extremely demanding and it's been completely wiping me out lately.  Like, going-to-bed-at-8pm wiped out.  It's a busy life.  I wish that all I had to do in life was cook and eat and blog about it.  And be a mom.  And a wife.  And stuff.
Seriously though, you guys, steer clear of IT unless you have a plan to retire at 40.
Anyway.  Because of the exhaustive nature of my job, I especially cherish three day weekends.  Memorial Day is probably my favorite.  The weather is always perfect in Philly in May – just warm enough to be pleasant or maybe even a little hot, but still nice enough in the evenings to sit outside as the sun goes down and enjoy the breeze with a drink in your hand.  We usually set up our 6 foot blow-up pool and make some party food and hang out and have people over and grill some burgers and dogs.  It's like the essential way to start summer around here.
Macaroni Pepperoni Salad is something I make damn near every time I have a cookout at my house.  It's probably the best side dish ever.  It's tangy and full of veggies.  And since it's not mayo-based, you can eat it cold or at room-temperature, and not have to worry about it spoiling.
Try it at your bbq this weekend!!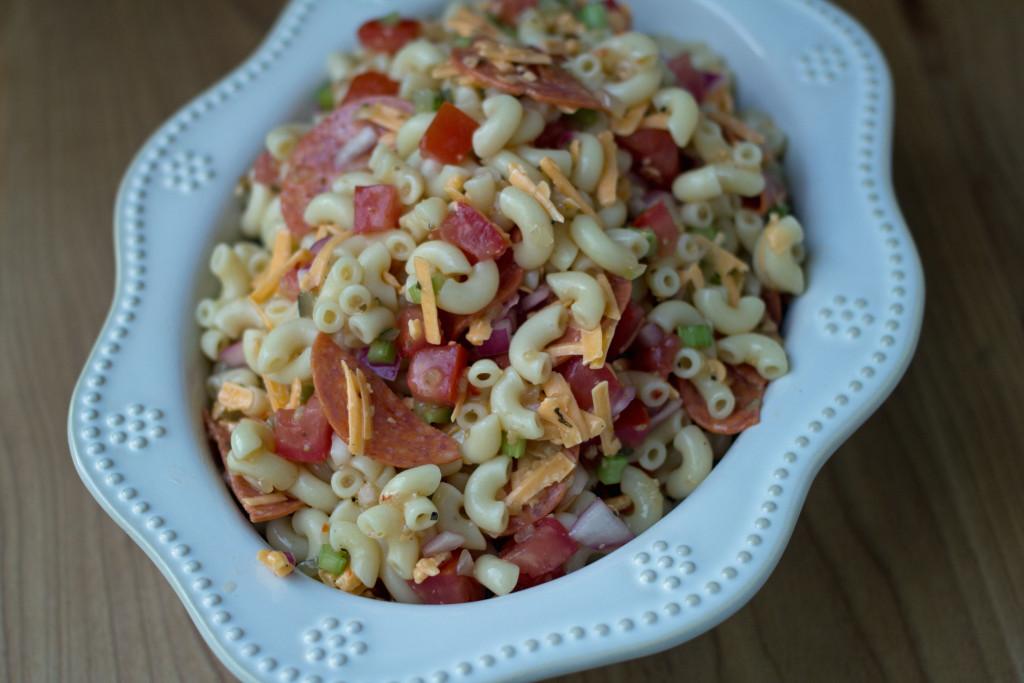 Macaroni Pepperoni Salad
Ingredients
2 cups elbow macaroni, cooked according to package directions and drained
4 stalks celery, sliced or diced
2 small tomatoes on the vine, seeded and diced
2 spoonfuls dill relish
1/2 red onion, diced
Sliced pepperoni, cut into half-moons – as much as you want
1 cup shredded cheddar cheese
1 small bottle Wish Bone Robusto Italian dressing, or your favorite Italian dressing
Directions
1. Rinse cooked macaroni under cold water and let drain thoroughly.
2. In a big bowl, combine the drained macaroni, celery, tomato, relish, and red onion and stir together to combine. Season with salt and pepper. Pour in half of the bottle of Italian dressing and stir again to combine. Add sliced pepperoni and stir again, taking care to keep the pepperoni slices from clumping together.
3. Refrigerate for at least 2 hours. Before serving, add shredded cheddar cheese and more Italian dressing if needed. Stir to combine and enjoy!