My sister loves taco salads.
Sometimes, when we go out to pig out on Mexican food, she will gravely disappoint me and order a taco salad.  Meanwhile I'll order 3 enchiladas, 2 tacos, rice, queso, and who knows what else.  But she just loves taco salads and sometimes that's what she gets while I sit there looking like a fatty.  THANKS CAITLIN.
But it's ok.  Because at some point, somewhere along the line, I got it into my head that maybe a taco salad could be pretty good.  I didn't get one at a restaurant to try it though, no – why would I do that?  Why would I waste precious time and money at a Mexican restaurant by getting a salad?  Pfft.  I was sure I could make it better myself.
So I tried!  And I did.  And these chicken taco salad bowls are probably one of my favorite lunches that I bring to work.  You start off with something that looks like the picture above – some crispy, cold iceberg lettuce, some chopped veggies, cheese (duh), sour cream (duh), some hot sauce to give it a kick, and some saucy shredded chicken.  Then, I like to stir it all up so it becomes a big messy thing that looks like this: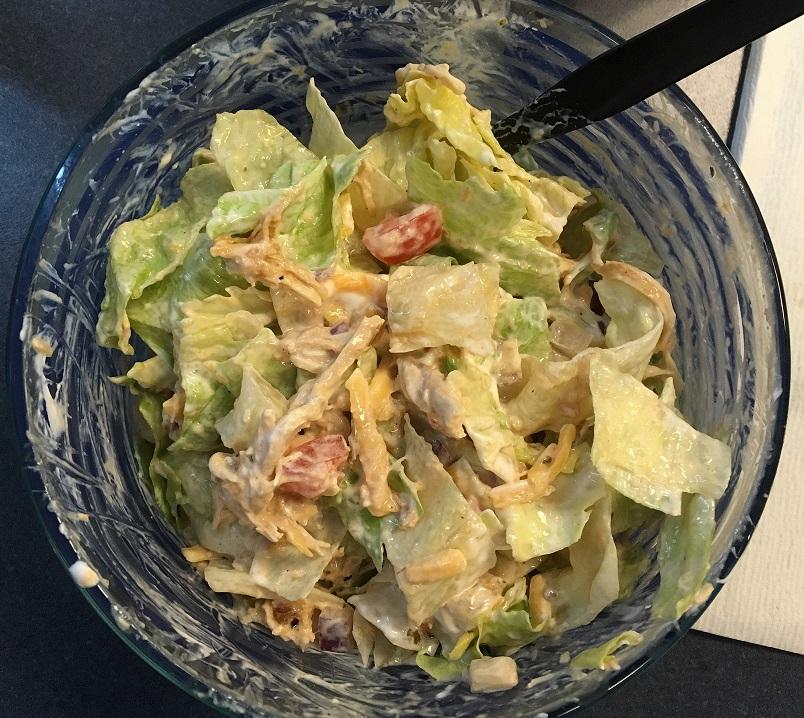 You see that?  Look how that delicious sour cream covers everything in the salad and makes it all creamy and delicious.  NOMZY.
I normally like to drown my salads in creamy dressings, but this takes the cake man.  The sour cream plus that hot sauce?  Jeez my mouth is watering right now and I just finished lunch a couple hours ago.
This is one of the easiest recipes I make for office lunches – very transportable, and very easy to prep for a few days' worth of lunches at a time.  Give it a try!
Chicken Taco Salad Bowls
Makes 4 salads
Ingredients
1 large head iceberg lettuce, washed, dried, and shredded
2 large tomatoes, seeded and diced
1/2 red onion, diced
1 pound chicken breasts
1 16oz jar of your favorite salsa (I like //this one//)
1 cup shredded cheddar cheese (or your favorite cheese)
1 can black beans, drained (optional)
Other optional toppings include hot sauce to taste, chopped scallions, and sliced black olives
Directions
1. Poach Chicken: Place chicken breasts into a slow cooker and pour the jar of salsa over top. If using, also add the drained black beans. Cook on HIGH for 4 hours (or LOW for 8 hours). When the chicken is finished cooking, remove it from the slow cooker and shred it with two forks. Return it to the slow cooker and mix it with the salsa mixture that's remaining. Keep warm. (Alternatively, if you already have about a pound of shredded chicken, you can put the shredded chicken into a skillet and add the jar of salsa and the drained black beans, and saute it all together until the chicken starts to turn red like it's soaking up the salsa.)
2. If you are prepping these salads for lunches: Divide the shredded lettuce evenly between four containers. Top each with diced tomatoes, diced red onions, and shredded cheddar cheese. Put lids on those containers and store them in the fridge. Get a separate container for your 1 cup of sour cream. You will add the sour cream to your salad at work as you're mixing it all together. Then divide the chicken mixture evenly between four containers. I store the chicken separate from the salad because a) you don't want the chicken making the lettuce wilted and soggy; and b) I like to warm my chicken up a little before dropping it into the salad. When you warm up the chicken, microwave it on 50% power for 2 minutes, and let cool slightly before adding it to the salad. Add the sour cream and hot sauce to taste, then mix it all up to make a gloriously creamy and slutty taco salad!
3. If you are making these to eat right away: Simply prepare everything at the same time without separating into different containers. Just prepare it into the bowl or onto the plate from which you'll be eating.