I am actually really proud of this recipe.
This recipe came to me in bursts of ideas over the course of a day when I was trying to think of how I could use up some leftover bruschetta.  At first I thought about piling it onto a piece of grilled chicken.  And forking-and-knifing it.
And then I thought wait, I should marinate that chicken in balsamic-y something since who can ever get enough of THAT stuff.
And as I was imagining forking-and-knifing this thing, I got kind of bored.  Who wants to fork-and-knife a piece of grilled chicken with some vegetables on top?  Puh-lease.
(On a side note – that's exactly what I'm eating for lunch tomorrow.  Yep.  We had this for dinner the other night and I try to be good at work so I'm forking-and-knifing this thing for lunch the next two days.  So yea!  Great leftovers!)
So then I started thinking about how I could turn this balsamic-y deliciousness into a sandwich.  And I thought OOOH a ciabatta roll.  And then I thought OOOH need some melty cheese.  And then OOOH GOTTA HAVE MAYO BECAUSE WHAT SANDWICH IS COMPLETE WITHOUT MAYO AMIRITE?!  But not just any mayo – pesto mayo, because pesto is a classic flavor that would totally work here.
And in an effort to add something green – baby spinach.
(That really was an afterthought.  There was no OOOH BABY SPINACH thought.  Green is a formality.)
By the end of the day I had a recipe that I could not WAIT to make, and sure enough it turned out so good.  I mean really good.  Yes there are a lot of components, but you can totally make them ahead of time – even several days before – to make this a quick and easy weeknight meal.  All of the flavors of this sandwich come together and you feel so Italian when you are eating it.
Just look at this sangwich.  Fuggeddaboudit.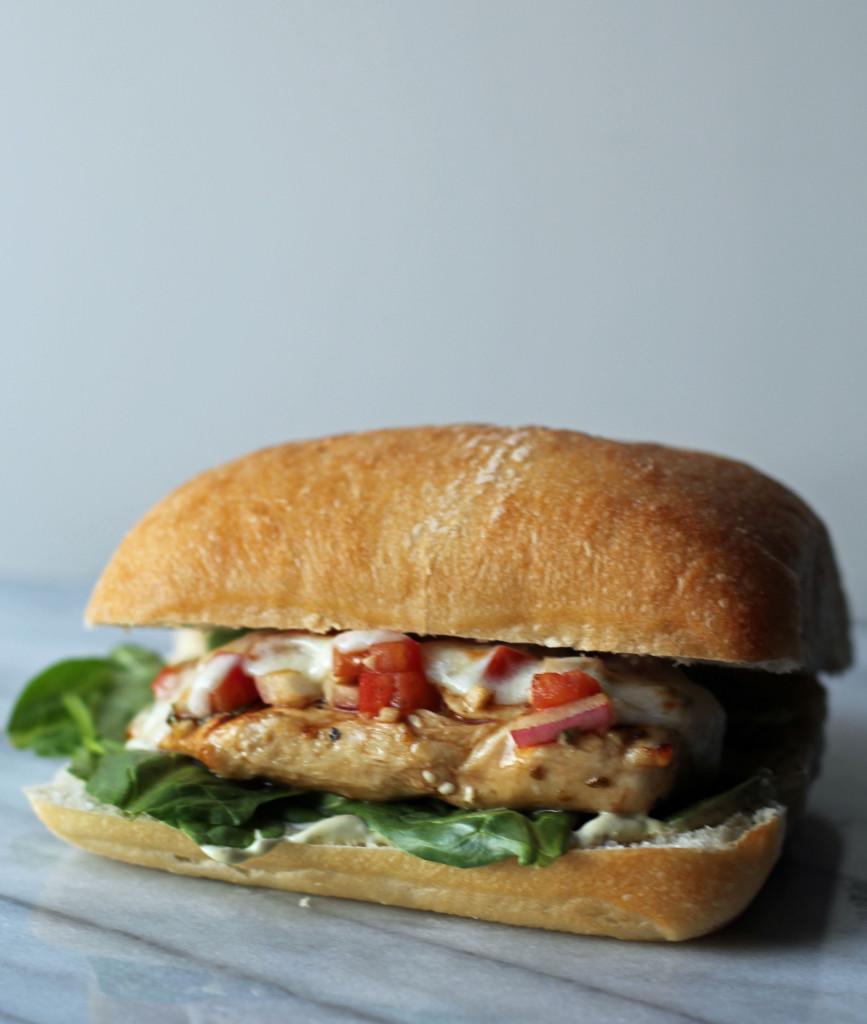 Balsamic Bruschetta Grilled Chicken Sandwiches
Serves: 2
Ingredients
1/2 recipe bruschetta
2 chicken breasts, pounded to even thickness
2 slices mozzarella cheese
2 small handfuls of baby spinach
2 ciabatta rolls
1/2 cup mayonnaise
1/4 cup prepared pesto
1/2 bottle balsamic vinaigrette salad dressing
Directions
1. Marinate: Marinate your chicken in the salad dressing for about a half hour.
2. Make pesto mayo: Mix pesto and mayonnaise in a small bowl and set aside until ready to dress your sandwiches.
3. Grill: Grill chicken until the inside temperature reaches 160 degrees F. (If you are new to grilling, check out this fantastic tutorial.) When the chicken is done, move it to a cool part of the grill and spoon some of the bruschetta on top. Then lay a slice of mozzarella on top of the bruschetta, close the grill, and let the cheese melt.
4. Assemble sangwiches: If your ciabatta rolls are really fat, try scooping some of the bread out of the fatter side of the roll after you slice it in half lengthwise. This will help keep the tasty mound of bruschetta and melty mozzarella inside the sandwich, instead of gushing out all over the place. Spread each side with pesto mayo (or only one side if you're not like me and you count your calories), and lay some baby spinach on the bottom half of the roll. Remove chicken from the grill and place on top of the baby spinach, then top with the other half of the roll, and serve.