Hey ya'll!
So, I guess it's been a little while.  Earlier this year I crashed and burned and suffered from what is commonly known as 'blogger burnout'.  This is probably the second or third time I've gone through this since starting SFB.  If you're not a food blogger, it can be difficult to understand just how much work it is.  While I love having this outlet to share my experiences with you, once in a while a girl needs a break.  I didn't expect it to be like a 7-month long break, but here we are!
Aside from blogger burnout, my focus this year has been primarily with my health.  I started going to OrangeTheory last December and quickly fell in love with it.  Before I knew it, I was going 3x a week, then 4x a week… I am now up to 5x a week and struggle NOT to go on my rest days.  Yes – I have to FORCE myself to take rest days.  I really love it so much.  The gym very quickly became the thing I began building my life around.  I was no longer building my life around what food I was making over the weekend, and taking photographs of food, and posting articles.  I was too focused on getting healthy.
Mainly, this renewed focus on health stemmed from this thing that happened with my heart last May and had me scared for a while.  While all along, the signs generally pointed to everything being benign, in the back of my head I was still preparing for the worst.  I knew I wouldn't have more solid answers till later in 2018, so I got it into my head that I needed to start working on my health before that last round of test results.  So I began cleaning up my diet – but only a little, because life is for living, ya know.  I ate more boring *ahem* healthy foods, more repetitively, and splurged a little less.  And I spent every day that I could in the gym.
As a result, I have lost a little bit of weight.  Not as much as I wanted, but I think that's because I'm gaining a lot of muscle.  I don't care so much about the scale (at least, I am trying really hard not to).  And neither does my doctor, because that last round of test results came out all clean, and he confirmed for me that I'm in the clear.  He even told me I'm the "picture of health".  He told me to keep doing what I was doing and to come back if my symptoms ever returned.  But he felt confident in saying that for sure, the things I was experiencing were benign, and that I am okay.
Well thank the freakin' lord, because I'm only 38 damn years old.  FFS.
On top of all that, 2018 has been a very trying year for me.  You know that saying, be kind to everyone you meet, for they are all fighting battles you know nothing about?  Yeah.  That pretty much sums up 2018 for me.  From March, when I was dealing with other health issues, basically through today, and probably whatever day you are reading this, I have been shifting baggage on and off my shoulders.  Some bags are bigger than others and some are heavier than others but damn.  They are always there.  Just hanging off my shoulders, constant reminders.  2018 has been a year of the Universe testing me.  I have received its "slow down" message loud and clear.  Car accidents and speeding tickets help deliver that message quite literally.  I'm now that asshole in the right lane everyone is flying by on the turnpike.  But I'm also trying to slow down figuratively too.  I've been saying "no" a lot and going to bed earlier.
We could all benefit from slowing down, actually.
But anyway.  I feel like I'm heading out of the fog of 2018 now.  Maybe it's because it's a new season, maybe it's because of my success at the gym, maybe it's because I'm listening and slowing down, maybe it's because that heart scare baggage has been removed permanently.  Whatever it may be, I think things are looking clearer from here on out.
Le sigh.  Should we talk about gorditas?  Since tomorrow is National Taco Day, and these are technically a type of taco?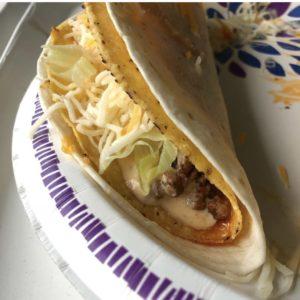 Yes.  I feel like we should talk about gorditas.  Just for a second.  So, you may recall a while ago I did a #52NewEats recipe where I made a knockoff of Taco Bell's Cheesy Gordita Crunch.  The recipe was pretty good; I remember there being a lot of steps and a lot of ingredients for everything (the beef, the sauce, etc)… but I mostly remember not being entirely impressed with the sauce and thinking that it could be improved.  It was good all together, but the sauce itself was not exactly what I expected.  So I was sort of on a mission to find another good sauce, and I tried a couple different recipes before I recently found The One!
Vince over at Cooking Ventures is the mastermind behind the Baja Sauce Clone recipe and good lord.  It is right on point!  Just take a few minutes and read his post about all the steps he took and effort he put into creating this recipe.  This is clearly a man who loves the Cheesy Gordita Crunch.  Like me!  I was so impressed with his effort that I had to try it, and now it is officially my go-to CGC sauce.
Beyond the sauce, I think I have nailed a method that produces a homemade Cheesy Gordita Crunch that rivals Taco Bell's, and is much simpler (and maybe healthier?) in execution than the last recipe I tried.  In fact, I really think I like mine better.  Also, I think we've had these about every week or so since discovering The Sauce, and I ain't even mad about it.  #thisiswhyiworkout  Aside from gorditas, this sauce made an excellent dip for a quesadilla I threw together for lunch one day, AND it was also delicious in batch of beef enchiladas I threw together, ANNNDDDD it was delicious in these homemade Crunchwrap Supremes we made a couple weeks ago.  Which reminds me, I was scrolling through my camera the other day and I have a ton of food photos that I have not posted, so perhaps in the next few weeks some new recipes will be coming your way.  Stay tuned…
After posting about these on Instagram a few different times, I had several DMs asking me for the sauce recipe and what else I used to make these homemade Cheesy Gordita Crunch(es?  Cheesy Gorditas Crunch?  Idfk), so I decided to make a blog post that puts it all in one place for ya'll.
Enjoy!!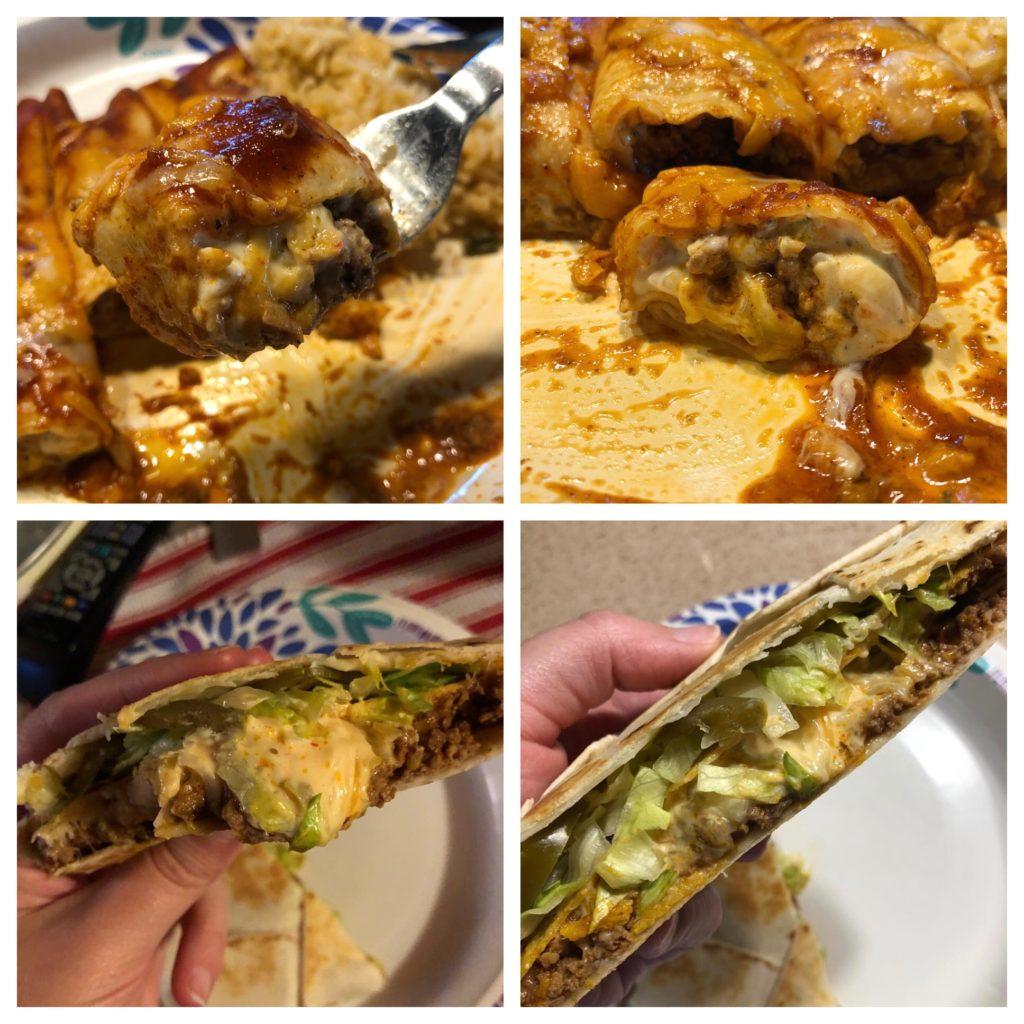 Homemade Cheesy Gordita Crunch
Makes 6-8 tacos
Ingredients
Yellow corn taco shells
Flour tortillas (see notes)
3/4 lb. ground beef
1 packet Simply Organic Southwest Taco Simmer Sauce
Shredded iceberg lettuce
Shredded Mexican cheese blend
Baja Sauce Clone recipe prepared as directed (see notes)
Directions
1. Preheat oven to 350 degrees F. Brown ground beef in a medium-sized skillet and drain, then return the beef to the skillet. Add simmer sauce to the beef and stir to combine. Simmer over medium-low heat until the sauce has thickened and is no longer runny.
2. While the beef is cooking, warm the yellow corn taco shells in the oven as directed on the package. Line a baking sheet with foil or parchment paper, and separate the taco shells out onto the baking sheet. Place in the oven for about 5 minutes. Keep an eye on them so they don't burn. Remove from the oven, then remove them from the baking sheet to a plate to keep warm. Now, place flour tortillas on the same baking sheet, in a single layer; one flour tortilla for each taco you expect to be eaten. You may have to do this in a couple batches. Sprinkle each tortilla with some of the shredded Mexican cheese blend. Place the baking sheet back in the oven to melt the cheese, keeping an eye on them so they don't burn!! (This is important!!) This should only take a few minutes. When the cheese is melted, remove from the oven promptly. Take a hard taco shell, lay it down on top of the melted cheese, and press it gently from the inside to help the cheese adhere to the taco shell. Then wrap the other half of the tortilla up onto the taco shell, and press gently to adhere. Repeat for all shells.  See video above for this method!
3. When all the shells have been prepared, now it's time to fill them with deliciousness. Scoop in some of the beef, then top with the baja sauce, shredded lettuce, and shredded cheese. You may also choose to scoop some extra sauce onto your plate for dipping, I hope that's not just me. Take a bite and try not to eat like 6 of these because it's probably not good for you. Three sounds like a good number.  ?  Enjoy!!
Notes
1. RE: The flour tortillas :: You want to choose flour tortillas that will fit your hard taco shells well. These are usually labeled 'fajita size', as I've found. I have not been able to find soft gordita shells in my stores, so I use regular flour tortillas. If you can find gorditas, go for it! However I have come to like the regular tortillas for this, as they are not as thick and filling.
2. RE: The Sauce :: Follow his directions exactly, and make sure your dry buttermilk is fresh. The first time I made this, my dry buttermilk had been around for a while, though not yet expired. It was very lumpy, and I think it made a difference in the consistency of the sauce. The next time I made it, I made it with fresh dry buttermilk, and the sauce consistency was perfect. The ingredient list might look like it has some weird things on it, but trust me – THIS IS IT. Don't worry about that fresh parmesan (and yes, you should get fresh parmesan for this; you can always use it on pasta too!), or that dijon mustard. Follow. The. Directions. If you want a thicker sauce, omit the final tablespoon of vinegar at the end. And I can echo his recommendation of the Sargento Sliced Pepper Jack Cheese – this is what I use and it turned out perfectly. I just cut the slices into little shreds. Every step of this recipe is worth the effort, trust me!