Herb and garlic cheese spread is another old recipe I found in my binder from my early days of learning how to cook.  I remember Aaron loved it back then, so when I saw this I thought it would make a good snack for him to bring in for lunch!
It's funny because the day I made this, he came home from the gym starving and wanting something to eat, and I was just getting ready to photograph this.  I turned my back to grab some props to stage and turned around and there he was, digging into my perfectly coiffed globe of herb and garlic cheese spread.  I had to smack his hands away and re-do the coif.  I don't even know if it's called a coif.  Not even sure where I got that from.  But I had to re-swirl it again and make it pretty.  Food bloggers will know what I mean.
I snapped this little behind-the-scenes of shooting this recipe.  The mid-day lighting is so amazing in this window.  If I wait too long into the afternoon, the setting sun will shine right into this window and cast shadows.  So I try to get my cooking done earlier in the day on weekends if I'm photographing a recipe!  This is a huuuge bay window that looks out onto about half of my three acres.  It's part of what sold us on this house.  And for Christmas last year, my mom got a custom-made window seat cushion for this window.  It's so awesome.  My daughter sometimes sits up there and reads.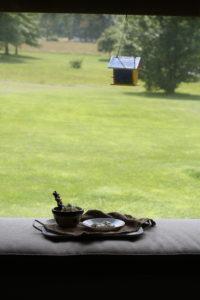 Anyway.  This herb and garlic cheese spread is a great dip to have out at your next party!  It's highly addictive, hubby couldn't stop eating it until I reminded him it's mostly for his lunch… then he finally put the crackers away.
Herb and Garlic Cheese Spread
Ingredients
8oz cream cheese, softened to room temperature
1/2 cup butter, softened to room temperature
3/4 teaspoon dried dill weed
1/2 teaspoon dried thyme
1/4 teaspoon dried oregano
1/4 teaspoon garlic powder
1/4 teaspoon black pepper
1/4 teaspoon seasoned salt
Directions
Add all ingredients to a bowl and use beaters to beat together and combine well. Cover and refrigerate at least 2 hours and up to one week.