My best friend Cara makes theeeeee best buffalo chicken dip.
I'm sure there are a million ways to make buffalo chicken dip and I, myself, have only ever had two in my life, but I can assure you this one is amaaaaze.
I remember the first time I had it – if my memory serves me correctly – she made it for my going away party at our old job.  She brought it in and had been hyping it up so much and then I tried it and I was like ohhh.  OHHHH.  Yah totally lives up to the hype.
I think I even told her she should make it into a lasagna or stuffed shells or something.
See?  It looks like good stuffed shell filling.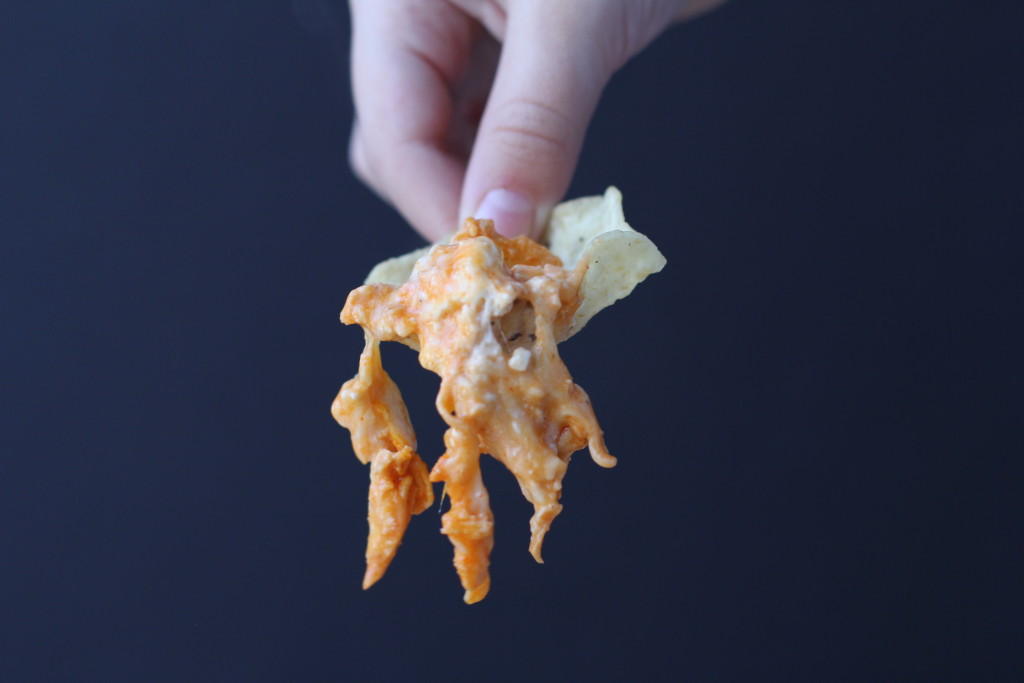 I didn't have to beg her very hard to get her recipe.  And truthfully, I don't know how different this recipe is than all the other recipes out there, but I do think this one is more about the method and layering, than it is about the ingredients.
Of course when I made it, I was so excited that I was going to get to eat it that I actually screwed up the top layer.  I stuck it in the oven without a layer of blue cheese dressing where it was supposed to be.  So I pulled it out of the oven real quick and poured the dressing on top of the cheese, thinking eh, it's all gonna melt together anyway.
Haha.  It didn't.  When it was almost done I had to take it out and try to stir it up a little bit so that it looked prettier, but I think my mess up actually made for a yummier-looking picture.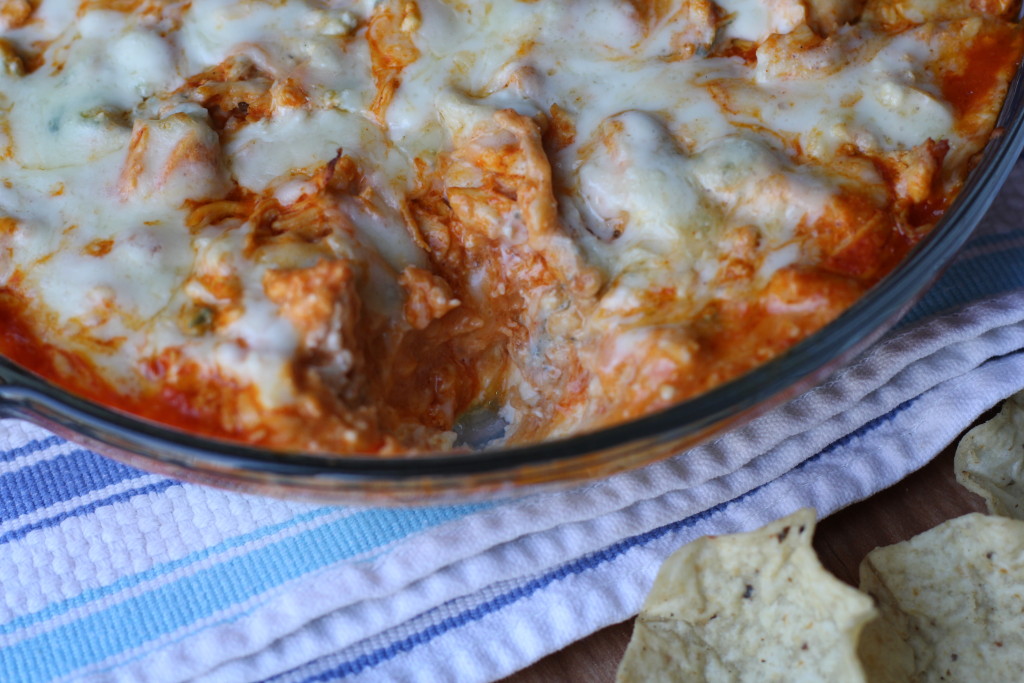 What's more game-foody than buffalo chicken ANYTHING?  Put this dip out and watch it disappear.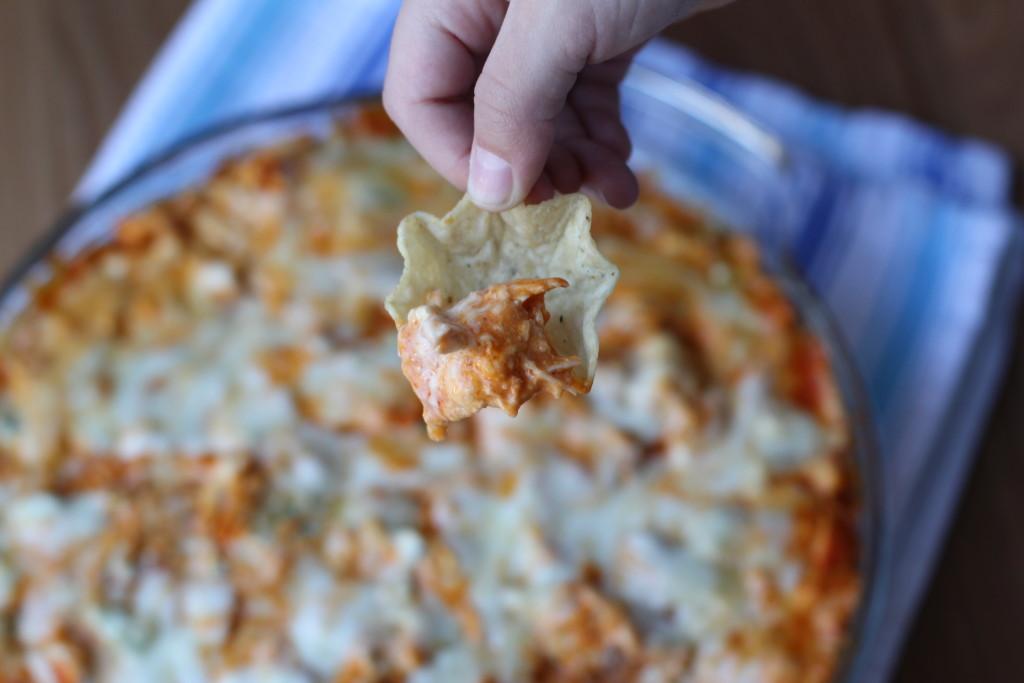 Buffalo Chicken Dip
Serves: 8-10 people
Time: 3 1/2 hours (if you poach chicken like I do – see notes); be sure to put your cream cheese out several hours beforehand
Ingredients
1 brick cream cheese, softened to room temperature
1 pound chicken breasts, poached and then shredded
1 package shredded mozzarella cheese, or 2 to 2 1/2 cups freshly shredded mozzarella cheese, divided
1/2 cup blue cheese crumbles, divided
1 bottle Frank's Red Hot Buffalo Wing sauce
1 small bottle (8oz) Kraft Roka Blue Cheese dressing
Directions
1. Preheat oven to 350 degrees F.
2. Layer this bad boy: In the bottom of a pie plate or square casserole dish, spread the softened cream cheese. Then lay on some of the shredded chicken. Then pour on some of the buffalo wing sauce. Then pour on some of the blue cheese dressing. Then sprinkle on some of the blue cheese crumbles. And finally, sprinkle on some of the shredded cheese. (There is no science or measurement to this, just do what you think looks good to you.) Repeat all layers until done.
3. Bake this bad boy: Put the dip into the preheated oven and bake for 20-25 minutes, or until bubbly.
**NOTES**
1. You may not use all of the Frank's or all of the blue cheese dressing. Whether or not you use all of your ingredients could very well depend on the size of your dish and how much heat you like.
2. I am lazy so I take the lazy route when poaching chicken: Put chicken breasts into a single layer in a crockpot. Season with salt and pepper on both sides. Cover with water or chicken stock, and cook on low for 1 hour 30 minutes. I poach chicken in large quantities this way and shred it, then freeze it till I need it.