Are you guys ready for the big game?  I get excited for football season in the fall because it means I can make game food on Sundays.  I care much more about the food than about the game.  Usually.  Our Eagles aren't the best.  But in recent years I have become more interested in football.  It's to the point now where I am in the same room as the TV the game is on, semi-paying attention, catching the important plays, startling when my husband freaks out and screams at the TV.  Before I would hide in another room till it was all over.  His yelling can be scary!  Half the time I can't tell if he's happy with what just happened or not, with all the curse words and force that boom from his lungs.  But hey.  He's passionate, and the game is where the food is.  So that's where I am!
That's kind of how I am with sports.  I love going to basketball games – for stadium food.  Same thing with baseball games.  We have really good stadium food here in Philly.  But it's more about the food than the game.  I have gone to Phillies games before and spent more time out of my seat eating or in search of food, than I have in my seat watching the game.  It's like I bought a ticket to go eat.
But anyway.  I usually like the Super Bowl, because a) game food (duh), and b) FOOTBALL SEASON IS OVER which means WARM WEATHER and my birthday ARE ALMOST HERE‼
Bagel Chip Dip would be a great addition to your Super Bowl spread.  For one thing, it's highly addicting.  Also, you can make it the day before because the longer it sits in the fridge, the more amazingly delicious it gets.  Creamy, garlicky, tangy.  And paired with a salty, crispy little bagel chip?  Uh, divinity.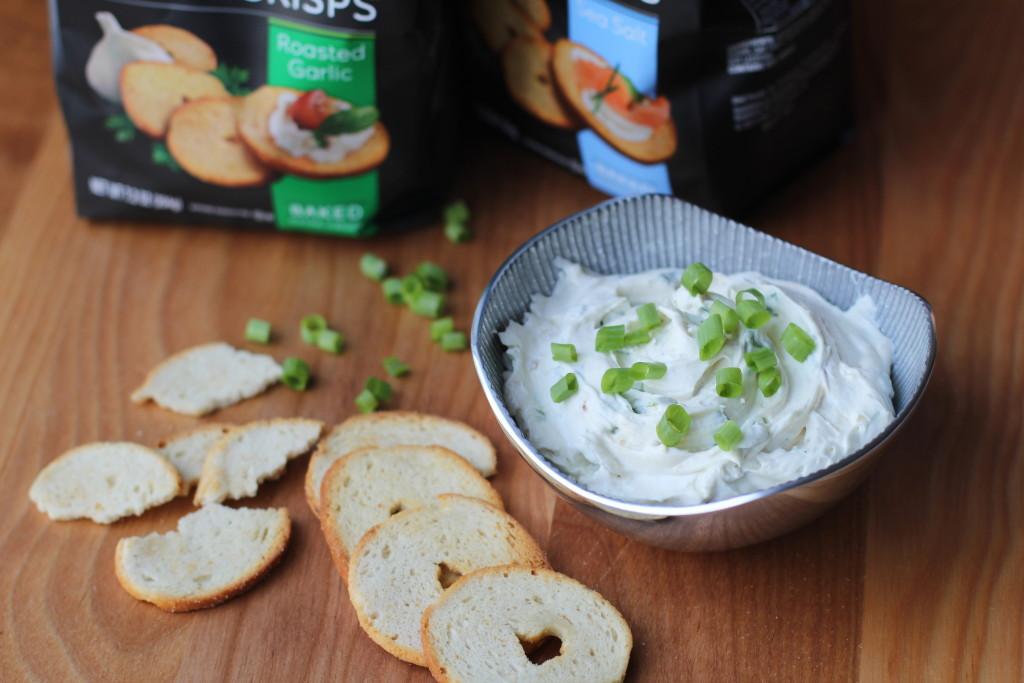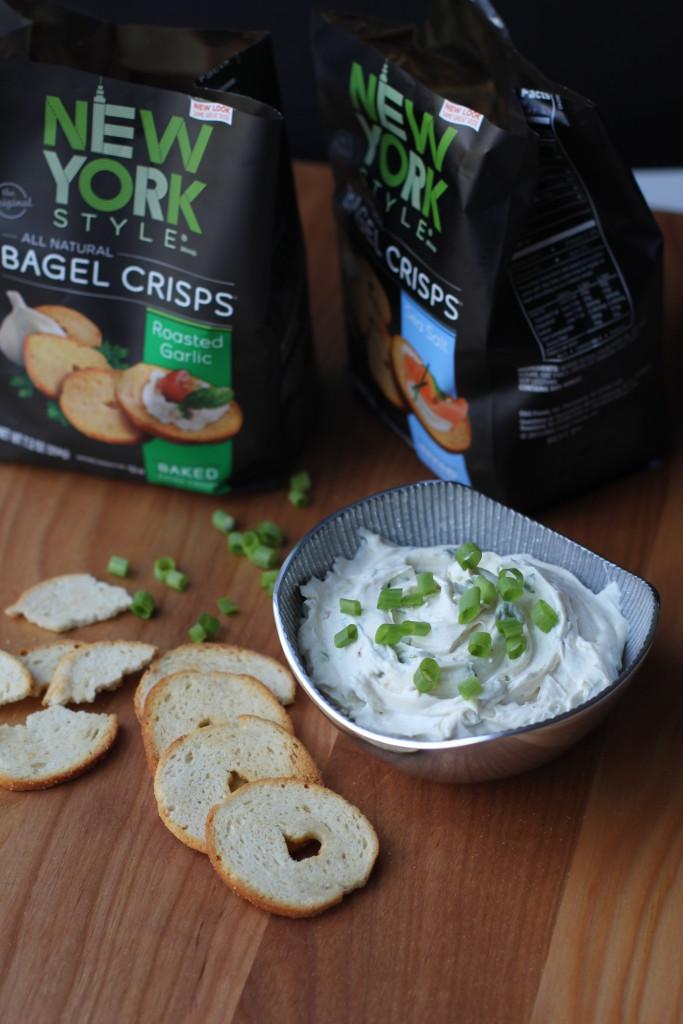 Bagel Chip Dip
Makes about 1 1/4 cups
Takes about an hour and a half total to make; be sure to set your cream cheese out several hours ahead of time
Ingredients
1 head garlic, sliced in half lengthwise
1 tablespoon olive oil
1 brick of cream cheese, softened to room temperature
1/4 cup milk
4-6 scallions sliced, white parts included
Salt and black pepper, to taste
Bagel chips for dipping
Directions
1. Set cream cheese out several hours before making this dip. I usually let mine sit out overnight.
2. Roast garlic: Preheat oven to 400 degrees F. Take a large sheet of aluminum foil (about a foot long) and place the garlic halves cut-side up on the foil. Drizzle with olive oil. Fold the edges of the foil up to make a pouch. Be sure to fold corners and seams upwards so the oil doesn't drip out into your oven. Roast in the oven until tender, for 45 minutes. Let cool so you can handle it.
3. Make the dip: With a regular knife (as in, not a sharp steak knife, but a blunt normal knife), dig the cloves out of their skins and drop them into a food processor. Be sure to use all of the garlic, even the cloves that are darker than others. And use the garlic from both halves of the head! Add the cream cheese and the milk to the food processor, along with some salt and black pepper to your taste. Puree until smooth. Stop and scrape down the sides of the bowl if necessary and continue pureeing.
4. Finish the dip: Transfer the dip to a small mixing bowl, and fold in the sliced scallions. Reserve some scallions to garnish the top of the dip. Eat immediately, or cover and refrigerate until you are ready to serve it. Personally I prefer this dip cold. A bagel chip can hold up to this dip while cold.