WHO IS READY FOR CHRISTMAS.
I guess I am.  I'm as ready as I'll be.  About 90% of my shopping is done and about 0% of my wrapping is done.  That will probably happen on Christmas Eve.
Also only slightly more than 0% done?  My Christmas baking.
Every year I turn into my mom and spend a weekend baking a shit ton of cookies to give out as gifts to all the people I "love" (only true for about 20%) and "like" (only true for about 10%) at work and stuff.  But this year I just didn't have the time or the money or the patience or the anything, so I skipped it.
And then I really wanted Hello Dollies, and then my friend requested a pan of Hello Dollies, so I made two pans of Hello Dollies today.  And now I'm nomzing on one and you're jealous.
So what are Hello Dollies?  They're like a layered cookie bar thing that my mom always made when I was growing up, and they were my favorite part of every Christmas.  Why are they called Hello Dollies?  IDFK man.  Maybe because when I see them I say Hello and Dolly is a term of endearment of some kind?  No clue.  I just made that up.
Anyway.  These are really the easiest thing in the world to make.  My daughter has been helping me make them for years now – I let her crush the Nilla wafers with a meat mallet and she loves it.  She helps with all the other steps too… and then she says CAN WE EAT THEM YET CAN WE EAT THEM YET CAN WE EAT THEM YET until I let her eat some.
Merry Christmas ya'll.  Stay tuned for a couple more cookie recipes.  ?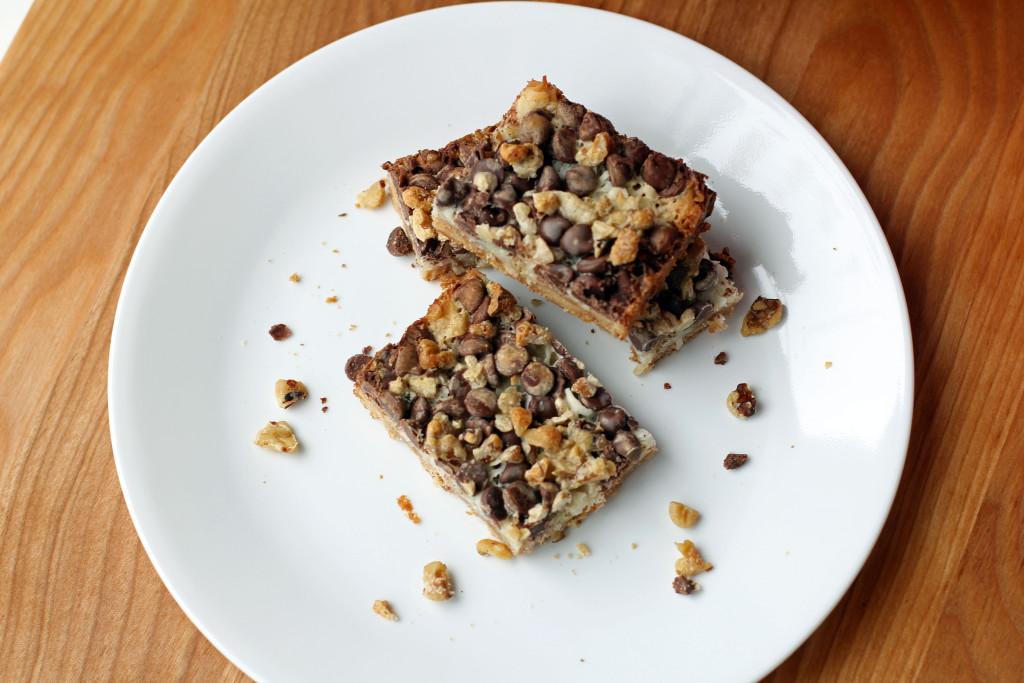 Hello Dollies
Ingredients
8 tablespoons unsalted butter
1 1/2 cups crushed vanilla wafers
1 1/2 cups shredded coconut
1 1/2 cups semi-sweet chocolate chips
1 1/2 cups chopped walnuts
1 12oz can sweetened condensed milk
Directions
1. Preheat oven to 350 degrees F.
2. Melt the butter and pour into a 13x9x2 baking pan. Add the crushed vanilla wafers, and press evenly into the pan to form a crust.
3. Add the remaining ingredients in the order given, sprinkling evenly on top of the vanilla wafer crust. Drizzle with the can of sweetened condensed milk. Bake at 350 for 25-30 minutes.
4. Remove from oven and allow to cool for several hours so that it firms back up. Cut into squares and serve!