Hey ya'll!  Sorry it's been a while.  I've had some friends and family in town visiting which has been wonderful.  Bonus: I think I've eaten four cheeseburgers in two weeks – three of which happened in the last four days.  *insert googly-eyed emoji here*  I have eaten so much food, so much good food, in the past two weeks that I am ready to eat nothing but salad for like a month.  We all know that won't happen though.  🙂
So yes I have eaten a ton of cheeseburgers lately.  Two of them are in my top 5 cheeseburgers of all time – #1 from Hillstone Midtown in NYC, and #2 from Blue Duck right here in Philadelphia.  Yesterday I made my chipotle blue cheese bacon burger.  But this….
This might be the sluttiest burger I have ever made in my entire life.
I mean… would ya look at this thing?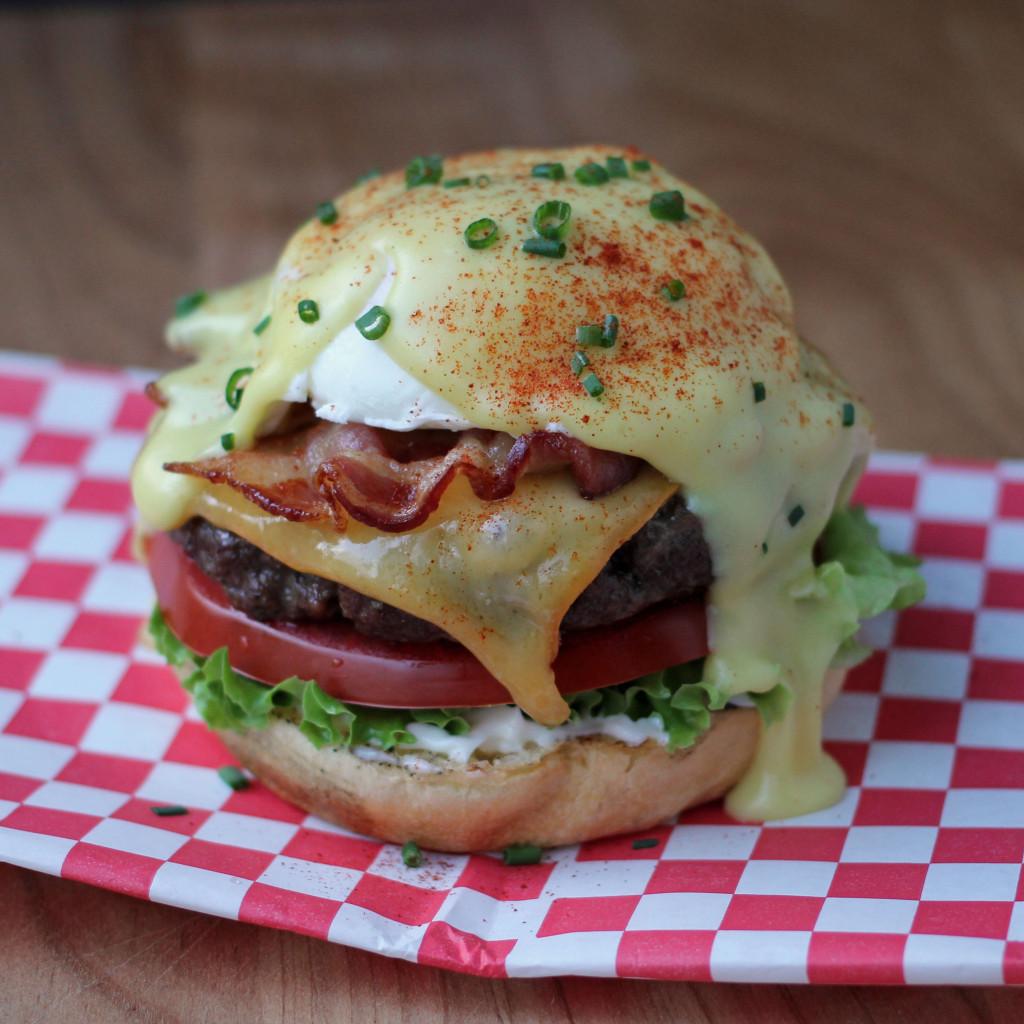 Look at it.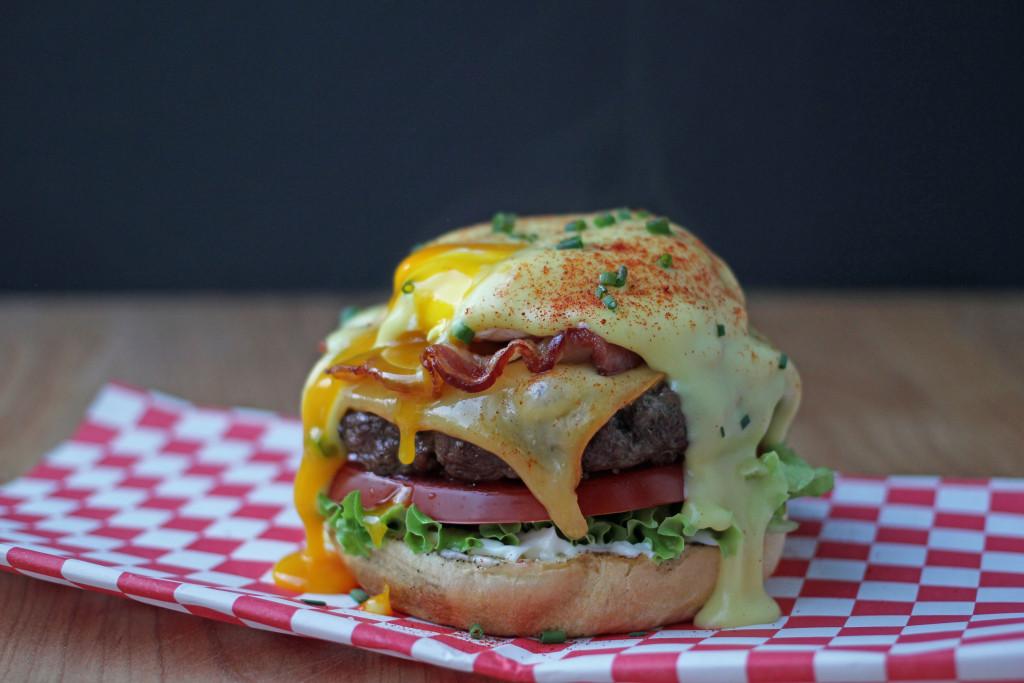 LOOK AT IT!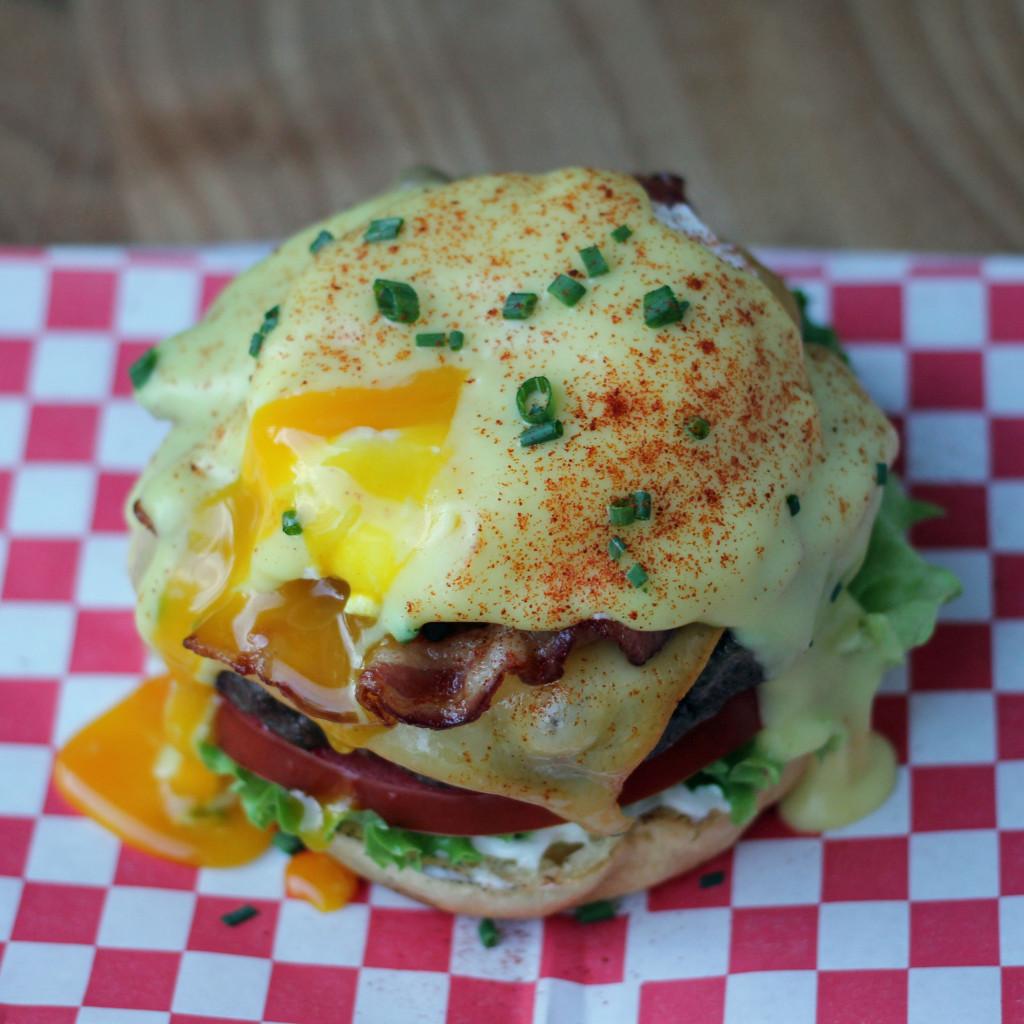 I don't think I have ever been so proud of something in my entire life.  Eggs.  Benedict.  Brunch.  Burgers.
What we are talking about here is a homemade burger patty.  Topped with smoked gouda cheese.  And crispy salty bacon.  And a poached egg.  And hollandaise sauce.  And chives.  And smoked paprika.
Is there really anything more to say?  I mean come on.
You like slutty food.  That's why you're here.  That's why you need to make this burger.
One disclaimer.  This is a knife-and-fork burger, fo sho.  I have seen my husband eat it with the top and bottom of a burger bun and it's a hella crazy mess.  Go for it if you'd like but I'd prefer more, uh, protein, yeah, that's it, than carbs.
If you do make this, post it to Instagram and tag me so I can see how it turned out for you!
Eggs Benedict Brunch Burgers
Ingredients
1/2 pound ground beef of choice*
2 slices smoked Gouda cheese
2 eggs
3 slices bacon
1 packet Knorr Hollandaise sauce, prepared according to package directions**
2 burger buns
Salt & pepper
Toppings***:
Green leaf lettuce, if desired
Tomato slices, if desired
Mayo, if desired
Chopped chives, if desired
Smoked paprika, if desired
Directions
1. Bake bacon: Line a cookie sheet with aluminum foil. Cut bacon slices in half and lay side by side on prepared cookie sheet. Place into a cold oven and close the door. Turn the oven on to 400 degrees F and set the timer for 15 minutes. Don't open the door! When the timer goes off, check the bacon. If it's done to your liking, remove to a paper-towel lined plate and blot the grease off. If it needs more time, put it back into the oven in 1-2 minute increments until done to your liking. Set aside.
2. Make burgers: Prepare two beef patties and grill to desired doneness. Top with smoked Gouda and allow to melt. Keep warm.
3. Poach eggs: Fill a medium-sized skillet with water and bring to a steady simmer. Once simmering, add a teaspoon of salt. When the water is simmering steadily, crack an egg into a small bowl or custard cup, being careful not to break the yolk. Take the custard cup and slowly, carefully, gently dip it into the simmering water, allowing the water to swirl into the cup and around the egg. Slowly, carefully, and gently slide the egg out of the custard cup and into the water. Repeat with the other egg. Set the timer and remove in 3-4 minutes. Remove with a slotted spoon and pat dry with a paper towel, and gently place into a small bowl or plate until the rest of the components are ready.
4. Assemble burger!!: To prepare the burger as shown: Place the bottom half of a burger bun onto a plate. Spread some mayonnaise onto the burger bun. Top with a leaf of green leaf lettuce and a slice of tomato. Put the burger on top. Then place three of the half-slices of bacon on top. Carefully top with the poached egg. Drown the thing in hollandaise sauce. And garnish with chopped chives and smoked paprika.
5. EAT.
NOTES:
* I recommend a fattier percentage of ground beef for a juicier burger – think 85/15, or 90/10.
** Shut up, there's nothing wrong with taking a little help from the store.
*** Toppings are to prepare the burger as shown; feel free to add or remove toppings as you wish!