So if you've ever been to Philly, you probably have heard about Chickie's and Pete's.  It's a famous sports bar chain whose original location is actually in my neighborhood.  They are probably most famous for their Crab Fries – crinkle-cut French fries seasoned with Old Bay seasoning, served with a cup of white cheese sauce for dipping.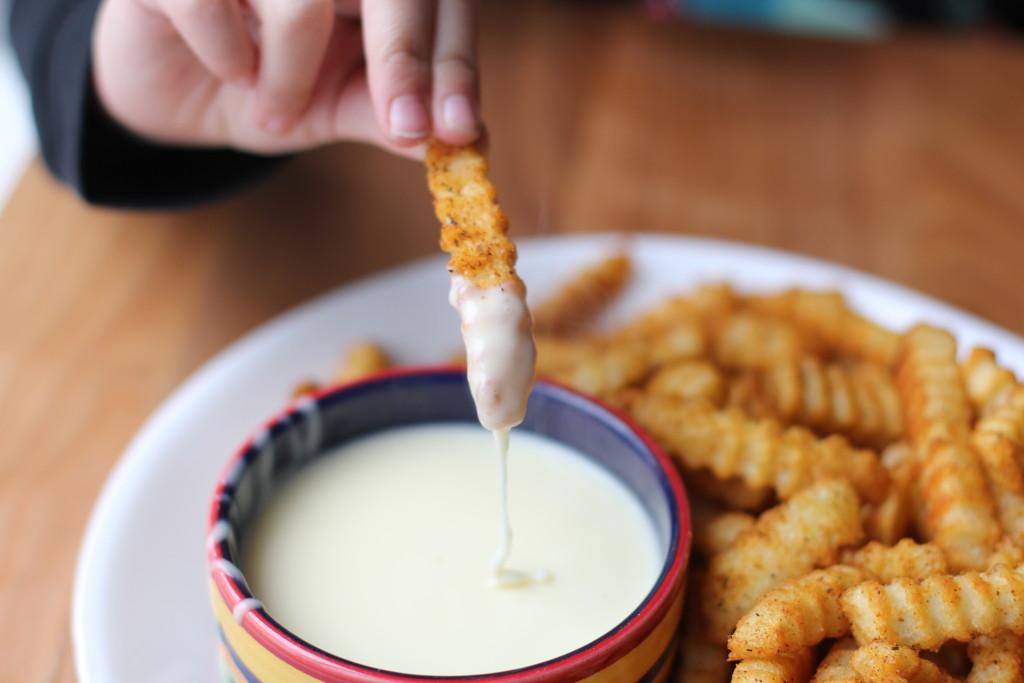 There's a Chickie's and Pete's stand in all of the Philly sports stadiums, and yes – all they sell is cheese fries.  There are a number of full restaurant locations, and the rest of their menu is actually really solid – probably the second thing they are known for is their crab legs.  But ew.  Let's all agree that we go to Chickie's and Pete's for cheese fries, mkay?
A while ago I was working on a white queso dip like they serve in Mexican restaurants – my daughter's favorite.  And it dawned on me that if I remove all the Mexican flavorings, I pretty much have the white cheese sauce that goes with Crab Fries.  And I tucked that little bit of info back into my head for a while until recently when I was shopping on Penzey's Spices and saw that they had some Chesapeake Bay seasoning.  Chesapeake Bay seasoning is basically the same as Old Bay, but I could buy a sample jar to see if I liked it.  Score!
So as soon as it was delivered, I attempted to make a copycat recipe of Chickie's and Pete's cheese fries, and dude, can I just tell you how I nailed it on the first go?!  I mean seriously.  Nothing has made me happier.  Before, Crab Fries were just something I could get when I went to a sporting event.  Now I can have them anytime I want at home!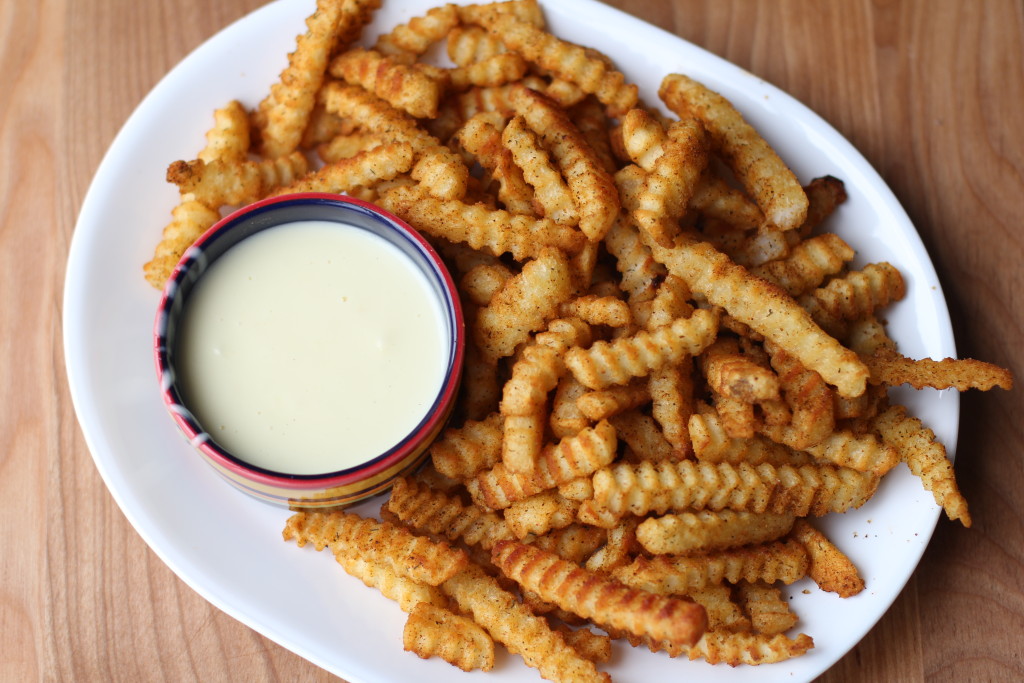 Try these and have a little bit of Philly in your house.  These would be great for a movie night snack with the fam.  Or just make them for lunch on the weekends.  Because why not?  And because also who doesn't need more cheese fries in their life?
Chickie's and Pete's Cheese Fries
Serves: However many you feel like sharing with
Ingredients
3/4 lb block of American cheese, cubed (ask for this at your deli counter)
6 tablespoons milk
1/3 cup water
1 bag extra crispy crinkle-cut fries (I like Ore-Ida)
3 teaspoons Chesapeake Bay seasoning, or Old Bay seasoning
Directions
1. Bake fries according to package directions. I like the extra crispy fries because they don't come out soft or soggy when you bake them.
2. Place cubes of cheese, milk, and water in a medium-sized microwave-safe bowl. Microwave on high for 1 minute at a time, stirring after every minute. When you have some chunks left in the cheese but it's mostly liquid, try taking it out and stirring it till the chunks melt instead of continuing to microwave it. You don't want to scorch it. The cheese and bowl will be hot so it will continue to melt after you remove it from the microwave.
3. When the fries are finished baking, pour them into a bowl and sprinkle with the seasoning. Toss to coat.
4. Serve fries with cheese sauce and enjoy!