Do you guys have any idea how fast the sun sets in the winter?  It's not fair to food bloggers.  So you'll have to excuse the appearance of these pictures.  I tried my hardest – twice!
That's my favorite from the first try.  Silly me was so excited about the pizza that I didn't notice the BIG RED SPLOTCHES OF BUFFALO SAUCE ALL OVER THE PLATE (insert eyeroll emoji here).

Food blog n00b duh #1.
And here's the best one from the second try.  By the time the pizza came out of the oven, the sun was gone for the day, and there was no daylight left.  So these pictures are really orange and yucky looking.  Sigh.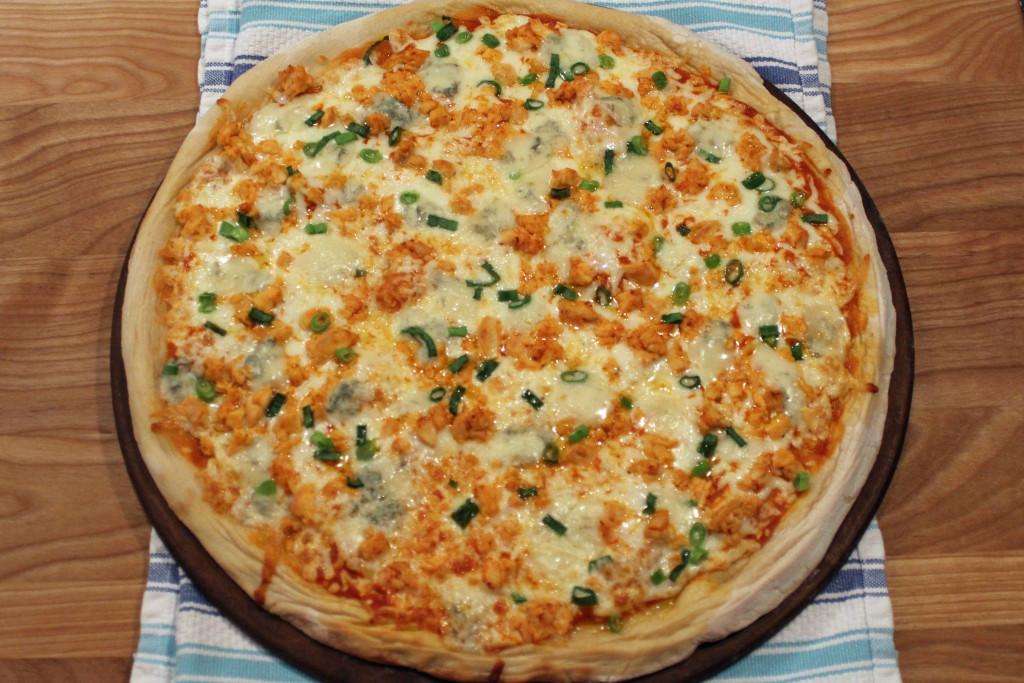 You can't say I didn't try.
But I am lucky.  Because:
Buffalo chicken pizza is one of the greatest things known to man.  And I got to eat it TWICE to write this blog post.  🙂
There's a pizza place by my mom's house in the 'burbs called Giuseppe's that makes the most amazing pizza.  Forget pizza in the city – all the places I've tried down here have got nothing on Giuseppe's.  I first had buffalo chicken pizza at Giuseppe's, and it was one of those things that was painful to eat – so spicy ah! – but I couldn't stop eating it.  We were living at my mom's for a little while to save up money to buy our house, and a few times a month I would swing by Giuseppe's on the way home from the train station on a Friday night, pick up a pizza and some fried appetizers, and we would hole up in our room in the basement and watch movies all night.  Ah, the good old days.
Then when we moved to the house we live in now, we discovered that almost all of the buffalo chicken pizzas around here had – GASP – red sauce on them.  What the huh?!  Buffalo chicken pizza doesn't need red sauce.  What is this blasphemy?  Then we finally found a pizza place that made buffalo chicken pizza without the red sauce!  Their pizza is very very good.  One time while I was pregnant and experiencing a particularly strong aversion to chicken, I made Aaron call them and order me a buffalo chicken pizza without the chicken.  Yes, just the buffalo sauce and cheese.  Ha!  They actually obliged.
So one night Aaron had this idea to try making our own buffalo chicken pizza.  And it turned out SO GOOD.  And when you serve it with blue cheese dressing – zomg – so slutty.  I love the addition of scallions on top because I like the pop of green, but I also love the flavor.  And the melted pools of gorgonzola dolce – ahhhhh.  So luscious.  Serve it with my blue cheese dressing to amp up the sluttiness.  Make it a takeout night at home by baking up some of Alexia's onion rings or some Chickie's and Pete's Cheese Fries and you are all set!!
Buffalo Chicken Pizza
Ingredients
1 package, recipe, or tube of pizza dough, rolled out flat into your preferred shape and size for pizza
1 large chicken breast, pounded to even thickness
1 bottle Frank's Buffalo Sauce
1-2 cups shredded mozzarella cheese
3 scallions, sliced (optional)
1/4 – 1/3 cup gorgonzola dolce, crumbled (optional)
Directions
1. Cook your chicken: Preheat oven to 400 degrees F. Pour a little bit of the buffalo sauce into the bottom of a small baking dish. Turn the baking dish around to spread the sauce around. Put the chicken breast on top, and pour a little more buffalo sauce on top to cover it. Bake for 12-15 minutes, or until done. Remove from oven and dice into small cubes. Spoon some of the sauce back onto the chicken and mix it up so it's nice and saucy.
2. Prebake your dough: When the chicken has about 5 minutes left, stick your pizza stone in the oven below it to preheat. Remove the stone from the oven, and carefully!!! lay your dough on top of it. (Or, if you don't have a pizza stone, prebake on a cookie sheet.) Slide the stone back into the oven with the bare pizza dough on it, and cook for 3-4 minutes.
3. Assemble your pizza: Remove the prebaked dough from the oven, and assemble your pizza. Pour some buffalo sauce onto the dough and spread it around with the back of a spoon. Pour as much as you'd like, but you don't really want too much. Then cover the sauce with as much mozzarella cheese as you'd like (I'm an extra-cheese fan but use however much you want). Then, add your saucy buffalo chicken. Sprinkle it on all around the pizza. Put the pizza back in the oven and bake for 15-20 minutes, or until the cheese is melted and bubbly.
4. Add your optional toppings: When the pizza has about 5 minutes left, sprinkle your scallions on top. When your pizza has about 3 minutes left, sprinkle your gorgonzola dolce on top. Gorgonzola dolce melts very fast, so you really want this to go on at the very end.