For this week's edition of Fixer-Upper Friday I'm going to share with you the transformation of our Great Room!
Our Great Room is in the back of the house, in the addition.  It features exposed beam ceilings like the Family Room does.  It's a long rectangular room with a gigantic bay window on one end, and the kitchen on the other end.  The Great Room includes a sitting area, our dining room, and a huge fireplace not quite in the middle of the room.
If I have one complaint about this house, it's that the architect who designed the addition was not the most forward-thinking.  The amount and placement of windows, baseboard heaters, and outlets in this house have proved problematic for arranging furniture.  We struggled with this a little in the Family Room but the struggles with this room are a little more prevalent.  While in the Family Room we had an issue with it being almost too big – having to bring our furniture in from the walls a little and figuring out what to do with the space between – in this room, our struggle is that it's too narrow.  You'll see what I mean when I get to the After pictures.  🙂  But still, it's a good size room, and it has lots of potential, and I've already got some renovation ideas about how we can manage these issues.
First, the horrid Before pictures: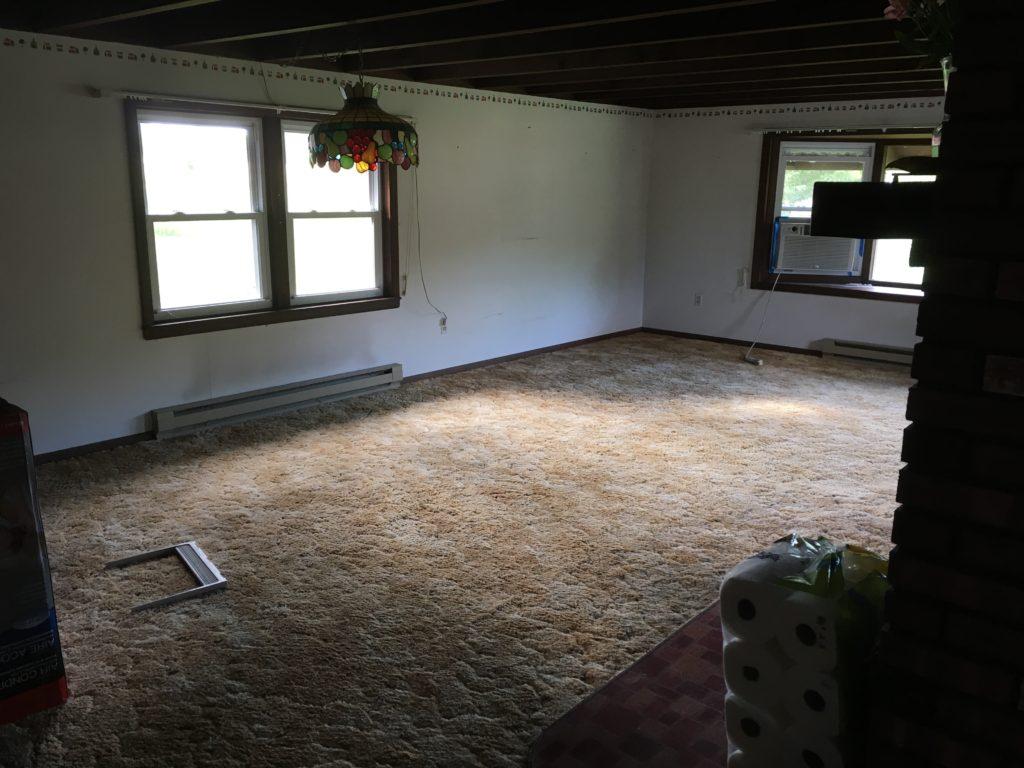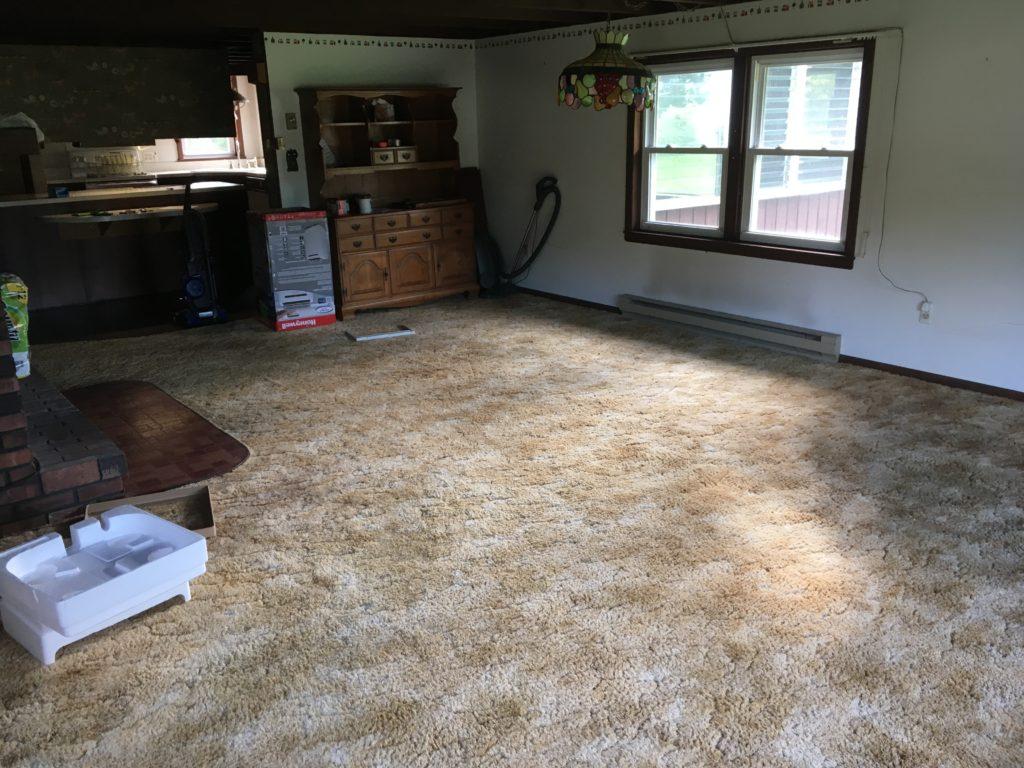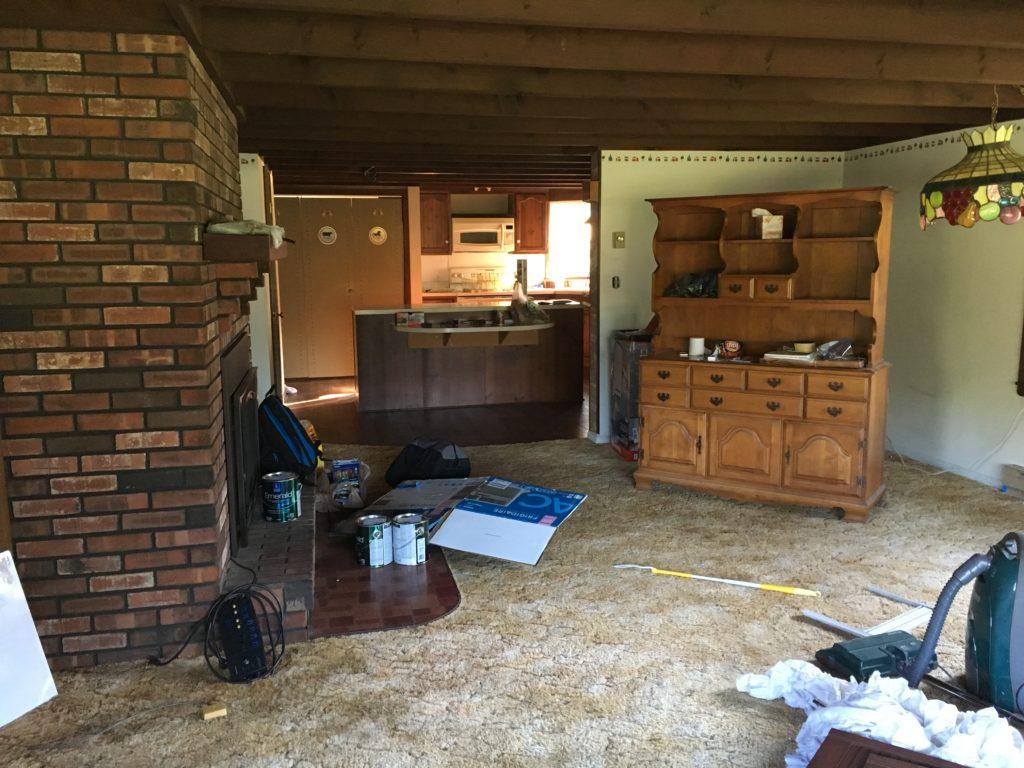 Now, a few pictures from During the process: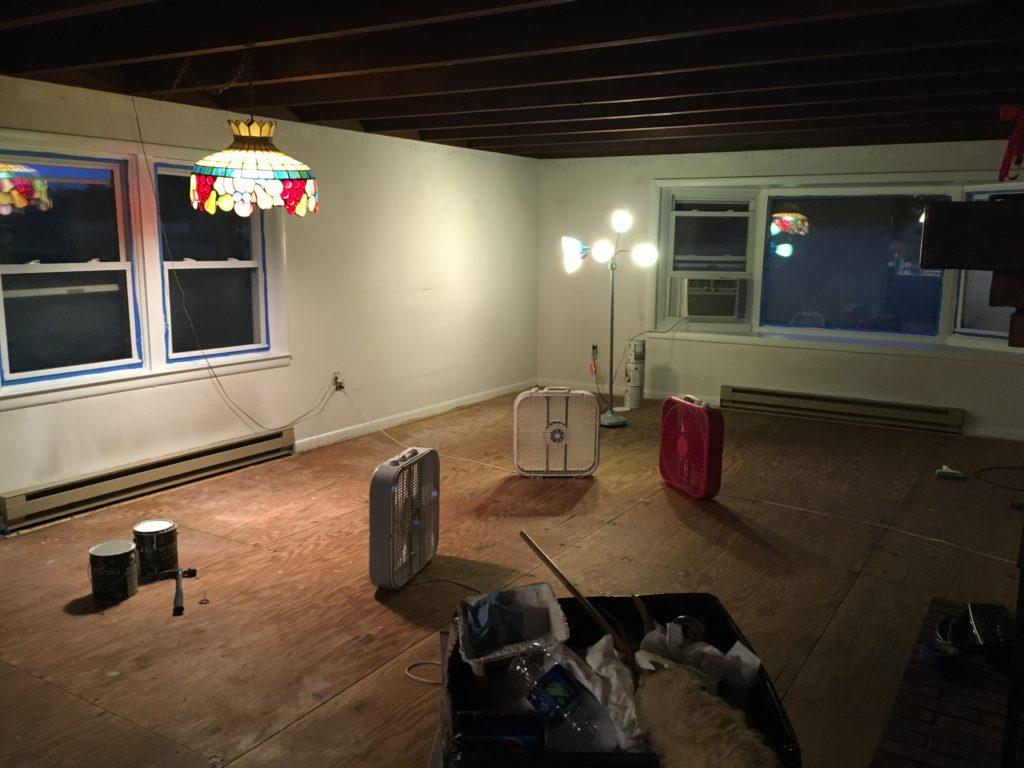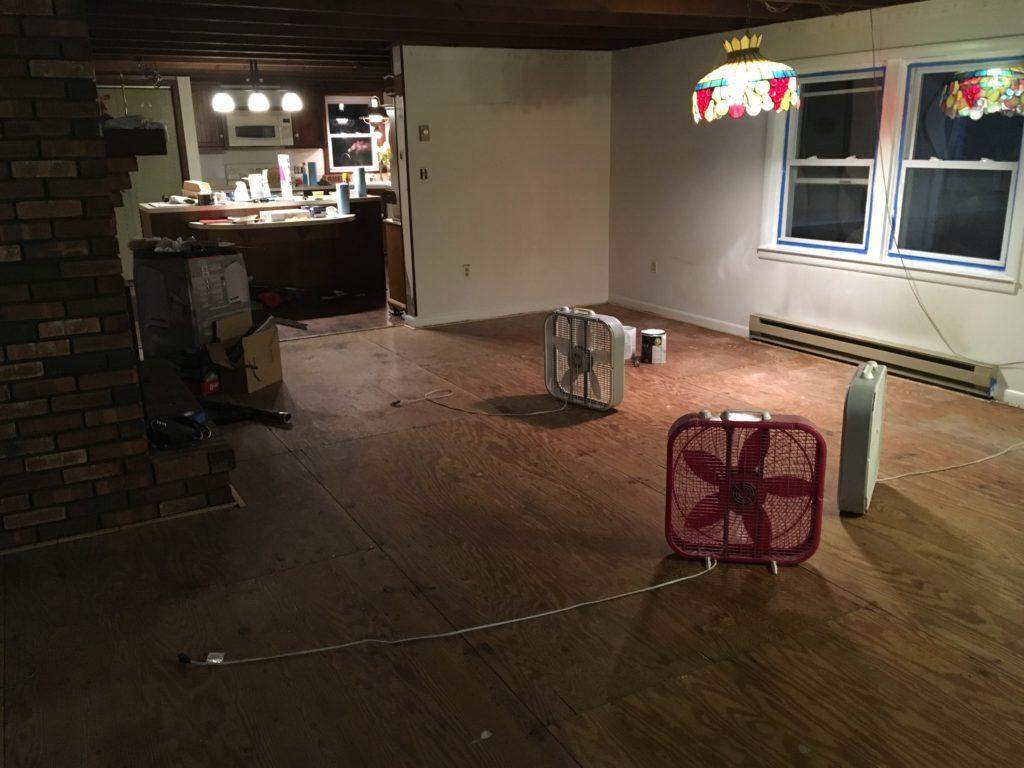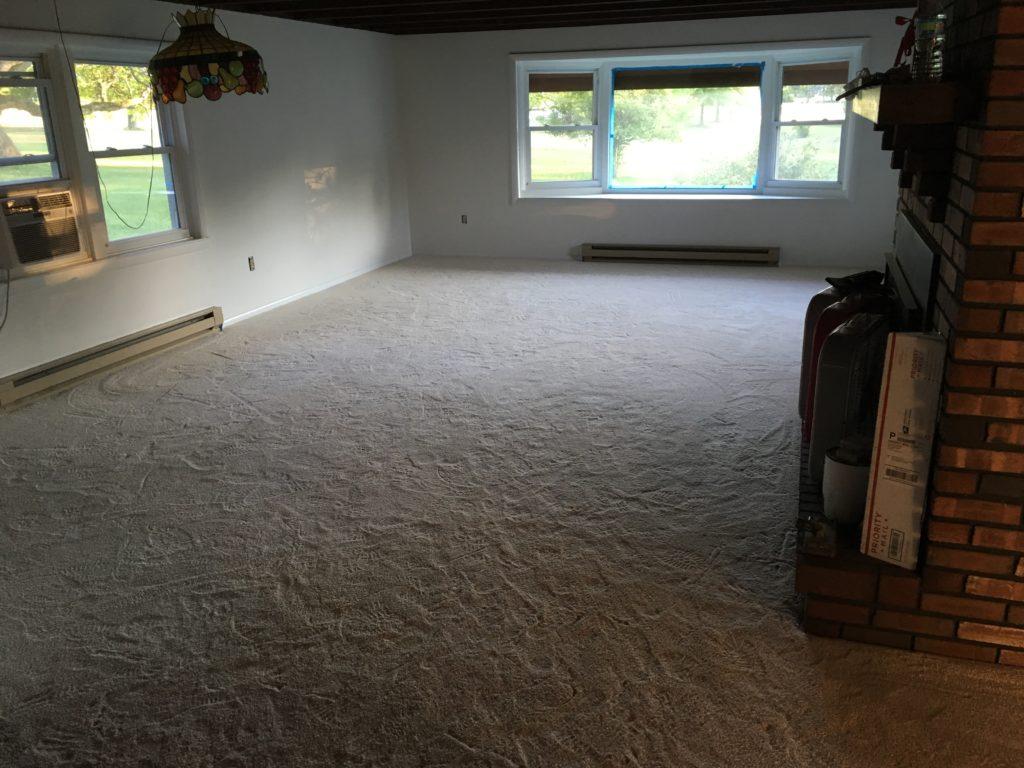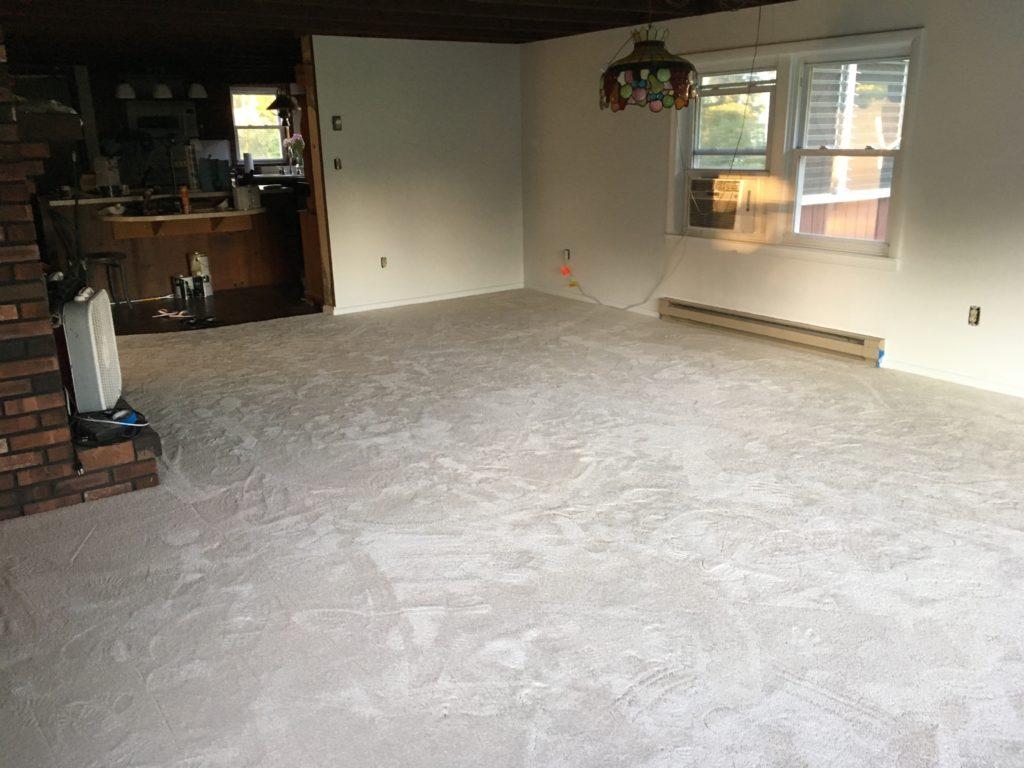 And now, for the Afters!!: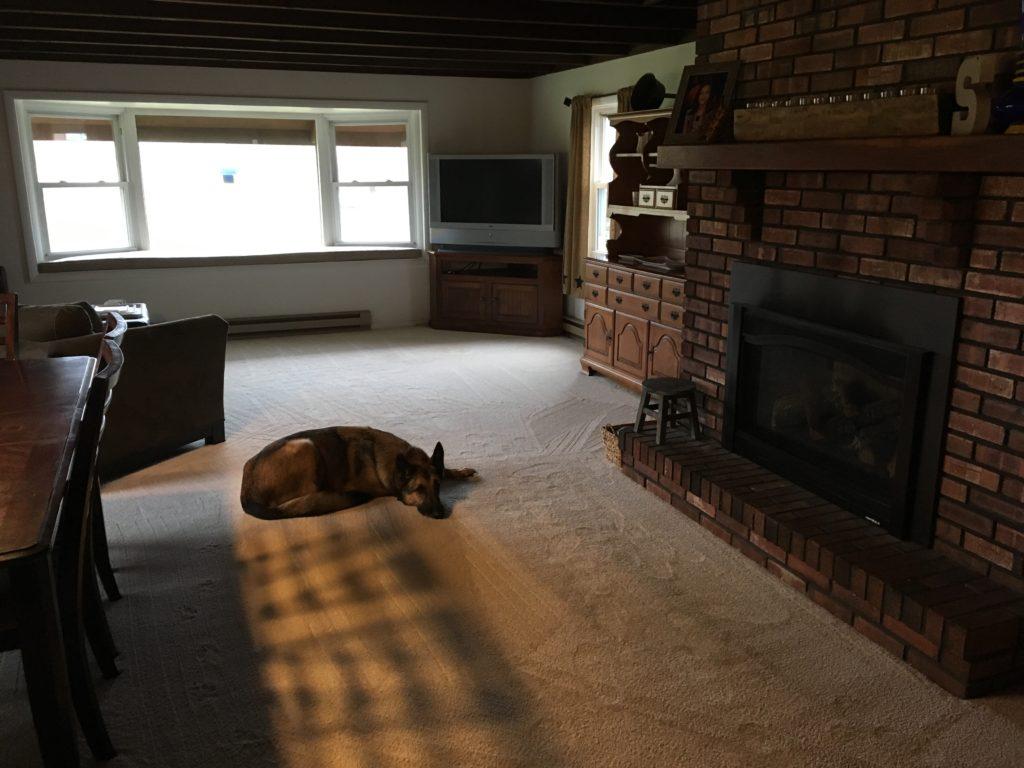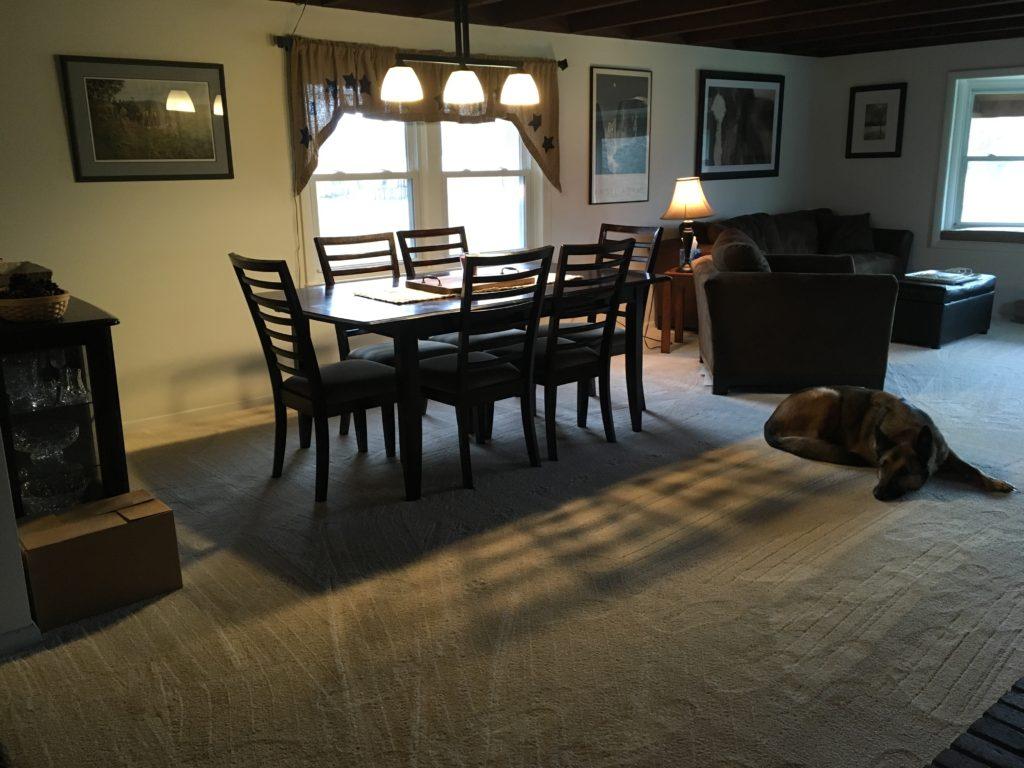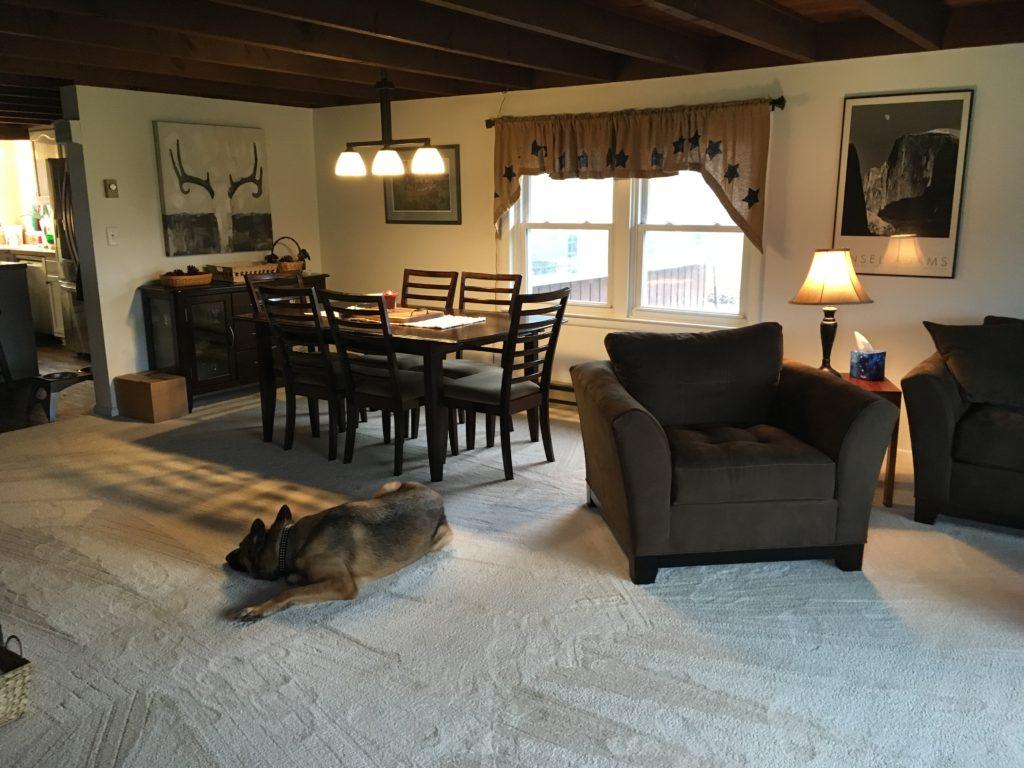 You see what I mean about furniture placement?  You are pretty limited with creativity and what you can do with this room, because it's so narrow, and because of the window placement.  It would be awesome if the fireplace was in the center of the room, but it's off to the right a little.  It would actually be nicer if the fireplace sat at the end of the room where the bay window is, with maybe windows on each side.  And It would be awesome if the windows next to the dining room table sat directly across the fireplace, just for my own sense of balance in the room, but they are also offset.
I can never have a dining room table bigger than the one I've got.  Otherwise I'd be cutting into the sitting area of this room.  I can also never have bigger sitting area furniture than what I've got, because it would be cutting into the dining area.  I love the gigantic bay window, I really do.  But it would be nice if I had some wall space there.  There's also this window next to the fireplace that is nice for opening and letting in a cross-breeze, but sort of a pain because I NEED WALL SPACE!  So, we just need to be creative with this room, and I already have some ideas and plans about relocating the dining area, to give us some more room for the sitting area.  And maybe even build us a closet (we have NO closets on this floor) and a proper entryway.  🙂
And actually now that I'm thinking about it, maybe I relocate the sitting area, and this giant room becomes a gigantic eating/gathering area… see?  Lots of potential!!
So HEY if you have any interior design or decorating ideas for us for this room (*ahem ahem* *wink wink* my dear sister-in-law!), I'm stoked to hear them!  Please share!