A long, long time ago, in a West Philly apartment far, far away, there lived a girl who did not know how to cook.
And, wanting a marriage proposal so terribly, having been with her boyfriend for several years, she started to wonder if he saw her as non-marriage material due to her lack of cooking skills.
So off she went to the primitive internet, via AOL, in search of some special recipes for a Valentine's Day dinner to impress her boyfriend.
At last she found a recipe for steak au poivre, which she recognized as something she ate at a very nice restaurant once and really liked.  She also found a simple recipe for roasted potatoes and thought about sauteeing up some broccoli to round out the meal.  Her boyfriend always said you needed something green on the plate.
Now a trip to the grocery store was necessary.  And not just any grocery store would do for this meal.  She must go to the fancy, organic, expensive grocery store.  Here she purchased steaks, broccoli and potatoes.  She also found out what shallots were.  And she learned how to pick out a good bottle of red wine, too.  And since cooking was only barely her thing, she decided to purchase pre-made mini desserts instead of making something from scratch.
She secretly took the day off of work to spend the entire day preparing for this meal.  She minced, chopped, diced, and sliced all of the ingredients and portioned them out into little bowls.  She measured all spices and liquids and set them aside until everything was ready to use.
And finally the time came for her to start cooking.  She wanted to have dinner on the table when he walked in the door.  That's what a good wife would do!
She was very nervous but she followed the recipes exactly.  She cooked the steaks perfectly, and the sauce was better than she ever could have expected, and the side dishes turned out exactly as they were supposed to.  She was so impressed with herself.  For her first time in the kitchen cooking something other than Hamburger Helper or Chicken Helper, she felt very proud.  Her boyfriend was equally impressed, complimenting that the steak and sauce were of "restaurant quality".
And so a desire in her was born, to learn how to cook, to make fabulous dishes and recipes, to try new foods and ingredients, to develop skills and techniques and become a kitchen maven her boyfriend could be proud of.  And subsequently ask for her hand in marriage, of course.
And here we are, 15 years later.  He did ask me to marry him a couple years after that Valentine's Day.  He still says we need to have something green on the plate (though I tend to disagree – and anyway does parsley count?).  I still make this steak dish on occasion and I have truly perfected the sauce recipe over the years.  I give you this menu for Valentine's Day because if it was simple enough for such a novice cook to attempt 15 years ago, surely it's simple enough for anyone else of any skill level.  Go forth and nomz!  Impress your sweetie with this restaurant-quality meal.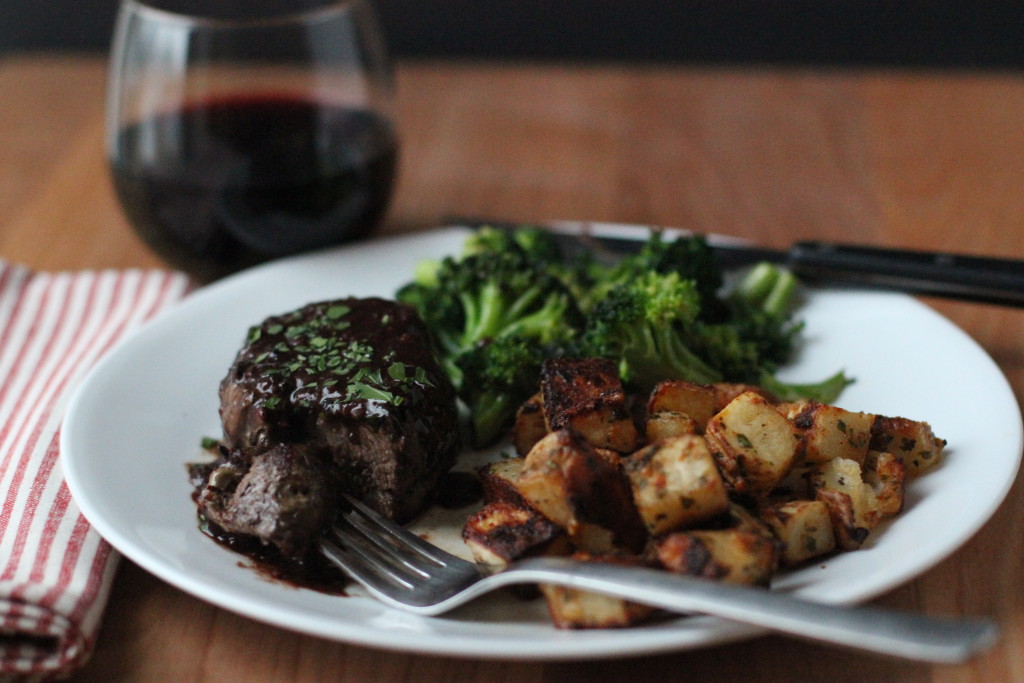 xoxoxo <3 <3 <3 xoxoxo
Valentine's Day: Steak au Poivre Menu
Serves: 2
Time: Give yourself a couple of hours if you want to take your time. When I cooked this for the blog, I was moving at a quick pace and it took me about an hour.
Steak au Poivre Ingredients
2 shallots, finely chopped
2 tablespoons butter
1 tablespoon cracked whole peppercorns, or very coarsely ground pepper
1/2 cup red wine (I use Malbec but any red will do)
1 1.5oz puck Demi-Glace Gold (can also be found at Whole Foods if you don't want to order online)
4 ounces red wine + 2 ounces hot water
1/4 cup finely chopped parsley
2 steaks of your choice
Salt and pepper to taste
Steak au Poivre Directions
1. Prep your ingredients: FIRST – Shallots will make you cry. If they don't, you are the luckiest human being I know. The easiest way to get chopped shallots without crying like a newborn is to cut off the root and the top end, peel off the skin, chop into a few pieces, then drop them into a food processor or a mini food processor. Pulse a few times till you have finely chopped shallots. SECOND – Cracked peppercorns. This is a great place to get your kids involved. Measure 1 tablespoon whole peppercorns into a Ziploc baggie and zip shut. Take a meat mallet or the back of a skillet and bang away at the peppercorns until they are all cracked and there are no whole peppercorns left. THIRD – Measure out your two instances of red wine. Pour a half cup into one measuring cup, and 4 ounces red wine (yes I know this is also a half cup) plus 2 ounces hot water into another measuring cup. FOURTH – Chop your parsley. FIFTH – Trim your steaks to your liking, and season them with salt and pepper to taste. Don't taste the raw meat. Just, you know, look at it and decide if it's enough salt and pepper for your tastes or not.
2. Make the au poivre sauce: Melt butter in a sauce pan over medium heat and saute shallots until transparent, 3-4 minutes. Add cracked peppercorns a whisk to combine. Pour in the 1/2 cup of red wine and increase heat to medium high. Boil until the mixture reduces to an essence with just a hint of wine left in the pan. Add the Demi-Glace Gold, and whisk until it melts like chocolate and is completely incorporated. Then pour in the red wine + hot water mixture, whisk well, and reduce heat to medium. Strongly simmer the sauce until it thickens, about 5-10 minutes. Once it reaches your desired consistency, turn heat to low to keep warm until you are ready to serve. Just before serving, whisk in the parsley.
3. Grill your steaks: There are many different ways to cook steak, so you can cook your steak in your preferred way or I will share with you how we do it here. Heat a grill pan on the stove over medium heat until hot. Grill steaks for 3-4 minutes per side. Preheat your broiler to high heat. Place the grill pan in the broiler and finish cooking the steaks to your liking. For a medium-done steak of average size, count on cooking it for anywhere from 5-15 minutes in the broiler. The internal temperature on a medium steak will be 135-140 degrees F. Here's a great chart on internal cooking temperatures for reference. And here's a great tutorial on cooking steak on the stovetop.
4. Serve: If your steaks are finished cooking and you are still waiting for your sides to finish, remove them to a plate and tent them with foil to keep them warm. When ready to serve, put each steak on a plate and pour some of the au poivre sauce on top. Or, alternatively, serve the au poivre sauce alongside the steaks in a sauce boat or bowl.
Roasted Parmesan Potatoes Ingredients
2 medium russet potatoes
2 tablespoons olive oil
1 1/2 tablespoons grated Parmesan cheese
1 tablespoon chopped fresh parsley
1/2 teaspoon paprika
1/4 teaspoon garlic powder
1/2 teaspoon salt
Pinch of cayenne pepper
Roasted Parmesan Potatoes Directions
1. Preheat oven to 450 degrees F. Line a baking sheet with parchment paper. If you don't have parchment paper, line your baking sheet with aluminum foil and spray with plenty of nonstick cooking spray. When you think you've sprayed enough, spray a little more.
2. Prep your taters: Scrub your potatoes if you would like to leave the skin on, or peel them. Cut into bite-sized cubes.
3. Make taters: In a medium bowl, add olive oil, Parmesan cheese, parsley, paprika, garlic powder, salt, and cayenne pepper. Stir or whisk to combine. Add cubed potatoes and stir well or toss to coat. Arrange potatoes in a single layer on prepared baking sheet. Bake, turning once, until potatoes are lightly browned and easily pierced with a knife, about 20-25 minutes.
Sauteed Broccoli Ingredients
1-2 heads broccoli (depending on how much green you want on your plate), chopped into florets
2 cloves garlic, minced
2 tablespoons butter
Salt and pepper to taste
Sauteed Broccoli Directions
1. This is a one-step recipe!: Heat a skillet over medium heat and add the butter. When the butter has melted, add the garlic and saute until softened, about a minute (don't let it burn!). Add broccoli florets and stir to coat with the garlic butter. Season to taste with salt and pepper. Saute broccoli until it has reached your preferred doneness; about 10 minutes for tender-crisp florets.