As I grumbled yesterday, it's still pretty cold here in Philly.
I have been dying to fire up our grill and cook out every night but winter is just holding on by the skin of its teeth.
I don't typically want to eat meals like this in warmer weather because I think it's just in my nature to eat lighter, grilled foods in the spring and summer.  But when it's chilly like it has been, I find myself craving a warm cozy meal like this.
(Please excuse the picture!  Another victim to failing light.  I posted another picture below, an older one from when I wrote my cookbook.  I'm not sure if it's better or not.)
This meal is one of those meals that really scents up your house.  It's a smell I grew up with.  One of my mom's "famous" dishes is roast beef, mashed potatoes, and "bwack gwavy" (black gravy).  She usually made it on Sunday nights when we were all home for dinner.  It's one of those scents that you carry with you from childhood to adulthood — whenever I smell it cooking, no matter how old I was or am, my stomach growls, my mouth waters, and I start wondering how long it is till dinner is ready.  It's usually requested for my birthday dinner and sometimes my sister's birthday dinner.  And though it's a simple recipe, it took me a while to master it the way my mom has.  If you watch my mom make it, it's effortless: she doesn't measure anything, she just knows.  And to be honest, I'm still trying to master mashed potatoes.  I am very hit or miss with them.  So most of the time I just say screw it and make smashed potatoes.  I have never once made potatoes as silky smooth as my mom has.  But I will keep on trying.
So I'm figuring you know what roast beef and mashed potatoes are, but you may be wondering what "bwack gwavy" is.  I'm not quite sure where this recipe came from; it might be my mom's original.  I just know she always makes it with this meal, and it's the only time she makes it.  And yes, we usually pronounce it like that because that's how my baby sister would say it when we were kids.  It just stuck.  Personally, I drench my roast beef and potatoes in bearnaise sauce, so I have never had a taste for "bwack gwavy", but my husband loves it.  In fact, he mastered the gravy recipe and now I just let him make it when we are having this for dinner.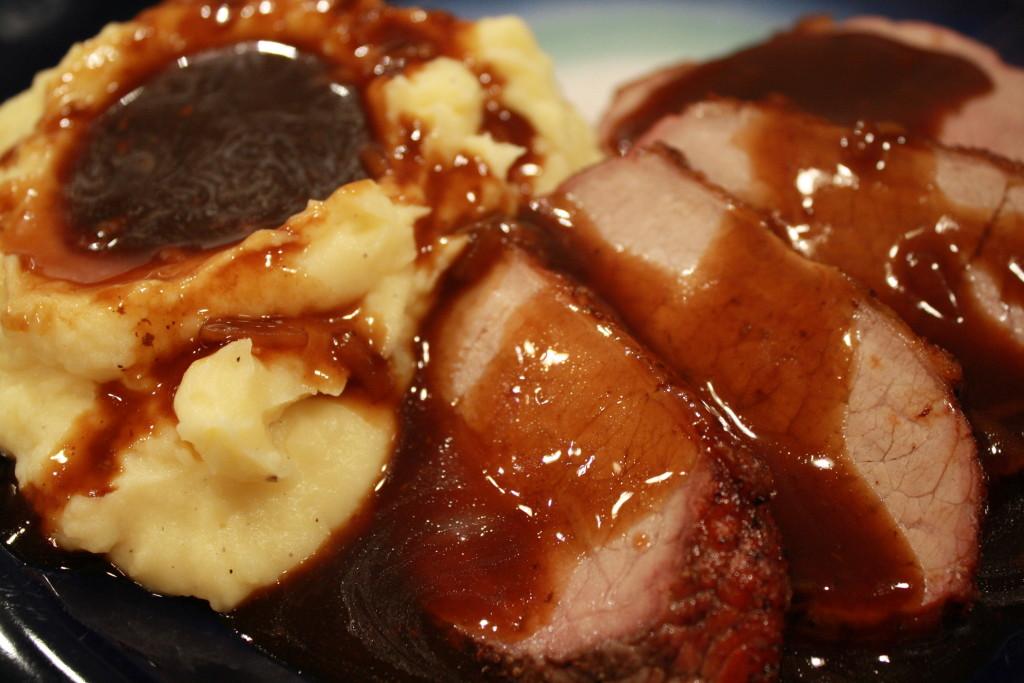 Next time you feel like warming up your house on a chilly day with your oven and some mouth-watering smells, consider this family dinner recipe.
Roast Beef and Black Gravy
Ingredients
For the roast:
1 eye round roast
1 packet dry onion soup mix
Water
Salt & pepper
For the gravy:
Drippings and onion soup mix from the roasting pan
1/4 cup cornstarch
1/4 cup warm water
2 tablespoons Kitchen Bouquet
Salt & pepper
Directions
1. Roast your beef: Preheat oven to 350 degrees F. Season beef roast on all sides liberally with salt and pepper. Prepare a roasting pan by pouring the packet of onion soup mix into the bottom, and covering with water. Stir if necessary. Set the roast on a roasting rack above the water & soup mix. Roast at 350 for about an hour or an hour and a half, until desired doneness. Medium should ready about 145 degrees and medium-well should read about 155 degrees on a meat thermometer. Remove the roast to a cutting board and cover with foil until ready to serve.
2. Make the black gravy: Pour pan drippings and leftover soup mix from bottom of roasting pan into a saucepan. In a small bowl, whisk together 1/4 cup cornstarch and 1/4 cup warm water until dissolved. Pour into the saucepan. Whisk the gravy to combine with the cornstarch mixture until it thickens, over medium-high heat. Whisk in 2 tablespoons Kitchen Bouquet and continue to whisk and simmer until desired doneness. Season as desired with salt and pepper. Serve over roast beef, and any starch of your choosing, like mashed potatoes.