What's poutine?
This: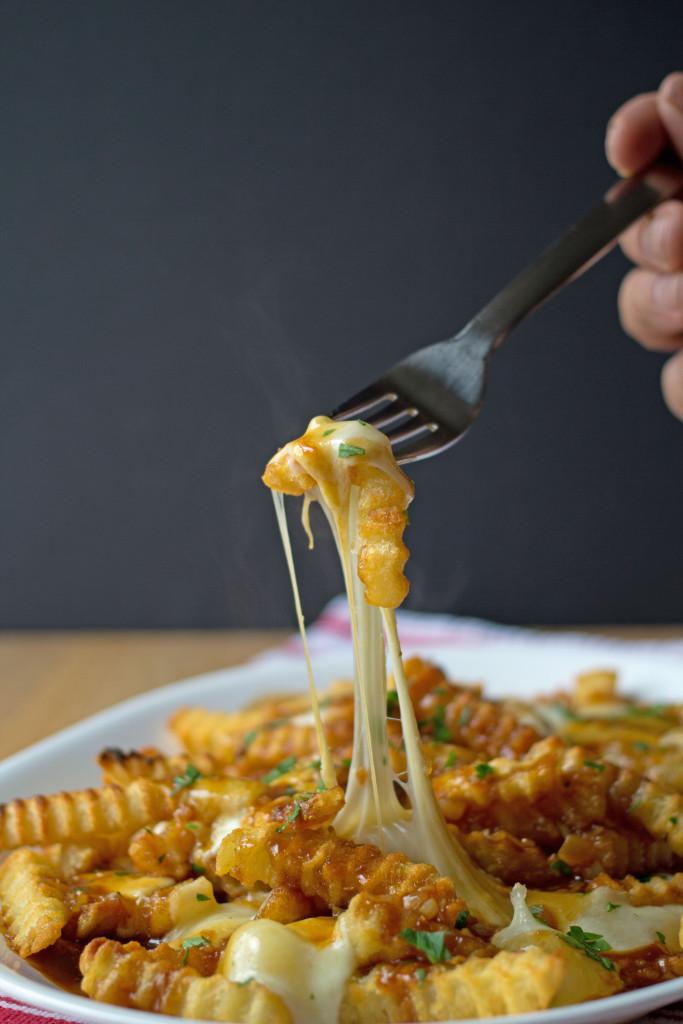 Aw yeah that's it.
Poutine is this amazing plate of Canadian goodness (you can find the official definition here).  We are talking about crispy fries, and a beefy brown gravy, and sweet, creamy cheese curds, and a bit of minced parsley on top cuz every plate should have some green on it.  The cheese melts in a way that you've never seen cheese melt before.  And the oniony gravy combined with the cheese is just so salty and sweet and slutty.
I adapted one of my favorite sauces I make for steak to make the gravy for this.  And cheese curds – they are what make this dish.  I get mine from Valley Shepherd Creamery in Reading Terminal Market right here in Philly.  You could probably find them at any good cheese shop.  If you're in the upper midwest, I bet you can find them anywhere.  I have even found them online (and this is not a bad option to resort to if you can't find them – trust me, they are worth it!).  But I was lucky enough to find them just a few blocks away from where I work, making them (almost too) easily accessible.
I first had poutine at this bar called National Mechanics in Old City.  It was on their specials menu for that night.  We have been trying poutine wherever we could find it on a menu ever since.  My husband is especially enamored – I am also now too, now that I can make a pretty bangin' plate at home.
The recipe I have below is for a pretty suped-up version of poutine.  You could make a really simple version of the gravy by just buying a brown gravy mix at the grocery store.  However, I would recommend making it with beef stock instead of water.  Beef broth would work too, but beef stock gives it a much deeper, richer, more beefy flavor.
Poutine
Ingredients
1 bag Ore-Ida Extra Crispy Golden Crinkle French fries
3/4 pound cheese curds
2 shallots, finely minced
2 tablespoons butter
1 puck Demi-Glace Gold
1 cup beef stock*
Minced parsley
Directions
1. Make the gravy: Begin by melting butter in a saucepan over medium heat. Add minced shallots and stir; cook until translucent, about a minute or two. Add the Demi-Glace Gold, and whisk until it melts into the butter-shallot mixture. Once melted, pour in the beef stock. Whisk until well combined. Bring the mixture to a boil, and boil for 10 minutes. Then turn the dial to low, and leave on low for about 8 minutes, or until the French fries are done.
2. Bake the fries: I love Ore-Ida Extra Crispy fries because you get the texture of a deep-fried French fry, but it's been baked instead. Prepare a large cookie sheet by covering it with aluminum foil and spraying with cooking spray. Pour fries into an even layer. Bake fries until 2 minutes shy of done as according to package directions. Flip once halfway through. Remove fries from the oven when they are done to a broiler-safe platter.
3. Make POUTINE!: Set the broiler to high heat. Top the fries with the cheese curds, spacing them out throughout the fries and the platter. Put the platter into the broiler, and broil the fries and cheese for about 2-3 minutes, or until the cheese curds have become an ooey gooey melty delicious mess. Remove from broiler, and pour gravy on top. Top with minced parsley.
4. EAT!
NOTES:
* I recommend using beef stock, though beef broth will work. Beef stock will impart a much deeper and more beefy flavor.