I have to tell you guys… I'm a late-blooming foodie.
It's true.
I grew up a very picky eater.  We didn't eat a lot of exotic or fancy food in our house.  Tacos was about as ethnic as it got.  Both my parents worked full time, and with five kids in the house, it was damn near impossible to find something we all would eat.  I'm pretty sure there was even a time that one of us (it might have been me) didn't even like pizza.
Thankfully, things have changed.  But it was for this reason that I did not experience the deliciousness that is Alfredo sauce until I was in my 20s.
(It is also for this reason that I literally just recently – as in the past few months – started falling in love with bacon.  But that's another story for another time.)
Aaron and I were living in West Philadelphia and getting ready to move west to Spokane, WA.  We wanted one last hurrah in New York City before we moved, so we booked a weekend in a hotel and got tickets to see Les Miserables on Broadway.  It was 2001.  I was 21.  My only experiences with New York City up to that point consisted of school field trips to the Statue of Liberty and Ellis Island, and raves in the late 90s/early 00s.  This was probably the first grown-up thing Aaron and I had ever done in NYC together.
We shopped for nice clothing to wear to the theater.  I bought a pretty white button-down shirt and khaki skirt from Brooks Brothers (which at the time was like OMG IT'S SO EXPENSIVE HERE…. wait who am I kidding, it's STILL expensive).  Aaron actually picked out my outfit.  He's always been pretty good at picking out clothes for me.
Off we went to NYC.  We took the train and stayed at The Time Hotel.  In this room about the size of a shoebox.  But pretty good water pressure which is really all that mattered to me.
Les Miserables was amazing and beautiful.  I had known the soundtrack from growing up.  My mom had the CD and would listen to the songs often and my sister and I knew all the words and would sing along as if we were Broadway singers ourselves.  (We still do.)
All that crying and emotion made me hungry though, so after the show was over we went looking for a place to eat.  We ended up at a restaurant in some hotel – I want to say maybe the restaurant was called Russo's? – and Aaron ordered some kind of pasta Alfredo primavera dish.  And since it was an Italian place I probably ordered chicken piccata because that's the extent of food I liked at that time that was Italian.
His pasta dish out in this big bowl and looked so scrumptious with all the vegetables and creamy sauce covering everything.  I asked for a bite – which I never did back then – and in literally that instant, I became a Pasta Person.
The creamy sauce, the salty Parmesan cheese… I was hooked.  I couldn't wait to eat it again somewhere closer to home.
Very very shortly after that, "home" was Spokane, WA.  Spokane is absolutely the most beautiful place I have ever lived.  Everything about Spokane put Philadelphia to shame – except the food scene.  In 2001, and maybe still today, I would guess that Spokane was the Chain Restaurant Capital of the World.  Mom and pop pizza shops?  None.  Delis with real cold cuts?  Couldn't find one.  A real cheesesteak shop?  HA!  I can honestly say the chain Mexican food was awesome.  But the chain Italian food – well it was really only Olive Garden.
So the next place I was lucky enough to eat Alfredo sauce was at Olive Garden.
In retrospect, I suppose it could have been worse.  Olive Garden has pretty good Alfredo sauce.
And if you've been reading my blog, you know that the cooking bug bit me while I lived in Spokane, so naturally I searched the primitive internet of 2001 for Alfredo sauce recipes and tried recipe after recipe till I came across one that really tasted like what I had at Olive Garden.  I was not yet culinarily advanced enough to take some liberties and make it like Russo's.  But even today, this recipe remains my favorite Alfredo recipe.
I add broccoli because it's much easier to eat when you cover it with something creamy and fatty.  🙂
BTW, what did we do without Pinterest?  I wish I'd had Pinterest 14 years ago when I was learning how to cook!
Anyway.  Here's what you should do.  Go take a nice brisk hour long walk and then come home and make this.  The walk will make you feel better about consuming so much richness and amazingness.  🙂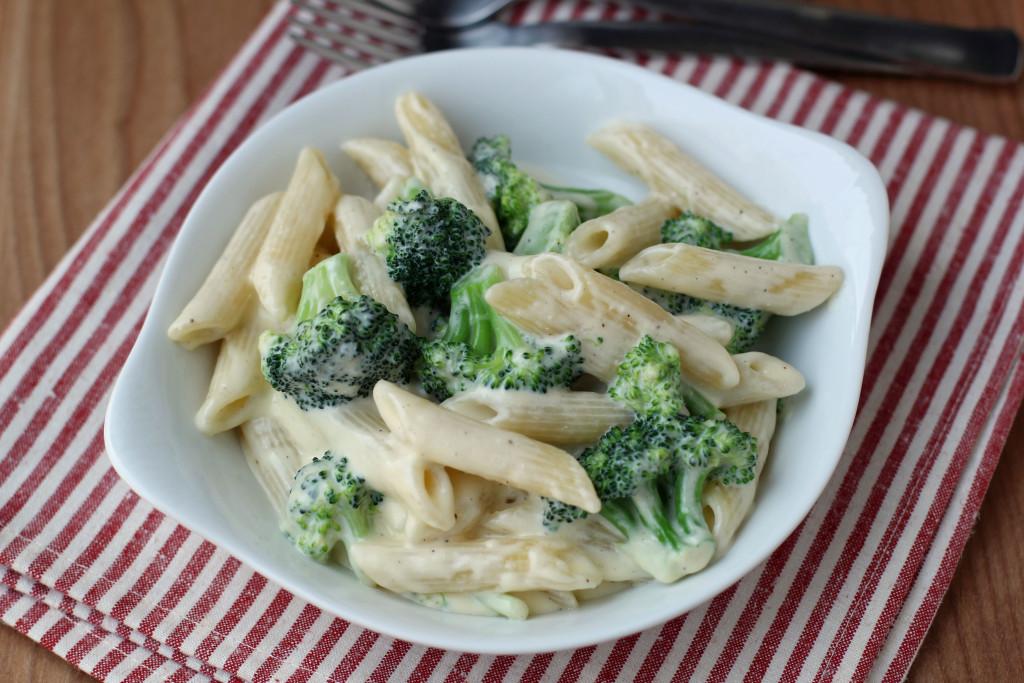 Penne Broccoli Alfredo
Ingredients
3/4 pound penne pasta
1 pint heavy cream
1 stick butter
3-4 tablespoons cream cheese
3/4 cup Parmesan cheese
1 teaspoon garlic powder
2 heads broccoli, cut into florets
Salt & pepper
Directions
1. Bring a large pot of salted water to a boil and add the penne. Two minutes before the pasta will be done to al dente, add the broccoli florets. Drain the pasta and the broccoli in a colander.
2. While waiting for the water to boil, pour heavy cream into a large skillet over medium heat. Add the butter and cream cheese and allow to melt. Whisk to combine. Add salt and pepper to taste. Add the Parmesan cheese and garlic powder and whisk to combine. Turn heat to medium low and simmer for 10-15 minutes, until sauce has thickened. (If sauce is too thin, add a little bit more Parmesan cheese.)
3. Add the pasta and broccoli to the simmering sauce. Stir to combine and cook together for a few minutes. Serve immediately.