So I haven't talked much about minimalism this month but trust me when I say I am still full speed ahead going at it!
This month, my BFF Jackie and I decided to play the "minimalism game", where, for every day of the month, you get rid of that number of things.  On day 1 you part with 1 thing, on day 2 you part with 2 things, and so on and so forth.  This month has been VERY interesting for me, because when we started I really didn't think that I'd make it through the whole month.  But look!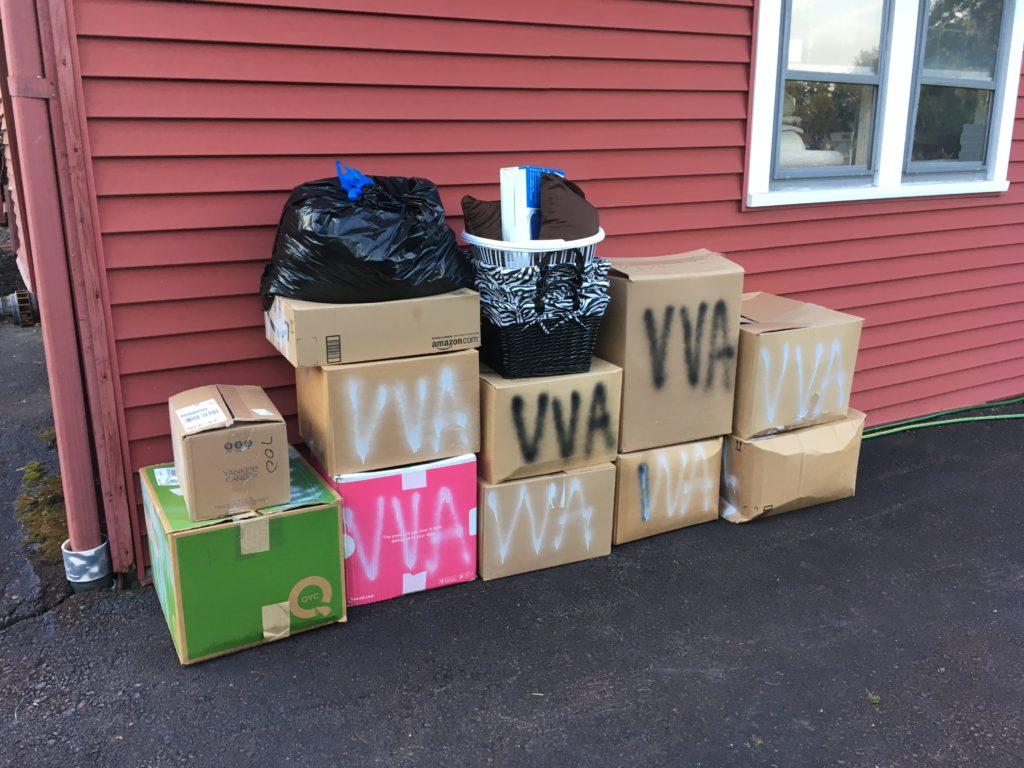 All that stuff is going to the Vietnam Veterans of America charity organization.
All that stuff – I didn't even need to pack!  Or store!  Or move!  Argh!
But it's ok.  I knew when I began this journey that I would be encountering some things that I knew I probably should have parted with when I packed up the old house, but wasn't in the right mental space to do so.  I honestly think that this game really helps you decide what you can truly part with.  It puts you on the spot.  And if you're even remotely competitive like I am, you WILL want to finish the game, and gosh darn it, you WILL decide much more easily to part with something!  I can't tell you how many times I came across something this month that, previously, I was like, "Well I just don't know about getting rid of this just yet", but, as a result of this game, found myself thinking, "NOPE TIME FOR YOU TO GO UNWANTED THING, I GOTTA FIND 23 THINGS TO GET RID OF TODAY."
This month I did focus a lot on my house.  There were some specific spaces inside my house that I knew needed my attention, and I focused there.  I also turned my attention to the barn to finish unpacking the boxes there.  I am proud to say that, FINALLY, TEN MONTHS AFTER MOVING IN, we are fully unpacked.  ?  I am not able to say that we are exactly where I'd hoped we'd be, as far as stuff we kept vs. stuff we got rid of, but, I am learning to make peace with it.  It is 99% my daughter's stuff.  She was very involved in the unpacking/trashing/donating process, and did a very good job deciding what to let go of – though of course I wish she'd let go of more, but that's okay.  I think she will get there one day.  I think this month has been a good lesson for her on intentional living.  By the end of the month, she even kind of joined in on the game.  She'd ask me, "How many things do we have to get rid of today?" and would figure out how she could contribute to the count.  ?
So, even though my daughter was super into it, like I said, she still kept a LOT of stuff that I thought she could part with.  Things she obviously hasn't needed in a year, hasn't seen in a year, baby toys, broken toys, puzzles she's never even opened and is now too old for, etc.  Now that all her stuff is unpacked and into her playroom and bedroom, I think for the rest of the summer, what I'd like to do is pick an area in her playroom or bedroom, and minimize it.  With her help.  We talked about it last night and she's totally on board.  I told her we could be really lazy about it, we could do a little bit every weekend or skip a weekend, it doesn't matter.  I offered her a "weekend chores bonus" – I told her that she could pick the area of the rooms that needs some attention, she could decide what stays and what goes, and if we can finish that area of the room then she would get a $2 bonus added to her chore money.  She actually laughed and asked for $20, and then I launched into a bit of a diatribe about why we are doing this in the first place, how it's about giving, and having less unimportant things so you can focus more on your important things.  She gets it, and I think it helped her to know that her Aunt Jackie and her family are going through the same thing right now.
I really can't believe that I got through all the boxes in my barn though, AND got through some areas in my house.  When I started this month I really was not sure I would make it to the end, and it WAS touch-and-go there towards the middle of the month before I started digging into my barn.  But alas!  I got rid of OVER 500 items this month, EASILY.  It wouldn't have been so easy if I didn't have so much to unpack, but wow!  I think I will do this game again in the fall or towards the end of the year.  It will definitely be more of a challenge!
I also wanted to say that I do think that my actual mindset is starting to change towards a more minimalist one.  For example, we have Amazon Prime, and my husband used to joke that I would order things and the box would come 2 days later and I would forget what I ordered.  It's only funny because it's actually true.  Now, in my defense, we HAVE "needed" a lot of stuff for this house.  But, there is some truth in that.  I have been much more mindful of my Amazon spending over the last month or so.  I went to Amazon just 2 days ago to order something for a little BBQ we are having this weekend, and I hadn't ordered anything in almost a month.  A MONTH!  Previously completely unheard of.  Also, this minimalist way of thinking has creeped into my grocery shopping and menu planning.  My lovely minimalist inspos over at //The Practical Minimalists// mentioned that one of the things they do is have a 'smorgasbord' night at home for dinner once in a while.  There is no meal planned, you can just pick whatever you want out of the fridge and cupboards for dinner.  I've tried that a couple times this month and it's not a bad idea!  It certainly makes me think more creatively about what we eat for dinner.  You know, we aren't going to die if we have onion rings and cous cous and chips and salsa for dinner one night.  Is it ideal?  No.  Is it food blog-worthy?  Certainly not.  But is it helping me clean out my cupboards?  YES.  Is it saving me money on my grocery bill?  ALSO YES.
I am so jazzed about my progress with minimalism and my journey isn't over yet.  I am actually looking forward to what's to come and how this journey evolves.  And I highly recommend it for anyone looking to declutter their lives in any way!