I have a confession to make.
Until about 5 years ago, I totally hated guacamole.
I know.  Can you forgive me?
Interestingly enough, what changed my mind was going to Mexico.  We went to Cozumel for Aaron's 30th birthday, to a beautiful all-inclusive resort, where I felt like hey, if I don't like it, at least I didn't pay for it.  So I tried a few new things there, one of them being guacamole.  And I felt like my mind was changed with just one bite – if this is what guacamole tasted like back in Philly, I'd order it all the time!
But we were too scared to try any guacs back in Philly.  Let's be honest.  Philly is not known for its Mexican food, let alone guacamole.  We both thought it was gross.
Fast forward a few years to when we tried Distrito for the first time.  We were feeling adventurous.  So we ordered the guac.  And again.  My mind was changed about guacamole! Jose Garces can do no wrong.  Seriously.
On a side note, I love Distrito.  If you ever get to Philly, it should be restaurant numero uno on your list of places to eat at.
So back to the guac.  Distrito puts a lovely little snowfall of shredded Cotija cheese on top – it's like icing on cake.  So nomzy.  And the guac is so creamy, a little bit chunky, lots of fresh citrusy lime flavor – ugh my mouth is watering now just thinking about it.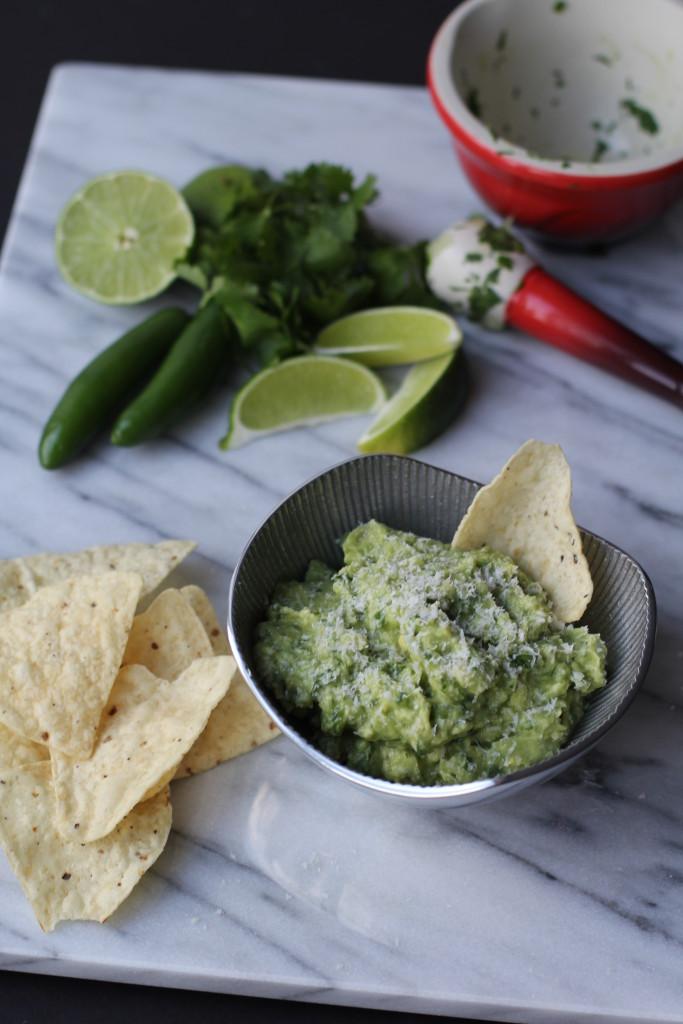 I set out on a mission to find a guac recipe that most closely resembles that of Distrito, and I think I found it.  I have modified this recipe from Truly Mexican – a fantastic cookbook if you are looking for a good Mexican cookbook – to make it more like Distrito's guacamole.  It gets rave reviews every time I make it.
And what is better game food than chips and guac‼  Enjoy!
Guacamole
Servings: 4-6
Time: 15-20 minutes
Ingredients
2 ripe avocados
1/4 cup diced white onion, diced fine
1 serrano pepper, seeded and diced fine
1 big handful of cilantro, minced
Juice from 1-3 limes
2-3 tablespoons finely shredded Cotija cheese
Kosher salt
Directions
1. Make onion-pepper-cilantro mash: If you have a molcajete, add the onion, serrano pepper, a few pinches of cilantro, and a few pinches of kosher salt to the bowl. (If you don't have one, pile everything up onto your cutting board and use a fork to mash it all together.) Mash everything together until it's combined well. The salt will help to break down the vegetables and soften them, so add more salt as needed to get everything mashed together nicely.
2. Prepare the avocados: First, slice a lime in half, and squeeze the juice of one half into the bowl you will be mixing your guacamole in. Using the flesh of the squished lime, rub the juice around the sides of the bowl as well. Next, slice an avocado in half lengthwise, cutting around the pit, and twist the halves apart. Pop the pit out (there are many ways to do this, but I am a fan of sticking the point of my knife between the pit and the flesh and popping it out), and slice cross hatches into the avocado. Using a spoon, scoop the avocado flesh into your lime-juiced bowl. Toss the cubes around to get a light coating of lime juice. Repeat with the other avocado.
3. Make the guac: Using a fork, pastry cutter (I find this works best), or hand-held potato masher, beat up the avocado cubes until they turn into a dip-like consistency. Add the mashed onion-pepper-cilantro mix, and the juice from the other half of the lime in step 2. Add another pinch of salt and mix well until combined. Add more cilantro as desired, and more lime juice as desired. I typically end up using a lot of lime juice (from 2 limes total) and a lot of cilantro (probably about half of a bunch, minced).
4. Finish the guac: Scoop the guac into a serving bowl and top with shredded Cotija cheese. Serve with tortilla chips of course!
5. Storing the guac: If you are not serving it right away, leave the cheese off until ready to serve. For storing: If you can't store it in the same bowl you mixed it in, then slice another lime in half, squeeze the juice into the storage bowl, and use the flesh of the squeezed half to rub the lime juice around the bowl. Scoop the guacamole into the storage bowl and press down with a spatula or back of a spoon to squeeze out any air bubbles. Squeeze a little more lime juice on top of the guac. Take a piece of plastic wrap and press it directly on top of the guacamole, sealing out all the air. Store in the refrigerator until ready to serve.
**NOTES**
1. If you have never cut/peeled/pitted an avocado before, please do some Googling and YouTubing to see the process beforehand. Avocados can be slippery, and slippery + sharp knives isn't always a safe combination. Also you don't want to get an avocado pit stuck on your chef's knife (like I once did).
2. One serrano pepper will make a pretty mild guacamole, depending on how big it is. I usually look for big serranos, and use two, for a medium-heat guacamole.