For my first Before & After post showcasing my new/old house, I chose our Family Room!
Our Family Room is in the original part of the house (not the addition).  As I mentioned before, this original part of the house dates back to either the 1700s or 1800s (depends on which local amateur historian I've talked to).  Someday I'll get to the township building and see if I can find out for real but for now let's just say it's a really old house.
It has exposed beam ceilings.  Many windows.  And part of it is an enclosed front porch.  There is a ton of wood paneling in this room – the entire front porch area is wood paneling, as are the built-in cabinets and bookshelves.  This room also has a door that leads out to the side of the front of the house – it's an older door with a window, and its lock uses a skeleton key!  This room gets lots of late afternoon light, and it's closest to the road so it can be kind of noisy at times.  Hopefully we can fix that with some new windows and insulation in the coming years.  It's a big room, and because of the enclosed porch, windows, and awkward shape, it presented a challenge as far as arranging furniture.  But thanks to Pinterest, I found some creative solutions that helped us out.  More about that later.  🙂
So here are the horrid Before pictures.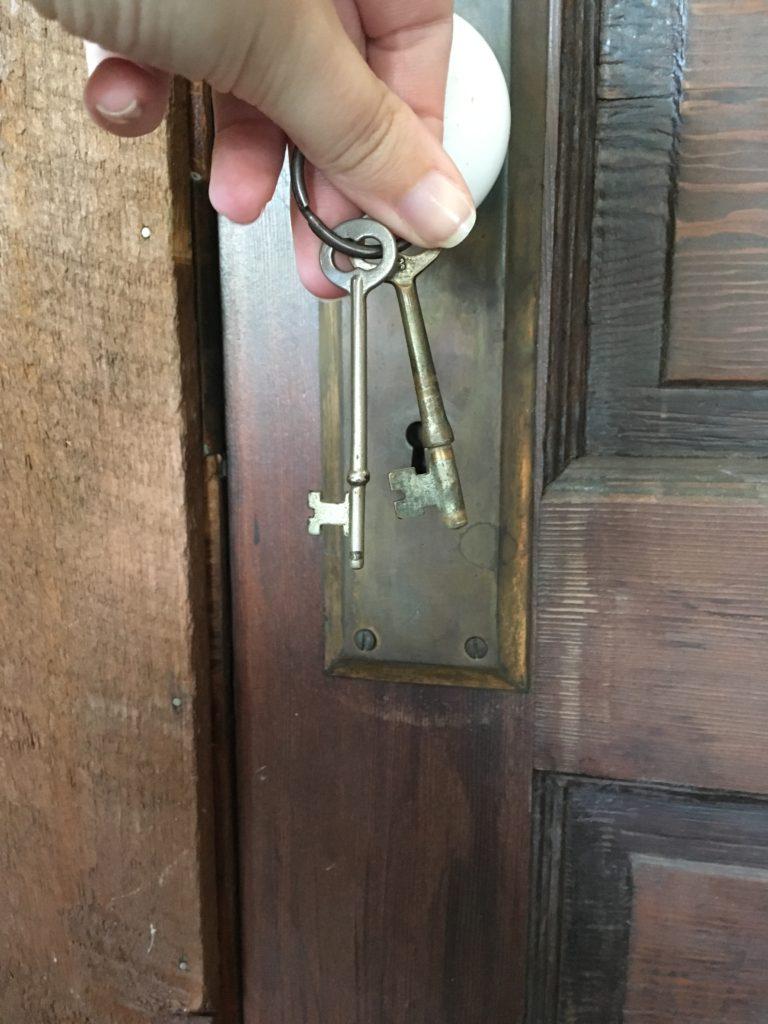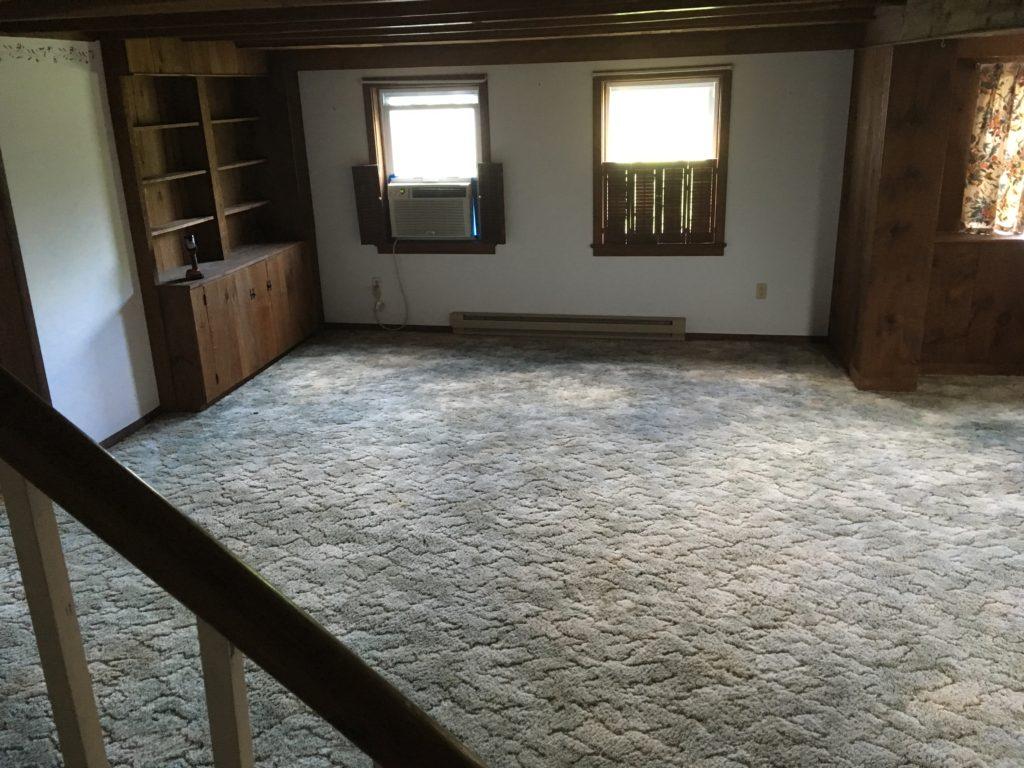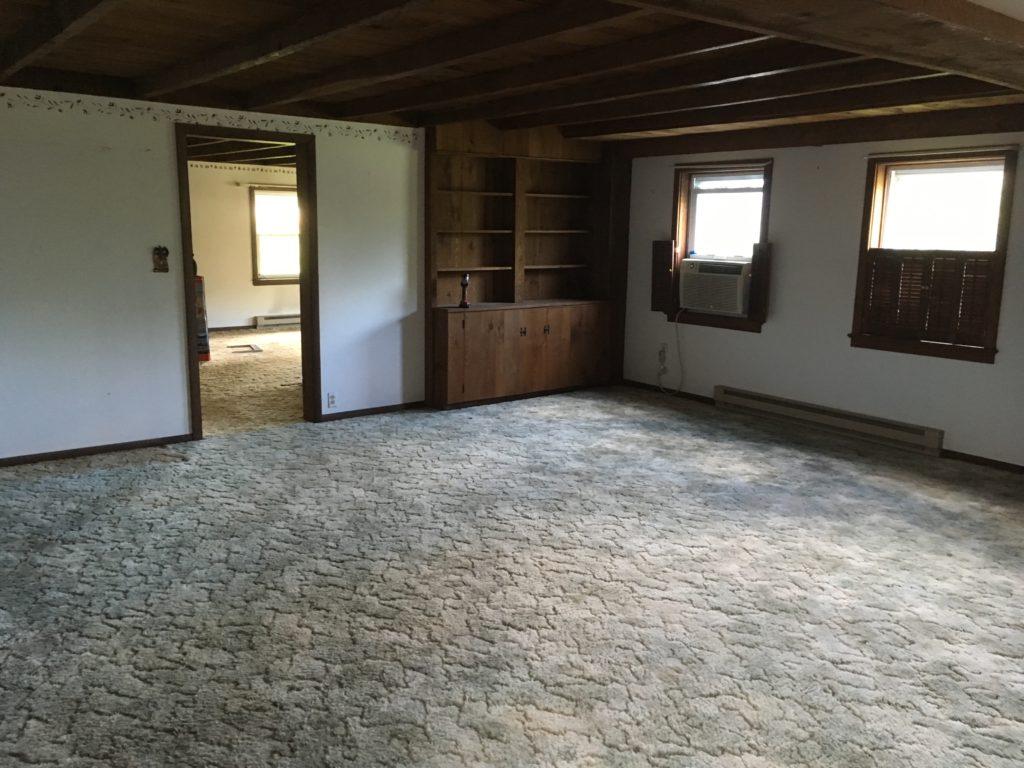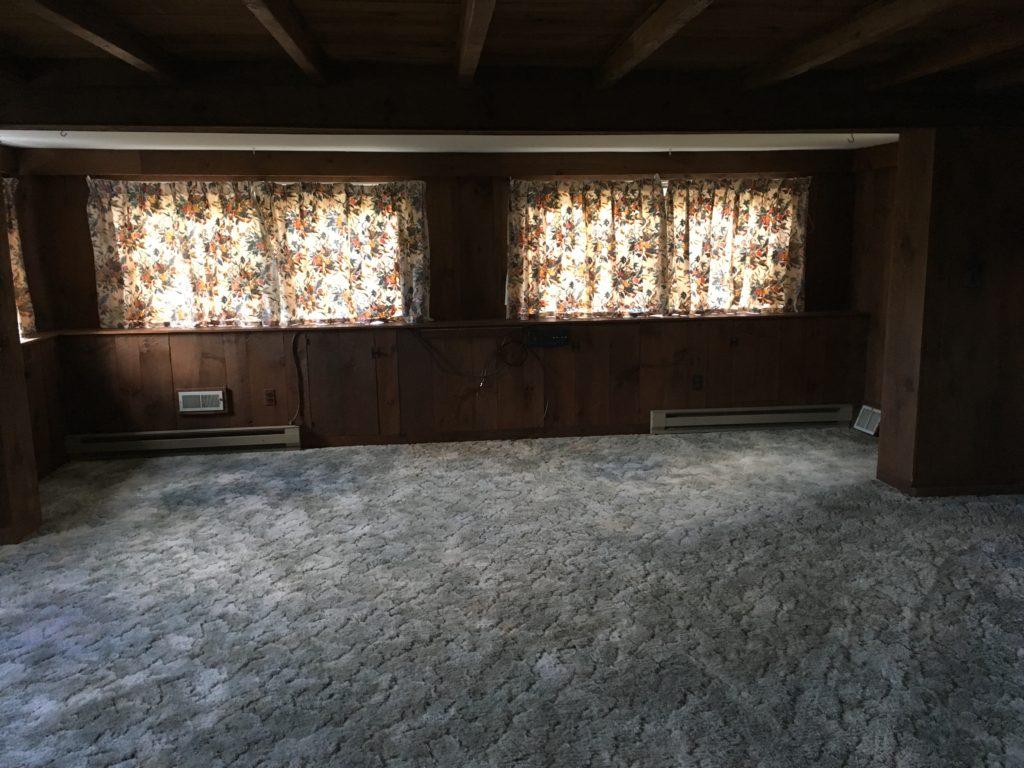 And now, for some of our During pictures: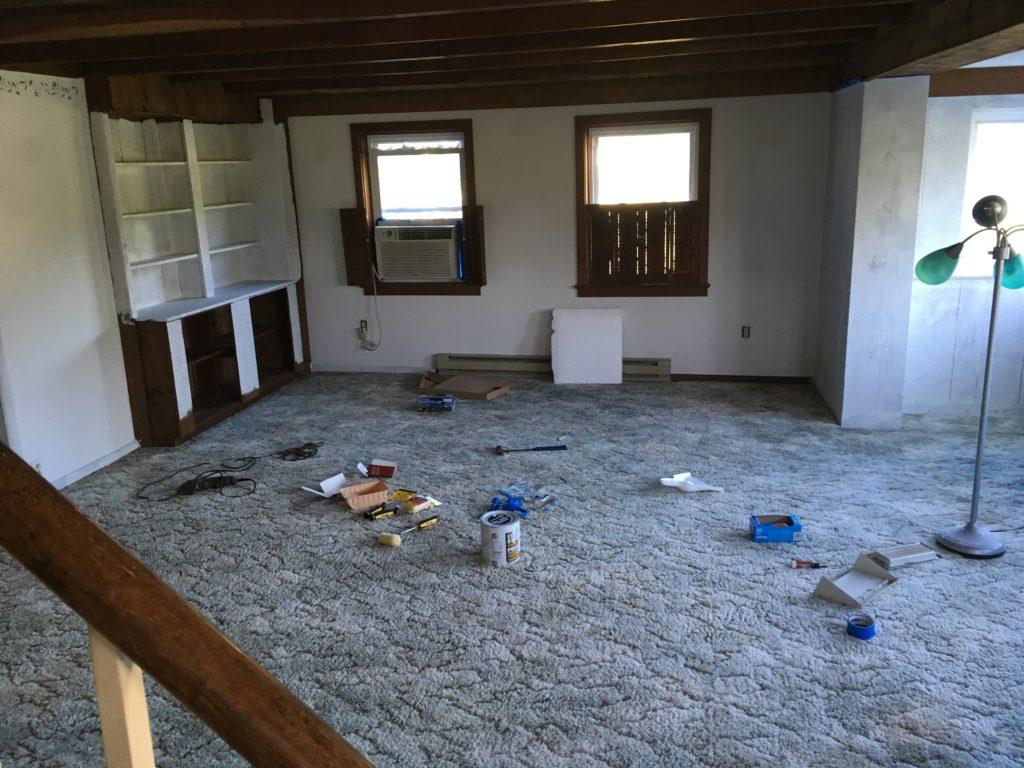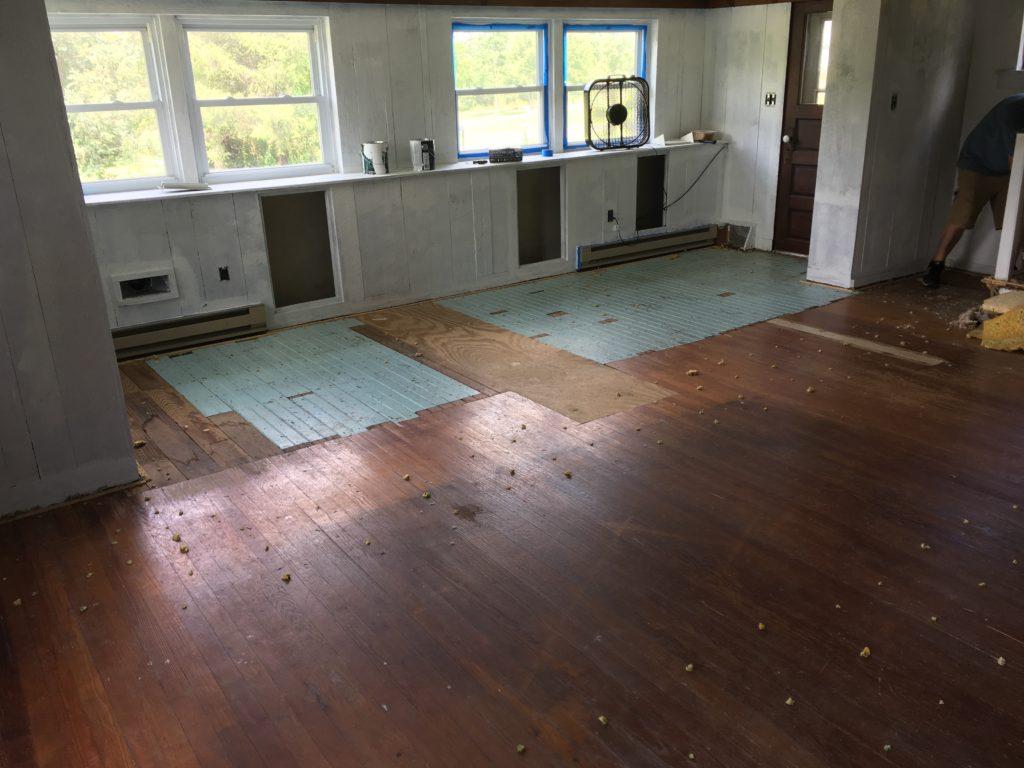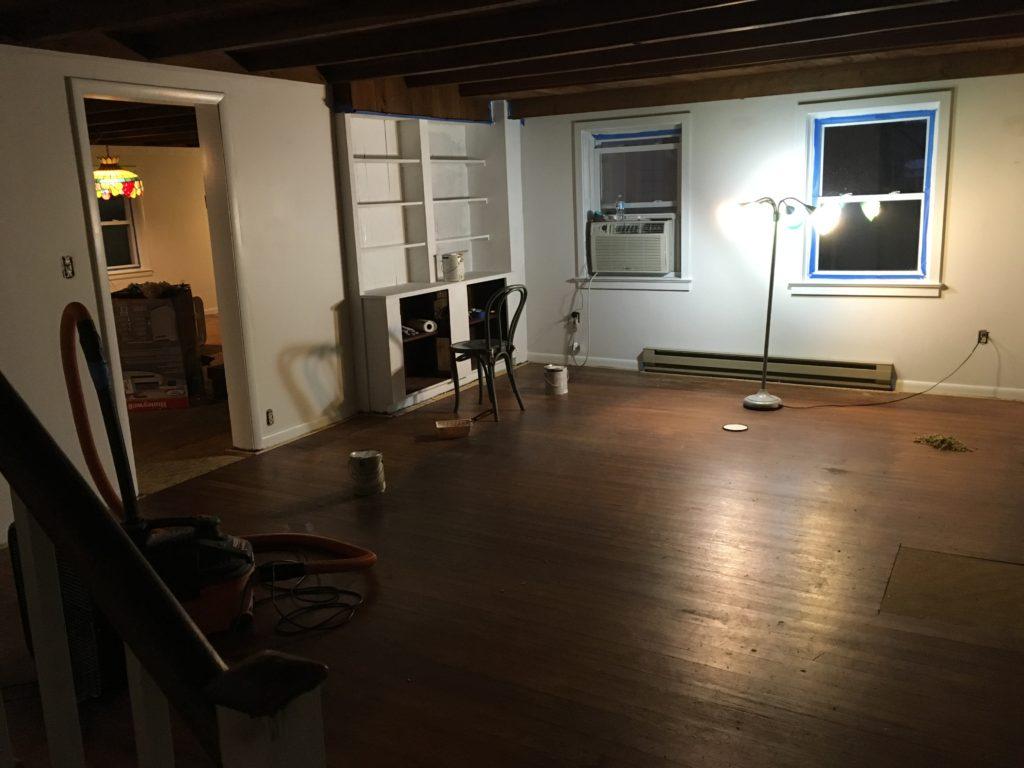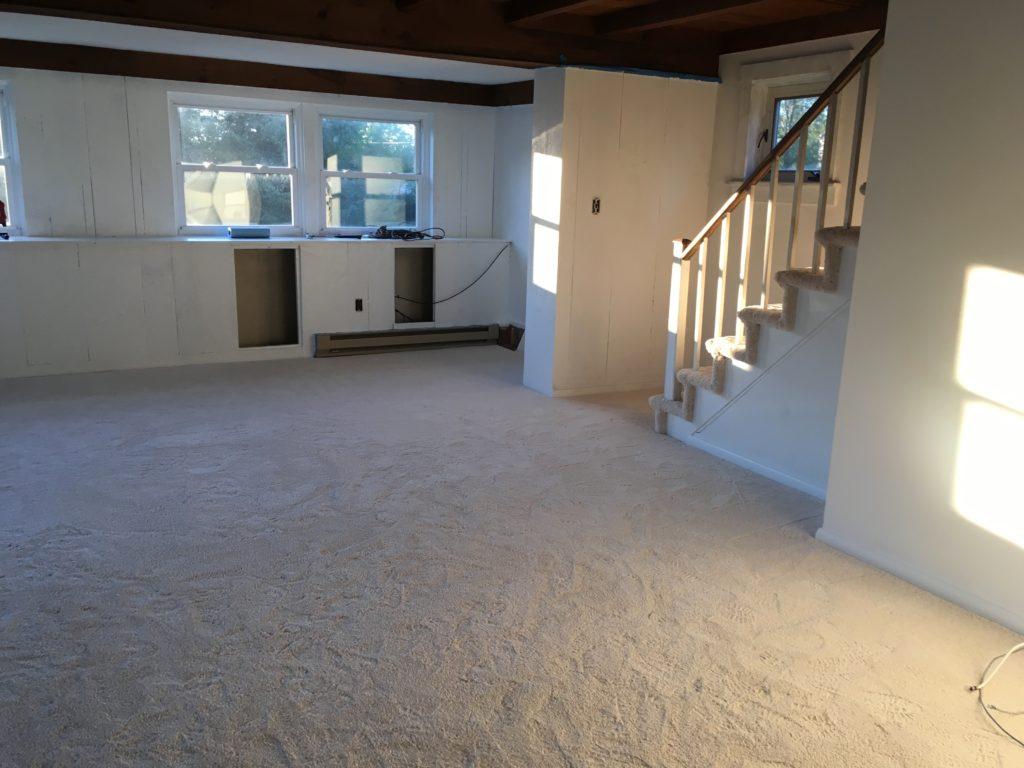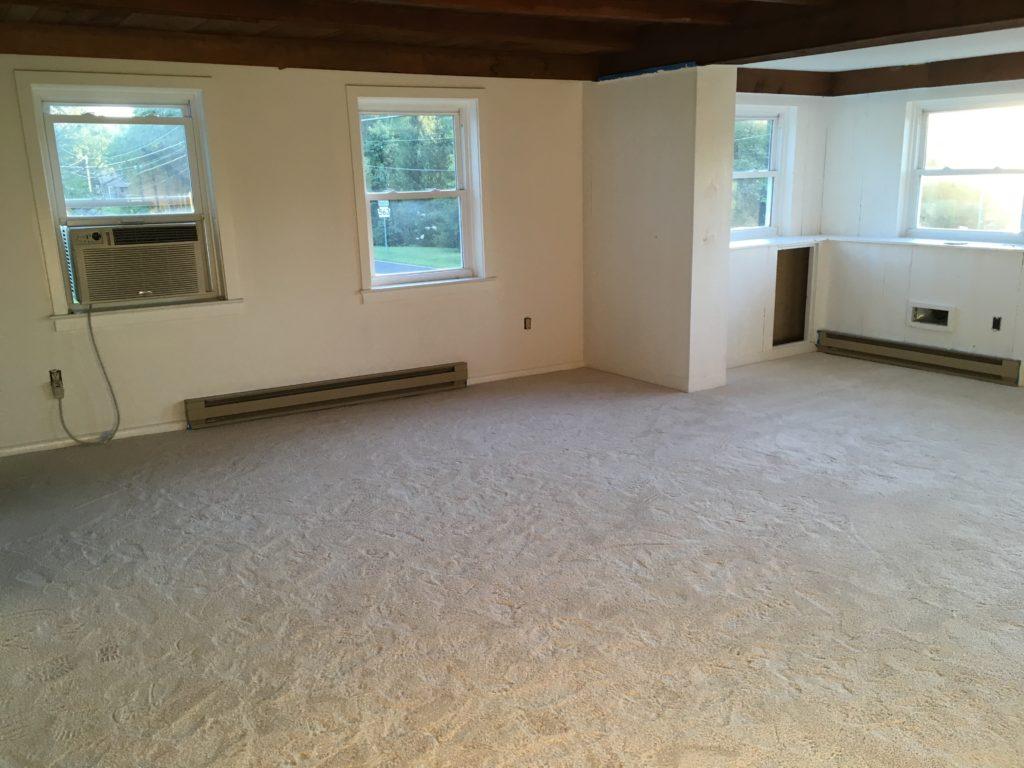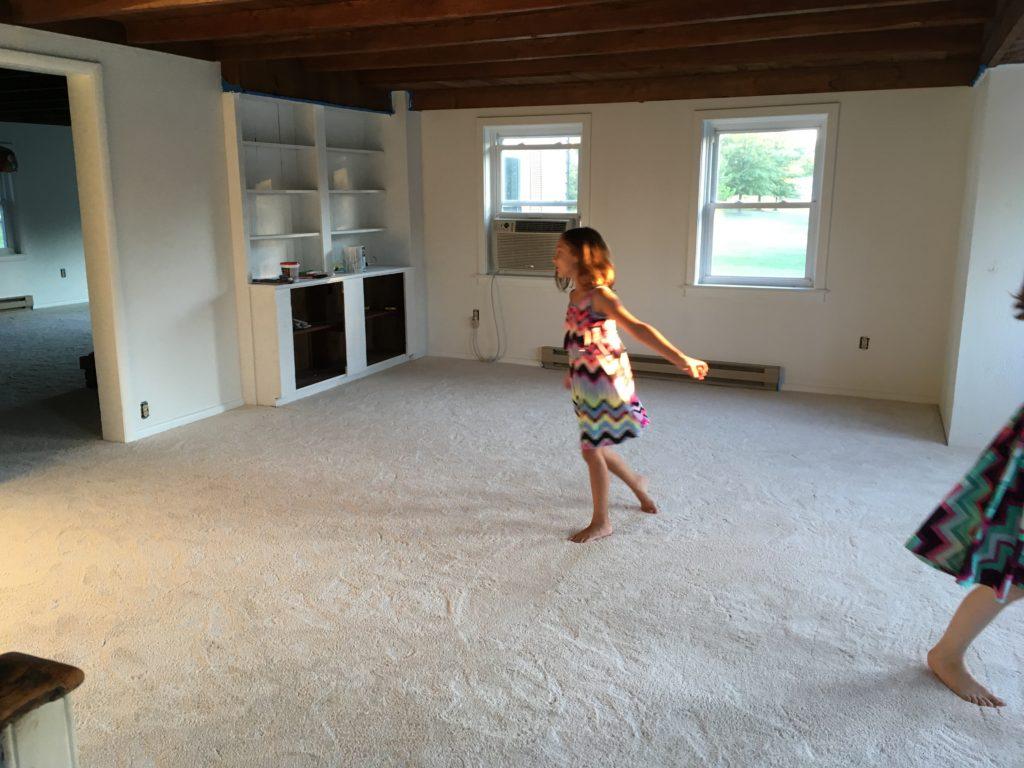 And now for the Afters!!: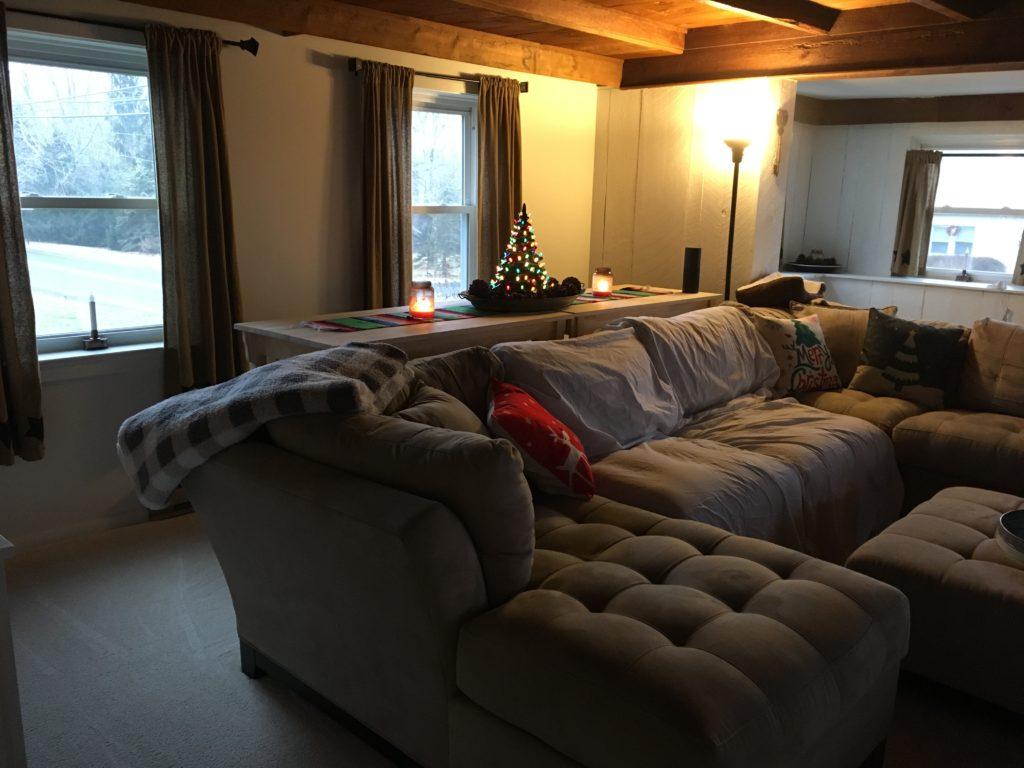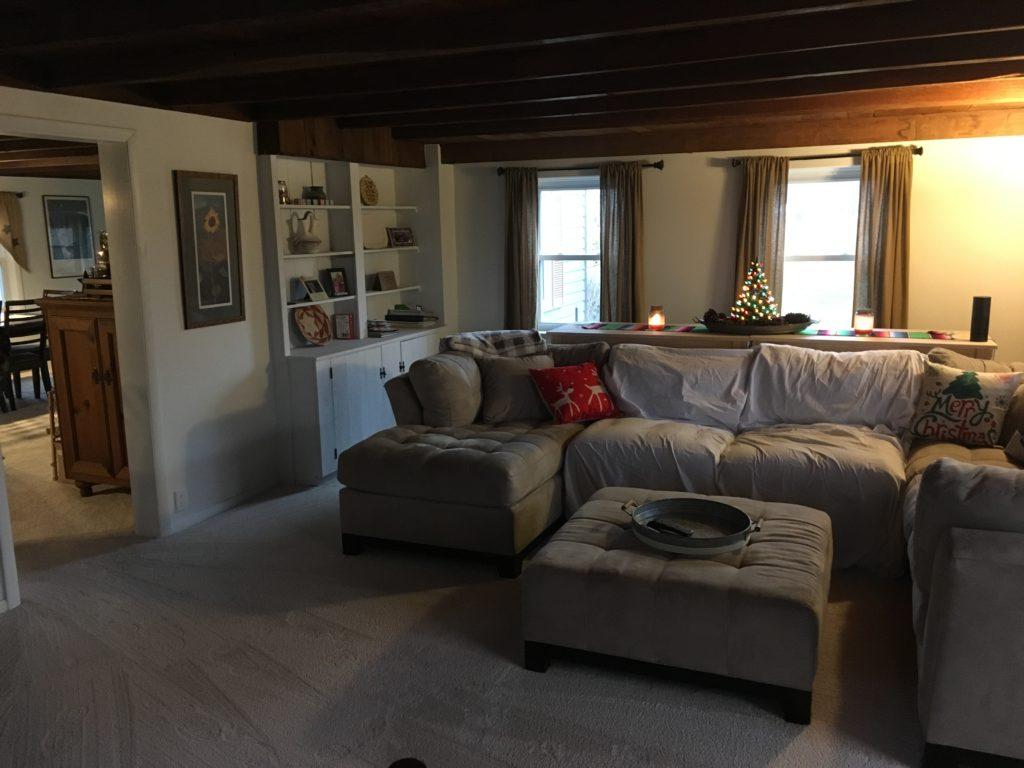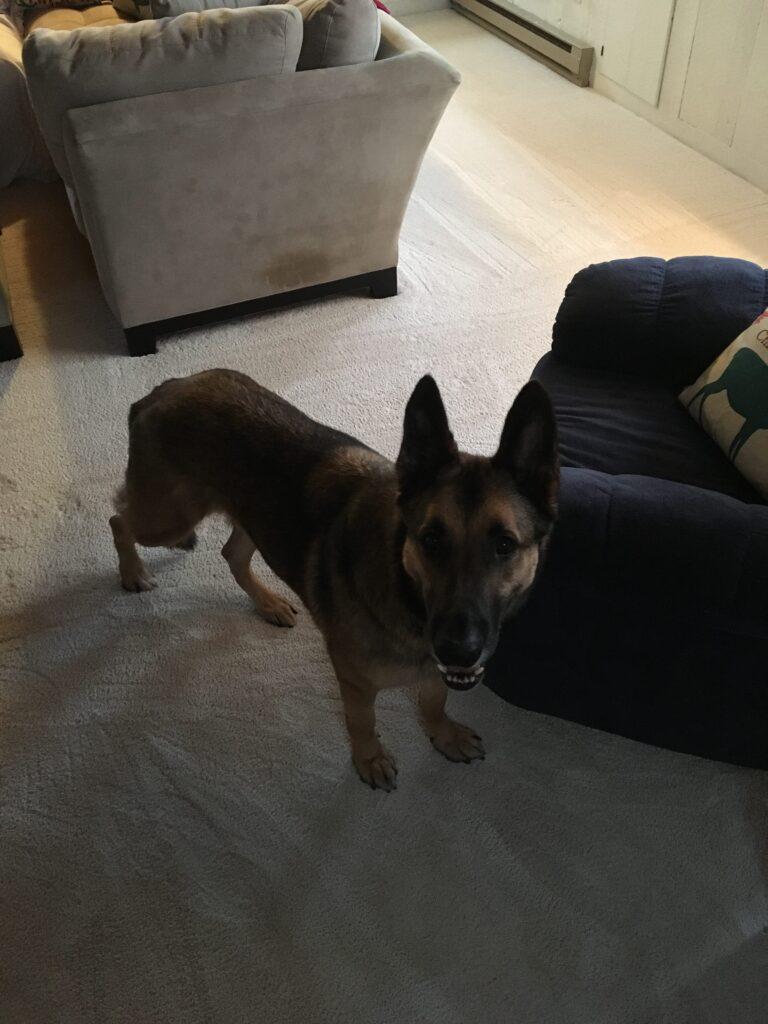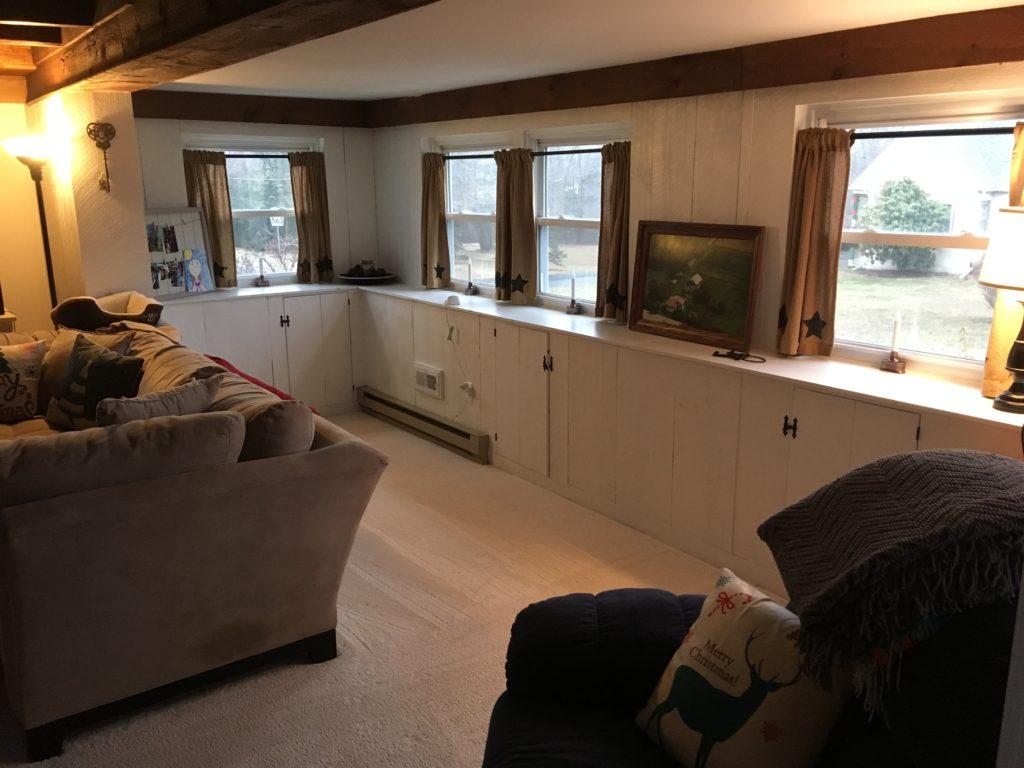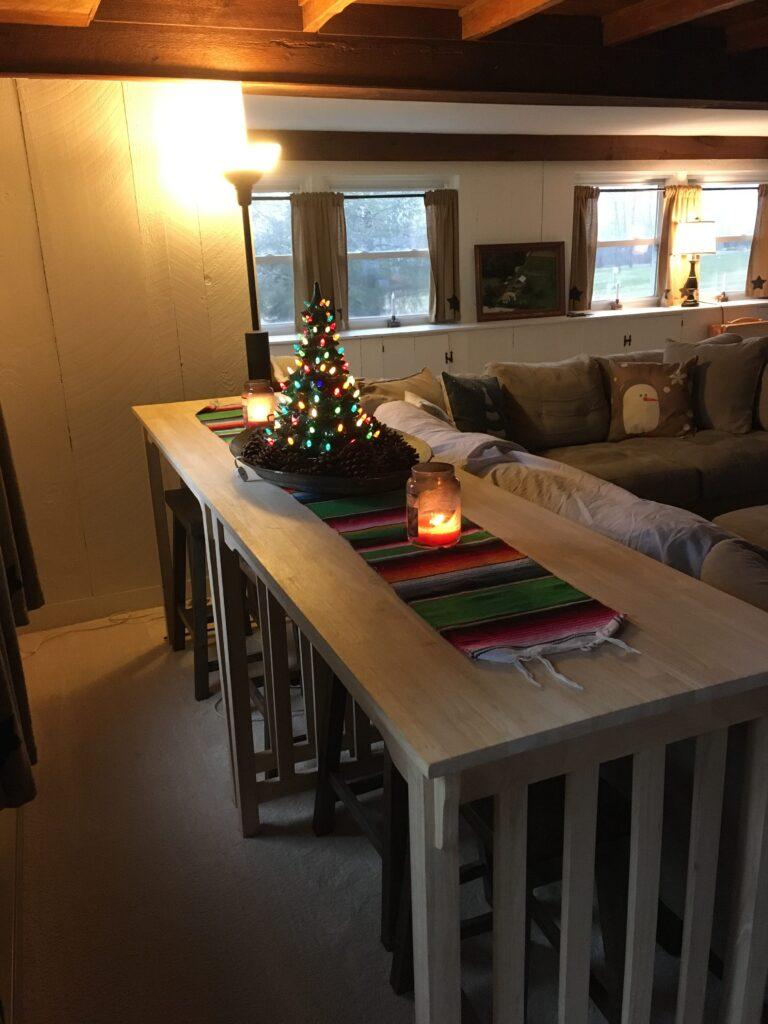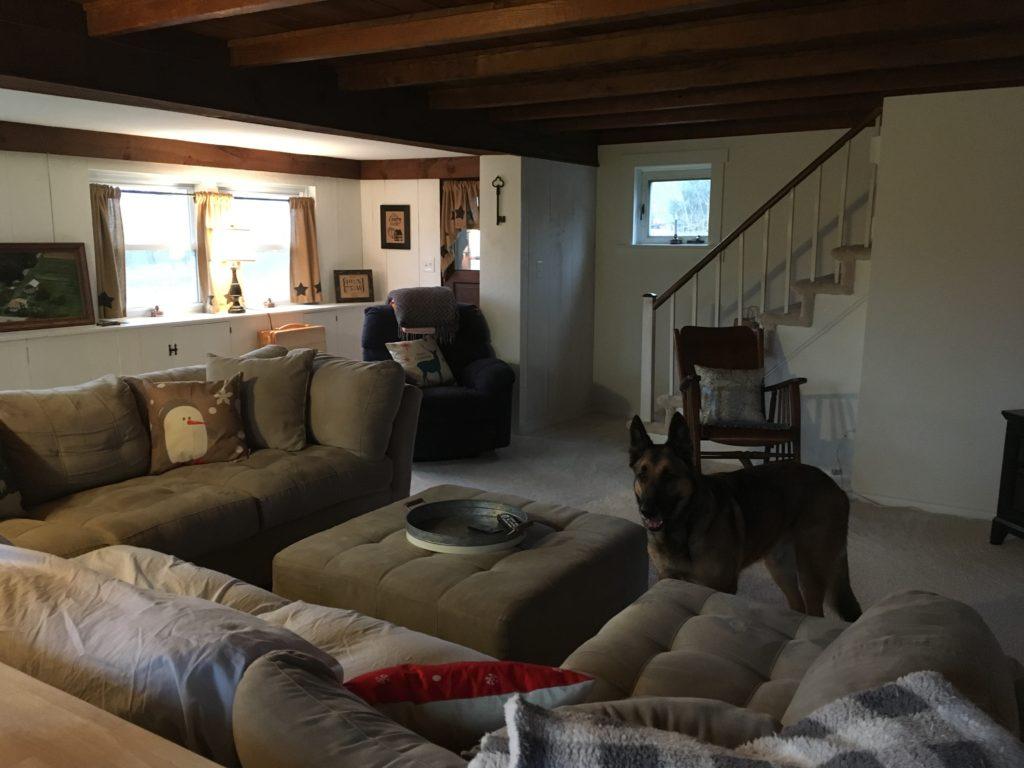 The main challenge with this room was our gigantic U-shaped sectional sofa.  We originally placed it back against the two windows you see in the pictures above, but it took up the entire length of that wall and I would lose precious storage space by not being able to get into those built-in cabinets.  This also wasn't ideal in the summer months, as one of those windows has to house this room's window AC unit, and who wants ice cold air blowing on the back of their neck (even in the dead of summer)?  The small wall dividing the main room from the enclosed porch area is what limited us on the right hand side, so we were kind of stuck.
Well we moved the couch out to butt up against the small divider wall, but that left us with a lot of wasted space between the back of the couch and the windows.  Sure I could put a sofa table back there, but it was so much space and seemed so useless.
Then!  I remembered a pin I'd saved on Pinterest.  Someone had posted a picture of a bar-height table behind their couch, with bar stools at the table.  It was a game room or man cave or something.  I remembered this idea, and went to Amazon looking for unfinished wood bar-height tables and bar stools.  I found these and these, and they really filled out that wasted space!  I love that I was able to incorporate this idea into my new home.  From the front of the couch it just looks like we have a really large sofa table behind it – I can fill it with lots of decor and candles.  But then when you go around the back, it's nice to have a place to sit and eat, either while watching movies or the big game.  It's ideal for when we have people over and not everyone can fit comfortably on the couch.  And it's perfect for pizza night when we want to eat in front of the TV but don't want to cover the ottoman in towels and worry about spills on my new carpet.  Now if we could just get the tables stained…. ?
Anyway!  I hope you've enjoyed this week's edition of Fixer-Upper Friday.  I'll do a new post every week to show you before and afters of my new/old house.  Last but not least will be the kitchen.  🙂  Only because I think it's the biggest and brightest and BEST change of all!