This is a story of two relatively-healthy recipes that got married to make one sluttacular recipe.
Ok, maybe they aren't totally healthy individually.  But together they are pretty much not healthy at all, and totally slutty.
You might have seen the creamy Dijon chicken recipe floating around Pinterest a while ago.  I was sucked in by that beautiful picture as well and made it and thought it was one of the most delicious things in the world.  I am a HUGE sucker for anything creamy, and the sauce just about did me in.  And I thought it was kind of healthy – in the way that heavy cream is healthy for you if you buy grass-fed organic heavy cream because we all need fat in our diets and full-fat dairy is the best dairy you could put into your body.  And the chicken was sauteed in the pan so at least it wasn't fried or anything like that.
So the second time we were going to have it for dinner, my husband was all like "Eh.  I was unimpressed with that recipe."  GASP.  He had that "I'd rather order pizza" tone to his voice, but we needed to make this chicken for dinner because I needed the leftovers for lunch the next two days.  So I engaged him and asked why he didn't like it.  He said he thought the sauce was ok but he felt like the chicken made it all pretty bland.  We had recently tried a chicken Milanese recipe which was the opposite – the sauce was boring, but the chicken was bangin'.  So he suggested, let's take the chicken from the Milanese recipe, and the sauce from the Dijon recipe, and combine them.  At first I was all like "Eh.  That doesn't sound right.  Breaded chicken with a creamy sauce?"  And he said, "Why not?"  So I let him do his thing and mess around with the recipes.
And the result…..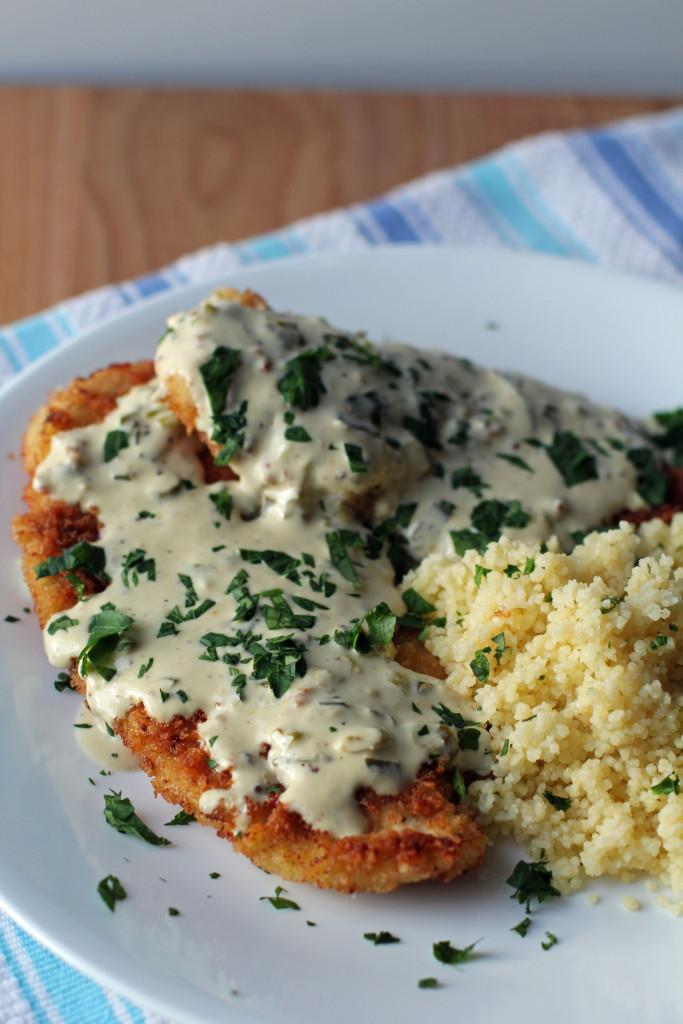 ….the result is so ridiculously delicious.
He managed to give the sauce more oomph, and the man can bread-and-pan-fry chicken like nobody's business.
This is why I keep him around.
There is nothing further to say, except trust me and go make this recipe.
I have had a lot of requests to post this recipe.  I hope y'all try it and like it!  Take pictures and post on Instagram, and tag me @sluttyfoodblog.  I'm dying to know how much you like it.
Crispy Chicken Dijon
Ingredients
For the breading:
1 cup panko breadcrumbs
1/2 cup Italian breadcrumbs
1/4 cup grated Parmesan cheese
2 eggs, beaten with a splash of milk
1 pound of chicken cutlets (about 4-6 cutlets)
Salt & pepper
For the sauce:
1 cup heavy cream
4 scallions, sliced
3 cloves garlic, crushed or grated
Handful of minced parsley
Juice of 1/2 lemon
2 tablespoons Dijon mustard (we like this brand)
1 tablespoon whole grain mustard (we like this brand)
Salt and pepper
Olive oil for frying
Directions
1. Bread your chicken: In a shallow bowl, combine the panko, breadcrumbs, and grated Parmesan cheese. In another bowl, beat the eggs with a splash of milk. Season chicken cutlets with salt and pepper. Dip each chicken cutlet in the egg mixture, then into the breadcrumb mixture. Press the breadcrumbs onto each side of the cutlet. Set the cutlet on a baking sheet lined with parchment paper while you bread your other cutlets.
2. Fry your chicken: Heat a large skillet over medium heat and pour in enough olive oil to cover the bottom of the pan. When the oil is shimmering, add the breaded chicken cutlets to the skillet and cook for about 2 minutes, until the first side is golden brown. When the first side is done, flip the cutlet to the other side and cook until brown and crisp, another 2 minutes or so. When the cutlets are finished cooking, remove them to paper towels to soak up the excess oil. Keep in a warm oven while you make the sauce.
3. Make the sauce: Pour off most of the excess oil from the skillet, leaving about a tablespoon behind. Saute the garlic and the scallions over medium-low heat, being careful not to burn the garlic, about 3-4 minutes. Add the heavy cream, mustards, and lemon juice. Whisk and simmer to reduce for about 5 minutes or until desired thickness. Season with salt and pepper to taste. Just before serving, stir in minced parsley.
4. Serve! To serve, place a warm cutlet on a plate and pour some sauce over top. Top with fresh minced parsley if desired. Serve with your favorite side dish – cous cous, broccoli, and roasted potatoes are all good choices.