Honestly I have no idea what these things are actually called.  I just made that title up.  Peanut Butter Chocolate Chip Cookie Cups… seems legit  But for every Christmas for as long as I can remember, my mom has made these.  And they are SO SIMPLE.
In fact I'm kicking myself now for spending $30 on DiBruno Bros cookies for my daughter's Christmas party at school when I could have just spent like $10 and made all these damn cookies.  Oh well.  Lesson learned.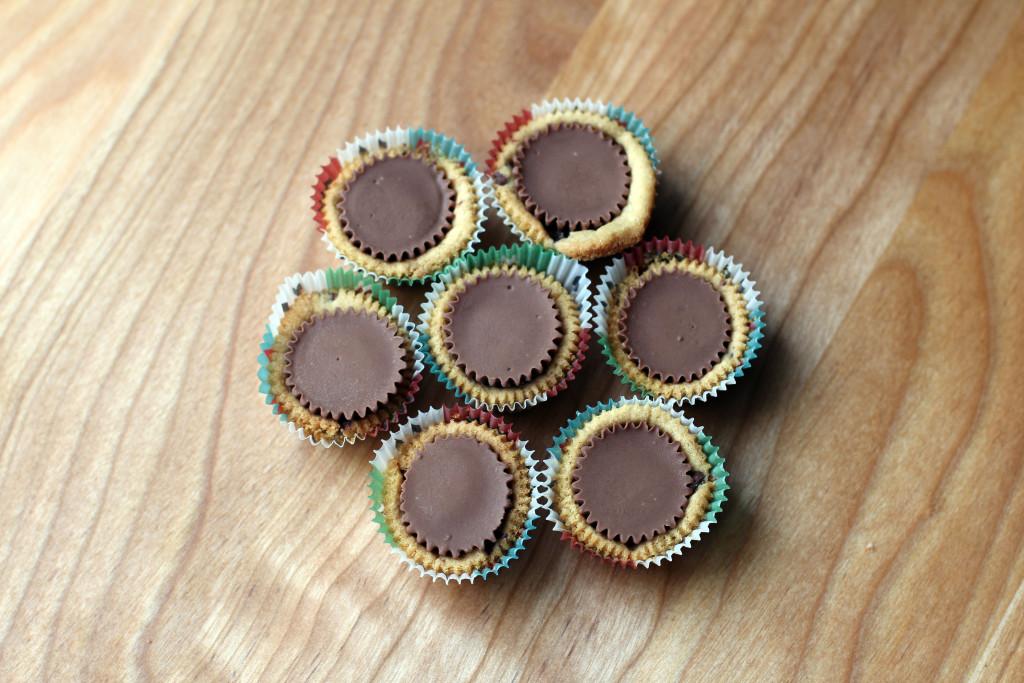 Really though, these cookies could not be any simpler.  My mom is a total overachiever when it comes to Christmas baking, and I'm pretty sure she used to make these with her homemade chocolate chip cookie dough.  I don't remember if she eventually switched over to the pre-made stuff, or if that was my idea (you know how I roll with my memory, mom!), but these are the simplest Christmas cookies you can throw together – and I will guarantee you one thing – THE PEOPLE WILL LOVE THEM.
These have been a regular part of my Christmas baking rotation for years.  And no matter what cookies I make, these ones always get the most comments – "What ARE these?!  How did you MAKE these?!  Can I have your RECIPE?!"  Well people now you have it.
Merry Christmas!
Peanut Butter Chocolate Chip Cookie Cups
Ingredients
1 package Nestle Toll House mini break-and-bake cookies (makes 40 cookie cups)
or
1 package Nestle Toll House break-and-bake cookies, each square cut in half (makes 48 cookie cups)
40 or 48 unwrapped Reese's mini peanut butter cups
Directions
1. Preheat oven according to cookie package directions.
2. Line a mini muffin tray with mini muffin wrappers. Set each portion of cookie dough into each muffin wrapper. Bake according to package directions.
3. When the cookies are done, remove them from the oven, and immediately start pressing one mini peanut butter cup into each chocolate chip cookie cup. Press down firmly so that the peanut butter sinks all theway into the cookie cup, so that the cookie cup gives it a nice warm cookie hug. I'm corny.
4. Let cool in the muffin pan for several hours; I usually set mine under a ceiling fan overnight. As the cookie cups cool, the tops of the peanut butter cups actually get kind of melty, so even if you wanted to remove them from the pan, you couldn't stack them anywhere. I know it's tough, but be patient, and let them cool overnight. You won't be disappointed.  ?