I am a Philly girl and in Philly we love our cheesesteaks.  Every Philadelphian you talk to will have a different favorite cheesesteak place.  Personally, I like Jimmy G's, Sonny's, and D'Alessandro's.  I've never really thought to make them at home though because honestly, I am surrounded by so many good cheesesteak shops that can do it much better than me (although – new project… hmm…).  But when my chipotle chicken grilled cheese turned out so freaking amazing, I thought – WHY NOT TURN IT INTO A CHEESESTEAK?!  And guess what, I'm awesome and I have awesome ideas so, it came out awesome.
Basically you take all the same components from the grilled cheese sandwich, but you swap out the Monterey Jack cheese for American cheese.  And also, you need a hoagie roll instead of sourdough bread (and if you're in Philly, you know that you need an Amoroso's hoagie roll).  And if you scoop some of the bread out of the hoagie roll, not only will you save on carb consumption, but you will also create a nice little hoagie roll hug for the delicious, slutty filling.
But seriously though.  Look at this.  Don't you just want to eat it all up?!  Do it.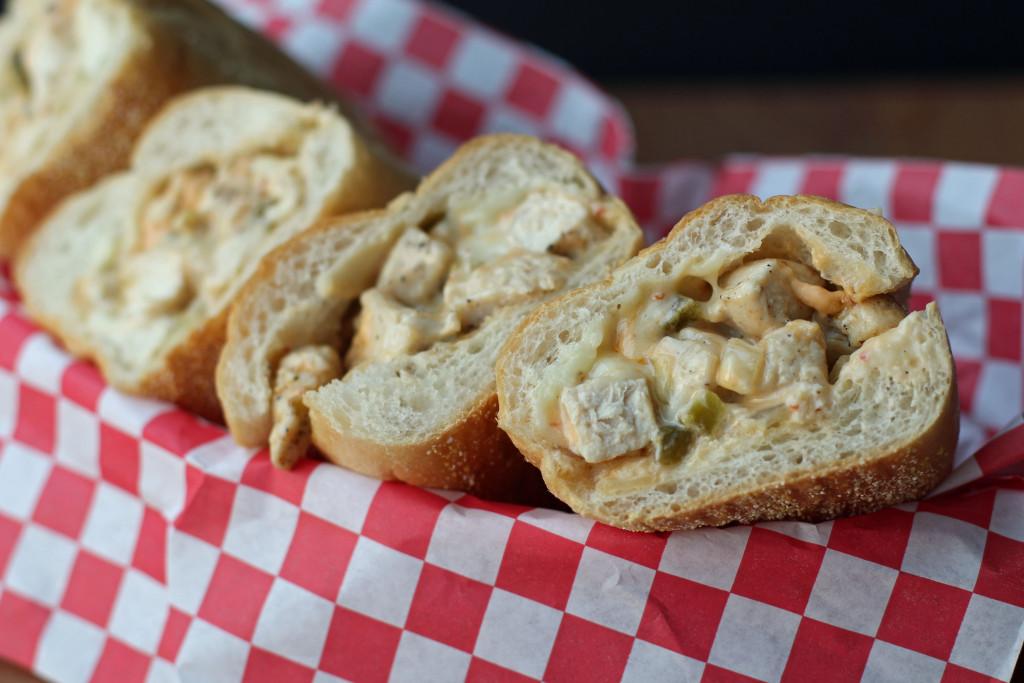 Chipotle Chicken Cheesesteaks
Serves: 2
Ingredients
2 chicken breasts, cubed into bite-sized pieces
Salt and pepper
Cooking spray
1/4 cup pickled jalapeno slices, diced
1/4 cup diced yellow onion
2-4 tablespoons chipotle mayo (depending on your heat preference)
4 slices white American cheese
2 hoagie rolls
Directions
1. Cook the chicken: Season the cubed chicken with salt and pepper. Heat a large nonstick skillet over medium heat, then spray with cooking spray. Add the chicken to the skillet and cook until cooked through and all sides of all cubes are white or browned. Remove the chicken cubes from the skillet with a slotted spoon. Pour off any excess fat.
2. Saute vegetables: Spray the skillet again with cooking spray if needed. Add diced jalapeno slices and diced yellow onion and saute for several minutes, until the onion just begins to turn translucent. Add the chicken cubes back to the skillet and stir to combine.
3. Add sluttiness: Divide the chicken-pepper-onion mixture into two oval-shaped piles (piles that would fit on your hoagie rolls). Drizzle chipotle mayo as desired over each pile of chicken. Top each pile of chicken with two slices of American cheese. Turn the heat to low, cover, and let the cheese melt.
4. Assemble cheesesteak: While your cheese is melting, slice your hoagie rolls in half length-wise and scoop some of the inside out of the fatter side of the roll. When the cheese is melted, remove the chicken piles from the skillet with a long spatula that can gather it all up at once (if you have to do it in a couple scoops, that's ok, it's all going to the same place), and slide it into the roll. Cut in half if desired and ennnnnnjoy!