Earlier this week I gave you a romantic steak dinner menu to serve to your special someone on Valentine's Day.  But maybe you don't like steak.  Or red wine.  Or broccoli (I don't blame you, I eat it very begrudgingly).  This would be my next pick to serve to someone on Valentine's Day.  Chicken piccata is lemony and fresh, tangy and delicious.  Rosemary roasted potatoes are the perfect, rustic accompaniment.  Of course you could still serve broccoli with this if you wish, but it's totally fine with me if you skip it.  No arguments there.
Chicken piccata has always been one of my favorite chicken dishes.  I first discovered it at a restaurant I was working at as a busgirl when I was a teenager.  We used to get 50% off meals after our shift was over, and chicken piccata was something that I had seen on the menu and always wanted to try.  I will always remember the night I pulled $6 from my tips and asked the chef to make this for me.  He gave me a look like REALLY KID because of course he was trying to clean up and go home too.  But I batted my pretty teenager eyelashes and said please and he made it for me.  Because I'm awesome.
I took my first bite and I remember thinking that it tasted exactly how I thought it would taste.  Light, refreshing, lemony.  The chicken so tender and juicy.  The sauce so smooth and buttery.  I housed that plate of chicken and for the longest time, that restaurant was the only place around that I could get chicken piccata.  Until I grew up and learned how to make it myself.  And now I like my version better than that restaurant's version.  I have spent many years perfecting this sauce recipe.  The secret to this sauce is the butter-flour mixture.  Instead of making a roux, you mix it together like this: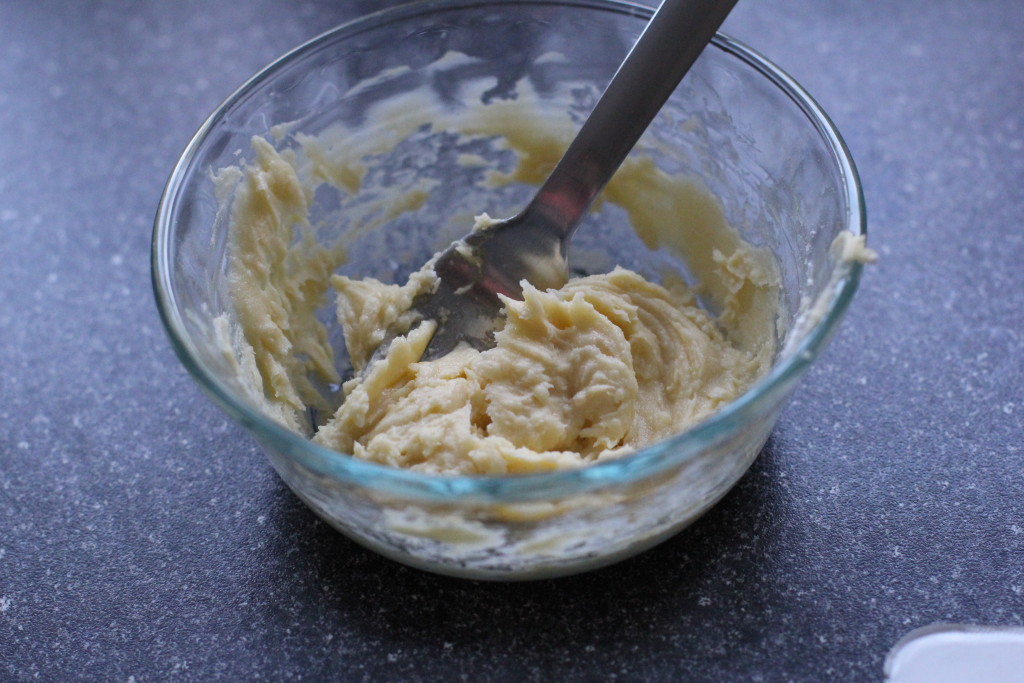 And this makes the sauce so, so slutty.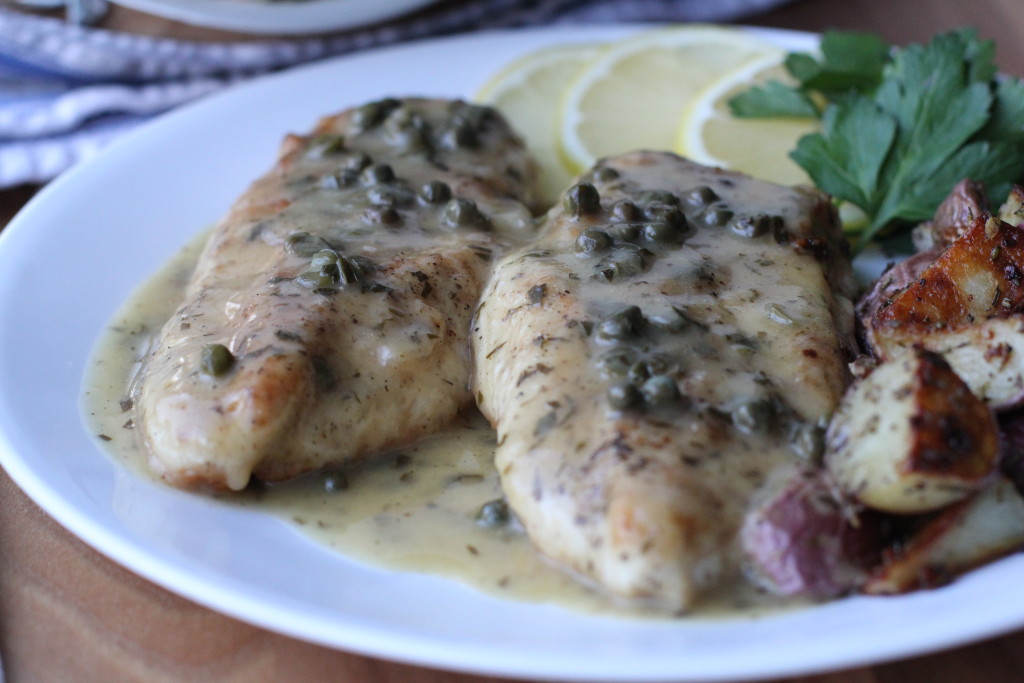 Rosemary roasted potatoes is actually one of our stand-by side dishes.  We probably eat these once a week.  They are so easy and come out perfect every single time.  This started out as one of those recipes we found somewhere online that sounded great but whenever we made them, they didn't turn out right.  The potatoes were always burnt, or they stuck to the baking sheet, or they were too done on the outside and not done on the inside.  My husband is the one who has actually perfected this recipe, thanks to his many nights of starting dinner before I get home.  There really is nothing like biting into a perfectly roasted potato – crispy on the outside, soft on the inside, perfectly seasoned, tasty and herby.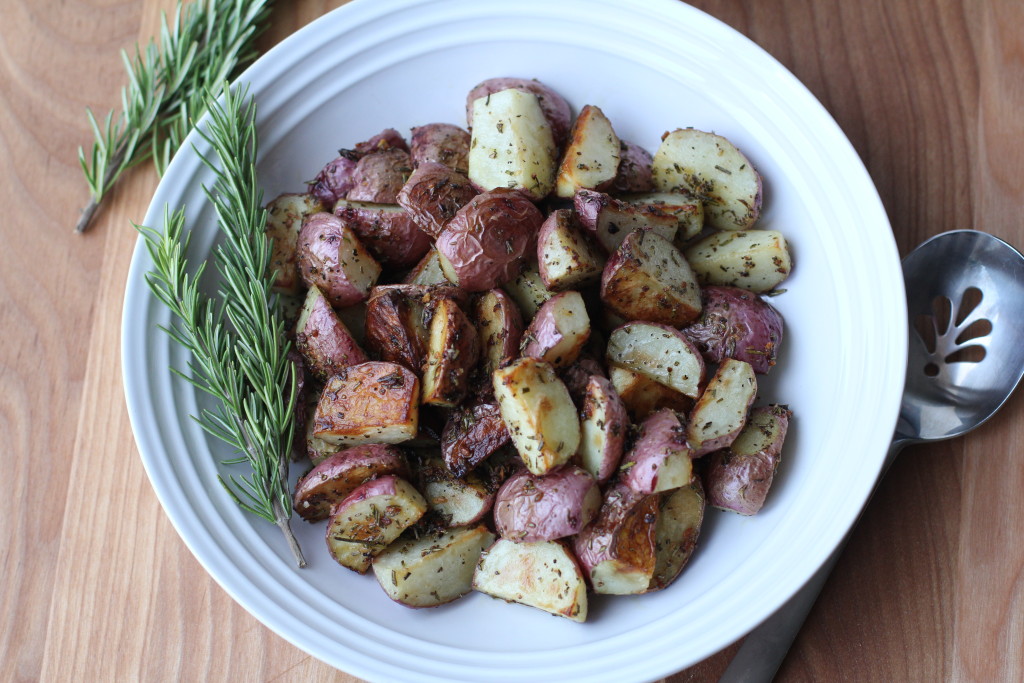 They are a perfect side dish for chicken piccata.  They go pretty well with the sauce so, you know, if you have extra sauce all over your plate as I most often do, you can dip your potatoes in the sauce for a lemony, slutty treat.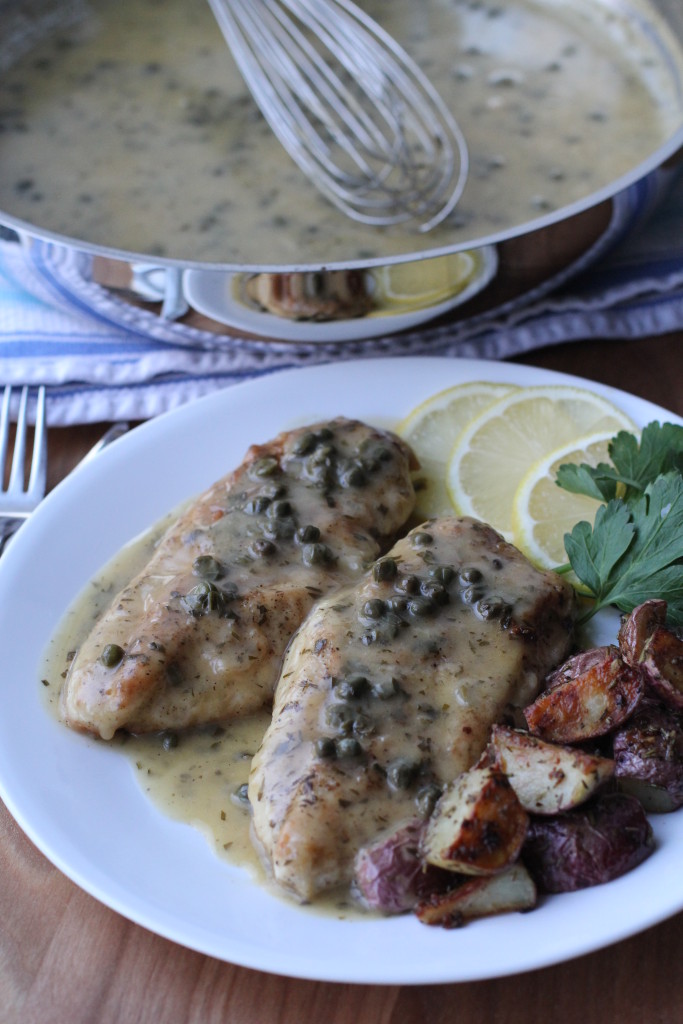 Valentine's Day: Chicken Piccata Menu
Serves: 2
Time: Give yourself about an hour. Be sure to set butter out to soften for several hours beforehand; overnight if possible.
Chicken Piccata Ingredients
2-4 chicken breasts, pounded to an equal thinness (I say 2-4 because it can depend on how big your chicken breasts are; whether you make 2 or 4, you will have enough sauce)
2 tablespoons + 4 tablespoons butter, softened to room temperature, divided
3 tablespoons flour
2 tablespoons extra virgin olive oil + 2 tablespoons butter
2/3 cup dry white wine
1/2 cup freshly squeezed lemon juice (about 2-3 lemons if they are juicy)
1/2 cup chicken stock
1/4 cup drained capers
1/4 cup chopped parsley
Additional 1/2-1 cup flour
Salt and pepper
Chicken Piccata Directions
1. Prep your ingredients: FIRST – Season your chicken breasts with salt and pepper. Pour additional 1/2-1 cup flour into a shallow dish to later dip your chicken in. Set aside. SECOND – Take 2 tablespoons of the room temperature butter and put into a small bowl with 3 tablespoons flour. Combine with a fork until it looks like the picture above. It will have a pasty consistency. Set aside. THIRD – Pour wine, lemon juice, and stock into a measuring cup. Set aside.
2. Cook your chicken: Heat 2 tablespoons extra virgin olive oil + 2 tablespoons butter in a large skillet over medium to medium-high heat. Dip each chicken breast in the flour to coat, and shake off the excess. Place each chicken breast into the skillet. Cook until golden brown and cooked through, about 3 minutes per side. Transfer chicken to a platter and tent with foil to keep warm.
3. Make the sauce: Pour off excess fat from the skillet. Pour the wine, lemon juice, and stock into the skillet and bring to a boil over medium-high heat. Whisk in the butter-flour paste. Continue whisking and boiling until the sauce thickens, 3-4 minutes. Stir in the capers, parsley, and remaining 4 tablespoons room-temperature butter. Season sauce to taste with salt and pepper. Lower sauce to a simmer.
4. Finish the chicken: Return chicken to the pan, and cook in the sauce for an additional 5-10 minutes to warm it back up. Serve with extra sauce poured on top.
Rosemary Roasted Potatoes Ingredients
2lb bag baby red potatoes
2 cloves garlic, minced
1 teaspoon salt
1/4 cup extra virgin olive oil
1/2 teaspoon pepper
2 tablespoons minced rosemary
Rosemary Roasted Potatoes Directions
1. Preheat oven to 400 degrees F. Line a baking sheet with foil and spray liberally with nonstick cooking spray.
2. Make the taters: Scrub the potatoes and cut into quarters. Place in a bowl and add the olive oil, salt, pepper, garlic, and rosemary. Stir well or toss to coat. Pour onto the prepared baking sheet and arrange into a single layer. Bake for 30-45 minutes, checking every 15 minutes for doneness and to stir and flip. Ours are usually done around the 30 minute mark.