Happy November!!
I don't especially love November, at least not like I love October.  But, my husband's birthday, my daughter's birthday, and Thanksgiving usually all fall within the same week.  It makes for a hectic week, but I love it.  Thanksgiving is probably my favorite holiday of the year bc food duh.  This year we are playing it pretty low key and staying home.  My sister and her fiance will come over but other than that, a nice, quiet Thanksgiving.
Stay tuned for my posts on preparing a perfect Thanksgiving dinner!  I will be sure to document it with better photos this year than what you will see over the next few weeks.  Cross my heart.
But mostly I dislike November because it's the start of winter here in Philadelphia.  I hate winter.  So much.  I probably hate winter more than I hate anything else I hate.  More than bad drivers.  More than seafood.  More than smokers.  More than being told to stop cursing.  More than kangaroos.  More than my job a year ago.  I have so much hate for winter… and snow, and ice, and slush, and freezing rain, and driving in all that shit, and bitter fucking wind, and icicles, and late trains, and cold toes, and earmuffs, and static electricity, and not getting my street plowed, and having to warm my car up every morning… I pretty much just need to move south.  So I usually start to mourn the passing of nice weather around this time.  Today is no exception.
A few months ago I took my mom to New York City for a weekend for her birthday.  It was right smack in the middle of July, and hot as Hades, and we spent an entire day walking all over Manhattan.  We must have eaten at like 4-5 places but that was the point.  We were eating and drinking our way through New York for the day, and it was positively glorious.  (It was so much fun, that my mom and I brought my youngest sister along for another day-eating-and-drinking extravaganza a few weeks ago… and I'm already planning our next trip.)  So we end up at this one place called The Smith.  And I instantly fell in love with it because they bring two bottles of water for the table to share – one flat, and one sparkling, and sparkling water is my new obsession.  Then I saw they had a Manhattan on their cocktail menu, so I had to get one, and of course it was delicious.  But the whole reason we came was because my mom had been there before and ordered some appetizer that she wouldn't stop raving about – burrata with bread and tomatoes.  I am never one to turn down cheese and bread, so I thought ok, let's do this.
This appetizer was so tasty!  Listen.  Who would've thought that toasted bread, slow-roasted tomatoes, baby arugula, balsamic vinegar, and cheese would taste so amazing?  Ok I know.  It does sound amazing.  But really – the cheese makes it.  Burrata cheese is like mozzarella's slutty cousin.  Burrata is creamier, sweeter, and softer than mozzarella.  Not that hard stuff that you grate for lasagna – that soft, fresh, delicious stuff you put on a sandwich.  I mean you cut into a cold ball of burrata, and the stuff just oozes with slut-factor.  I love it.  I can't get enough.  And I sat in The Smith and thought I can TOTALLY make this at home.
It's quickly become a favorite appetizer when having people over, and I will probably serve this at Thanksgiving later this month.  It's practically impossible to mess up, so anyone can make it, foodie or not!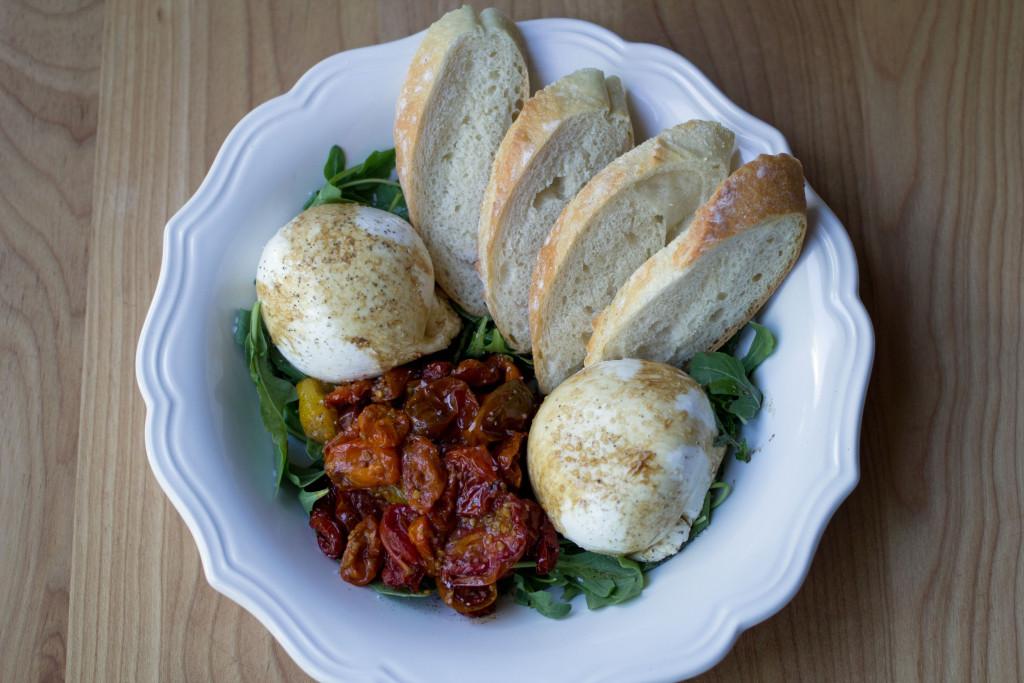 Burrata with Roasted Tomatoes
Servings: Depends on how much you want to share/make. For 1 ball of burrata, you could easily feed 4-6 people if it's an appetizer being served with other appetizers.
Duration: 2 1/2 hours total
Ingredients
1 loaf baguette, sliced on a sharp diagonal
1 pint grape tomatoes or baby heirloom tomatoes
1 tablespoon extra virgin olive oil
2 cloves garlic, sliced in half
Salt and pepper
1 ball burrata cheese
Balsamic vinegar
Baby arugula
Directions
1. Preheat oven to 350 F. Lay the baguette slices on a baking sheet in a single layer, carrying over onto a second baking sheet if necessary. Bake in the oven for 10-12 minutes, until slightly crispy, or a few minutes longer if you prefer crunchier, more golden baguette slices. When finished, remove from the oven, and drop the oven temperature to 250 F.
2. While the bread is baking, slice the grape tomatoes in half lengthwise and toss onto a baking sheet. Add the garlic cloves, salt, and pepper, and drizzle with olive oil. Toss to combine. Put them in the oven and bake for 2 hours, turning once halfway through. When the tomatoes are done, remove them from the oven and let them cool on the baking sheet while you prepare the dish.
3. On a platter or in a large, shallow bowl, lay down a layer of baby arugula. Drizzle a little bit of olive oil and balsamic vinegar on top. Remove the burrata from its packaging, patting dry with a paper towel if it's been packed in water. Place the burrata on top of the dressed arugula. Pile the roasted tomatoes up next to the burrata. Season the burrata with salt and pepper, and drizzle with a little bit of olive oil and balsamic vinegar. Place some toasted baguette slices around the cheese and tomatoes, and serve with a blunt cheese knife and small fork for the tomatoes and arugula for serving.