Hey guys!
It's been like, a really long time.  Like almost a week.  Sorry.  I know you were all waiting on bated breath for my next blog entry but life happened there for a minute.  Snowmageddon last Thursday, birthday celebrations over the weekend, lazy days off parked on the couch with my cat catching up on the Kardashians…
My life is so exciting.
Yes you heard right, it was my birthday over the weekend, the 9th to be exact.  I always love my birthday not only because it's my birthday of course but also because it means spring is like RIGHT around the corner.  So when Snowmageddon happened last Thursday and Mother Nature barfed about 8 inches of snow on my city, I didn't stress much, because I knew once my birthday rolled around, it would start to melt.  (I hate snow.  I hate the cold.  I hate winter.  But these are all things I can't change so I digress.)  And here we are 6 days post-Snowmageddon, and all the snow is gone.  It was 62 today.  It was glorious.  I love this weather.
In one week I went from having my heat on at night to having my ceiling fan on at night.
So yeah.  Anyway.  Now I'm officially in my mid-30s and I certainly don't feel like it.  I feel way younger and way cooler and way hipper.  It's funny how when you're a teenager and you think of what you will be like when you're in your 30s (my vision: skirt business suits, pantyhose, pumps, and briefcases – PAHAHAHHAHAHAHHAHAHAH) and then you get to your 30s and you are nothing like what you thought you'd be.  You still feel like a teenager inside, but your knees crackle every time you stand up so your body definitely feels its age.
This is why I go to the gym though.  So those crackles go away.
Enough boring birthday stuffs.  On to the good stuff — food.  This is why we are all here after all.
I have a secret to tell you:
I pretty much love everything buffalo chicken – except buffalo chicken wings.
Yep.  Can we still be friends?
Here's the thing.  I don't eat meat off the bone.  Blech.  It reminds me that it came from a living thing and freaks me out.  I eat boneless everything.
It's a lot easier to have a love affair with beef if you aren't picturing a cute cow mooing at you from a rolling green pasture behind a white rail fence.  Nomesayin'?
So back to buffalo chicken stuffs.  A long time ago my husband had a hankering for fried chicken and biscuits and gravy, and found himself some recipes and worked on them very hard and over the years has perfected all three of those recipes.  (Don't worry – they are on my list to share with you.)  The recipe for fried chicken is so versatile that we use it for chicken tenders and chicken nuggets as well.  One day he had this brilliant idea to make a fried chicken sandwich, and coat the chicken with buffalo sauce.  And I was sold.  Buffalo chicken sandwiches FTW.
Can I just tell you how slutty this sandwich is?  Oh my gosh, paired with the blue cheese dressing I just shared with you?!  Forget it.  We don't hardly ever eat this sandwich because breaking out the deep fryer means our house will smell like one, but it is so worth it when we do have it.  For an extra spicy kick, use plain old Red Hot sauce instead of the Buffalo Wing sauce.  And make sure to douse the sandwich in blue cheese dressing.  So cool and creamy and lusciously working with that crispy spicy tender juicy chicken.  IIIIIIIIIIIIIIIIIIIIIIIIII want it now.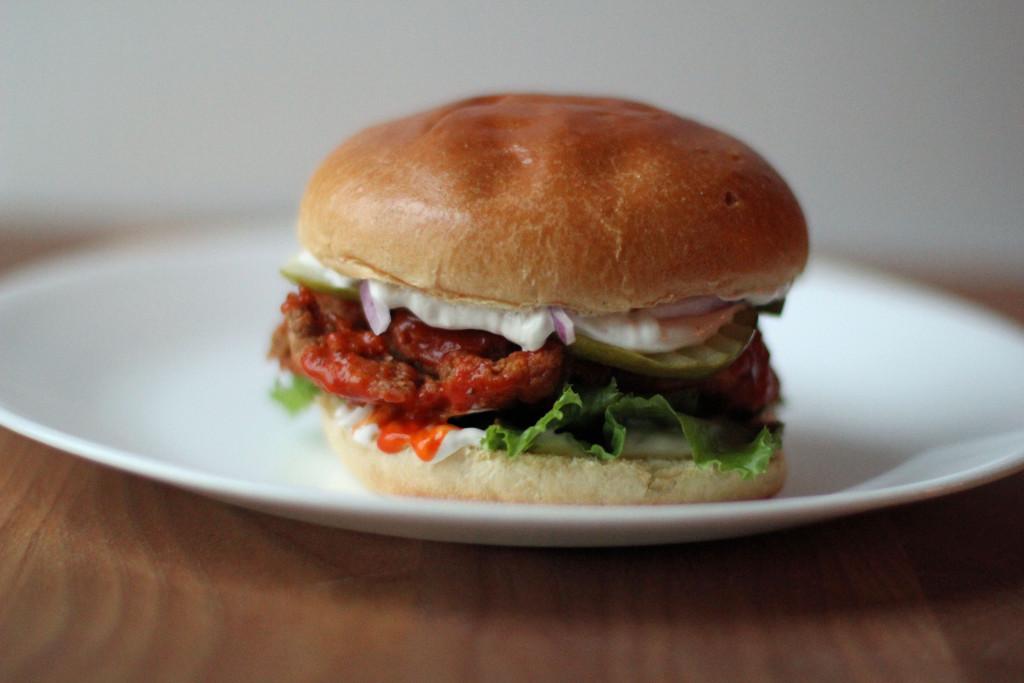 Buffalo Chicken Sandwiches
Serves: 2
Ingredients
1/2 cup buttermilk
1 egg, slightly beaten
1 cup flour
2 teaspoons garlic salt
1 teaspoon smoked paprika
1 teaspoon black pepper
1/4 teaspoon cayenne
1/4 teaspoon poultry seasoning
2 chicken breasts, pounded to even thickness
1/2 cup Frank's Buffalo Sauce
Blue cheese dressing, for topping
Lettuce, sliced tomato, sliced onion, pickles, for topping
2 hamburger rolls
Directions
1. Bread and fry your chicken: Preheat the oil in your fryer to 375 (DISCLAIMER: This is the temperature we use. Different fryers may recommend different temperatures for frying chicken. Check your manual, or check online if necessary). Combine the buttermilk and egg in a medium bowl, and set aside. Combine the flour, garlic salt, smoked paprika, black pepper, cayenne, and poultry seasoning in a gallon size Ziploc bag. Seal the bag shut then squish the flour around to mix all the dry ingredients evenly. Working with one chicken breast at a time, add one breast to the flour mixture, seal the bag, and shake to coat. Remove the chicken breast, then dip in the buttermilk mixture. Return the chicken breast to the flour mixture, seal the bag, and shake to coat for a second time. Remove the chicken breast right to the fry basket. Keep the basket elevated while you do the second chicken breast. When ready, lower the fry basket into the preheated oil and deep fry until it reaches a deep golden brown. (Actual fry time will vary widely depending on many factors, including the temperature of your oil and the size of your fryer. Instead of giving you a time frame, I would encourage you to keep an eye on your chicken and look for that yummy golden brown color.) Remove the chicken when done to a paper towel-lined plate to cool for a minute and dry.
2. Assemble your sandwiches: Warm buffalo sauce in a small saucepan over low heat. With a pastry brush, "paint" the buffalo sauce on each side of the fried chicken breast. Assemble sandwiches to your liking, using hamburger rolls, lettuce, tomato slices, onion slices, pickles, mayonnaise, and blue cheese dressing as desired. Enjoy!!