Ok so here's the thing.
The lighting in my pictures these days SUCKS.  And I'm apologizing but not really because I'm kind of actually impressed with myself that I'm managing to keep up with blogging with all the crazy that's going on in my life right now.  And while I certainly know that there is weight and attention and who-cares-what-else tied to a great food picture, I also know that there are people who just want to eat good food and don't care much about the lighting or focus or depth of field of the shot.  They just want a mother-effin' buffalo chicken cheesesteak.
So I think it's mostly to those in the latter camp that I'm speaking to these days.
That thing still looks delicious right?  Look at how ooey gooey.  You still want to eat it right?  Even though I didn't make it before the sun went down to capture it in natural lighting?  Good.
So yeah!  Guys.  Buffalo chicken cheesesteaks.  So easy, and so delish.
I pretty much love buffalo chicken anything and everything.  Except wings.  I feel like we've talked about this before though.  I don't eat food connected to a bone.  No sir.  No can do.  Lately my favorite buffalo-flavored thing has been buffalo chicken pizza without the chicken.  (I'm trying to eat less animal protein, remember?)  Seriously though, try it.  Lay out some pizza dough, slather some buffalo sauce on it, top it with mozzarella cheese and bake it till it's bubbly, then sprinkle with scallions and bake for another couplea minutes and BOOM.  Pizza heaven.
Anyways.  Today we're talking about a buffalo chicken something that actually has chicken in it.  Though I suppose you could sub seitan or tofu.  But I don't know how to cook those (yet), so sub at your own expertise please.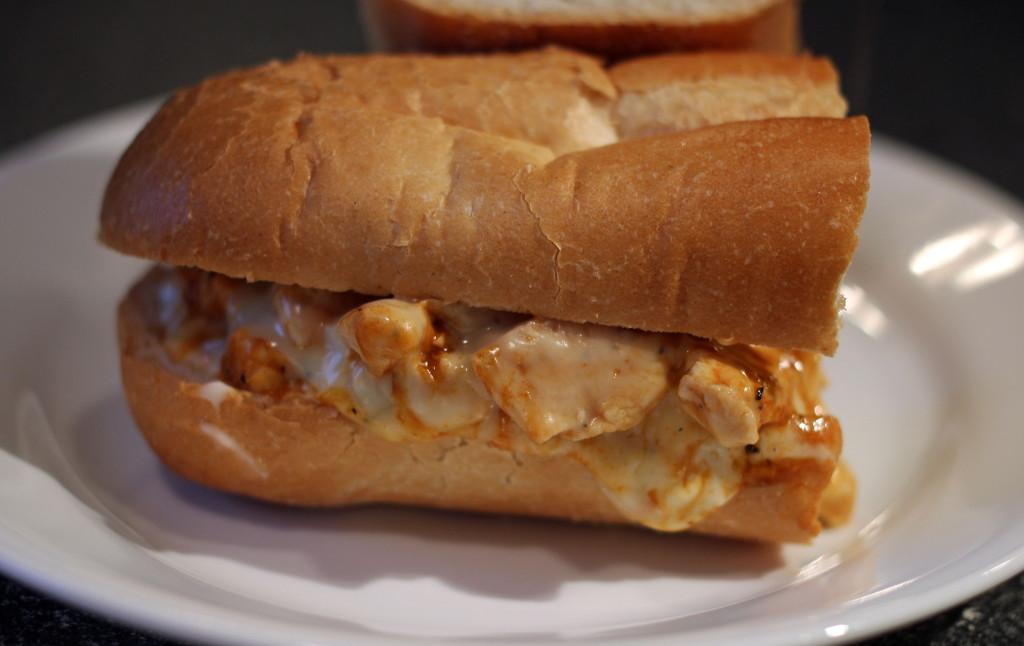 Cheesesteaks are so easy to make at home, I'm discovering… I might just start making them at home more often.  I think when I move out of the city I probably won't have a choice anymore!!
Buffalo Chicken Cheesesteaks
Serves: 2
Ingredients
2 large chicken breasts, trimmed of fat and cubed into bite-size pieces
2 Italian hoagie rolls, such as Amoroso's
1/2 cup buffalo wing sauce
4 slices white American cheese (I like Cooper Sharp or New Yorker American)
Salt & pepper to taste
Cooking spray
Blue cheese dressing, for topping (optional)
Directions
1. Heat a large cast iron or nonstick skillet over medium heat. Spray lightly with cooking spray. Once the skillet is heated, add the chicken, and season liberally with salt and pepper. Push the chicken around the skillet so that it cooks on all sides. When the chicken is no longer pink, turn the skillet to low, and add the buffalo wing sauce. Turn the heat to low, and simmer, stirring the chicken periodically, until the sauce reduces a little bit and starts to thicken and coat the chicken chunks.
2. Meanwhile, slice the rolls open and hollow out the thicker side. Spread blue cheese dressing on one (or both!) side of the roll.
3. When the chicken is nicely coated in the buffalo sauce, separate the chunks into two even hoagie-shaped piles. Top with cheese, cover, and allow to melt.
4. When the cheese has melted, using a long spatula, carefully scoop the cheesy pile of buffalo chicken out of the skillet and into the prepared roll. Repeat with the other pile of chicken. Fold the roll over the melty spicy chicken and devour promptly!