I love paella.
Correction:  I love this paella.
Until recently, paella was intimidating to me because of three things:
It typically has seafood in it (ew!).
I was under the impression it took forever to make.
It typically has white rice in it.
So mostly I avoided it until I stumbled upon this gem in Food Network magazine.  Not only is it seafood-free, and not only was it in Food Network magazine which made me think it would be super easy to make, but it is a recipe from my favoritest chef ever – Jose Garces.  Jose Garces has several restaurants in Philadelphia, and I have been to almost all of them.  In my eyes, the man can do no wrong.  I just haaad to make this recipe when I saw it because basically I would eat anything Jose Garces put in front of me – EVEN SEAFOOD – yes folks, I lied a little bit, actually the only seafood I eat anywhere in the whole entire world is the fish taco at Distrito.  Even then I can only eat one because my mind starts getting all like YOUREEATINGFISH YOUREEATINGFISH YOURREEATINGFISH and I can't get through a second one.
Ok anyway.  Back to paella.
So the first time I made this, it took me all afternoon.  Hours.  Many hours.  On my feet.  Mostly because I did not sit and think about how I could combine steps instead of waiting for one step to be done before moving on to the next.  I don't think the recipe was originally written in that way, but also I probably was just so excited that I couldn't concentrate. (I get like that.  So excited about food that I can't concentrate.)  But all those hours of hard work paid off because my house smelled amazing and we sat down to eat and we were blown away.  I felt like I was at a Garces restaurant.  It was dreamy.
Then the second time I made it, I was able to get it done a little quicker but not by much.
I loved this recipe and wanted to make it more often but the time it took to get done, and the fact that it had white rice in it, kept me from making it more.  Hm, how to solve this dilemma?
I'm not a fan of white rice.  I try to stay as far away from white stuff as possible.  In the case of paella, I didn't think I could simply sub brown rice in and let it cook all together as the recipe says to, because I seem to have serious issues cooking brown rice according to package directions.  Maybe it's just me.  I have some kind of defect in the area of my brain that should know how to cook brown rice.  It always takes way longer and way more stock before it's done.  Sigh.
Anyway, I'm getting off track.  (Read:  I'm getting excited and I can't concentrate.)  I came up with the idea of subbing brown rice recently because I had half of the chicken mixture leftover and was trying to figure out how I could use it.  Solution: mix it in with cooked brown rice instead of finishing the paella recipe as it directs.  And the more I thought about it, the more I thought I would also able to reduce the amount of time it all takes by combining several steps and eliminating many steps as well.
I think what you'll find here is a paella recipe that results in a quicker turnaround time, less pots and pans to be used, and no white rice (or seafood!  *fistpump*).  🙂  I timed myself when I made this and I actually had the whole thing done in almost exactly one hour.  Try it and let me know what you think!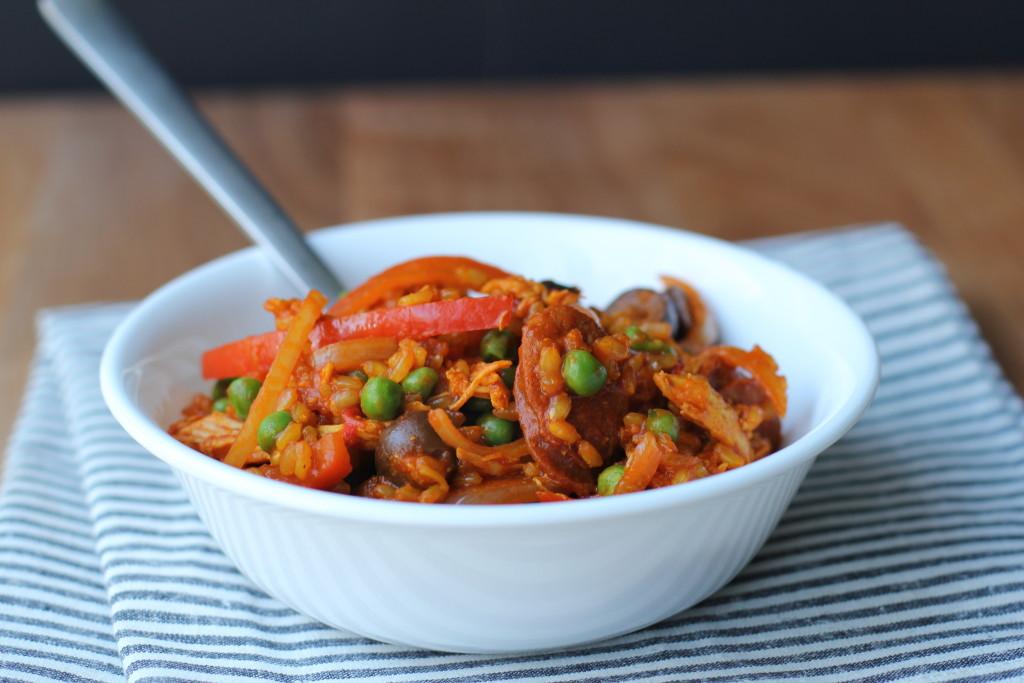 Brown Rice Paella
Serves: 4 hearty servings
Time: 1 hour if your chicken is already poached and shredded; otherwise tack on another hour (see Notes)
Saffron Stock Ingredients
2 1/4 cups chicken stock
1 heaping tablespoon tomato paste
1 pinch salt
1 tablespoon saffron threads
Chorizo and Rice Ingredients
2 links Spanish chorizo, sliced
1 tablespoon extra virgin olive oil
1 cup short grain brown rice (I use Lundberg)
Smoked Paprika Chicken Mixture Ingredients
1 Spanish onion, sliced thin
2 red bell peppers, sliced thin
2 cloves garlic, sliced thin
Cooking spray
1/4 cup tomato paste
1/2 cup ketchup
2 tablespoons smoked Spanish paprika
2 cups chicken stock
3/4 lb chicken breasts, poached and shredded
Paella Stir-In Ingredients
1/4 cup fresh or frozen peas
1 small can sliced black olives, drained
2 tablespoons thinly sliced piquillo peppers (or pimentos, if you can't find piquillos)
Directions
Follow these directions exactly and you will have dinner on the table in about an hour!
1. Make Saffron Stock: Bring chicken stock and tomato paste to a simmer over medium heat. Add saffron threads and simmer for 15 minutes.
2. Get the Chorizo and Rice going: While your stock is simmering, heat olive oil in a large skillet over medium heat. Add sliced chorizo and cook until browned and fat has rendered, about 5-10 minutes. Remove chorizo to a paper-towel lined plate. Pour off most of the fat in the skillet, leaving only about 2-3 teaspoons in the pan. Add the rice, and stir to coat in the fat. Saute for about 2-3 minutes. By this time your Saffron Stock should be ready. Get a fine-mesh strainer and hold it over the skillet of rice while you pour the Saffron Stock through the strainer. (This is to catch the saffron threads.) Stir to combine. Cover the rice, lower the heat to low and simmer for about 45 minutes or until done. (The directions to cook brown rice may vary by brand.)
3. Make the Smoked Paprika Chicken Mixture: While the rice is cooking, get everything ready to make the Smoked Paprika Chicken mixture. Slice your peppers, onions, and garlic. Heat a large skillet over medium heat and spray with cooking spray. Add vegetables and cook for 10-12 minutes, until onions are translucent. Add the tomato paste, ketchup, smoked Spanish paprika, and chicken stock to a blender. Blend until combined. Pour the mixture into the skillet with the peppers and onions, and cook until the sauce thickens, about 8-10 minutes. Add the shredded chicken and stir to coat with the sauce. Lower heat to low to keep warm.
4. Prep your Stir-In Ingredients: Measure out the peas, drain the olives, and slice the piquillos/pimentos, and set aside.
5. Bring it all together: When your rice is finished cooking, add half of the Smoked Paprika Chicken Mixture to the rice. You can (and should!) freeze the other half. Add the chorizo back to the pan. Stir together to combine. Add the Stir-In Ingredients and stir together to combine. Cover to let everything warm together for a few minutes. Then serve and enjoy!!
Notes
I like to poach chicken in big batches in my crockpot, and shred it and portion it into 1/2 lb or 1 lb Ziploc bags and freeze so that it's ready when I need it. Then all I have to do is thaw it. To poach chicken in the crockpot: Season generously with salt and pepper. Cover with water or chicken stock. Cook on low for 1 1/2 hours. And that's it. If you don't have any poached shredded chicken ready, toss this into the crockpot about an hour before you start cooking dinner, and it should be done right about when you need shredded chicken for the recipe. That's how it worked out for me when I made this for the blog.