You guys, this is the greatest dip ever known to man.  I'd put my life on it.
When I was a kid, my dad was into politics, and my mom was forever hosting campaign-or-something-related events at our house.  All us kids had to hide upstairs while they had all these important people over till all hours of the night.  This is one of the things my mom would make for every event.
I don't even know where this recipe came from – whose it is, is it my mom's? – or how I even came to try it and like it.  (I have a very clear memory of this dip sitting on a side table in our family room and me sneaking a few bites before people arrived and having to hide upstairs for the rest of the evening.)  It's totally something I would have stuck my nose up at as a kid.  But at some point, bread dip entered my life, and ever since, it has been a part of so many events, parties, and gatherings, that now all my friends and family know what it is and get excited if I say I'm making it for something.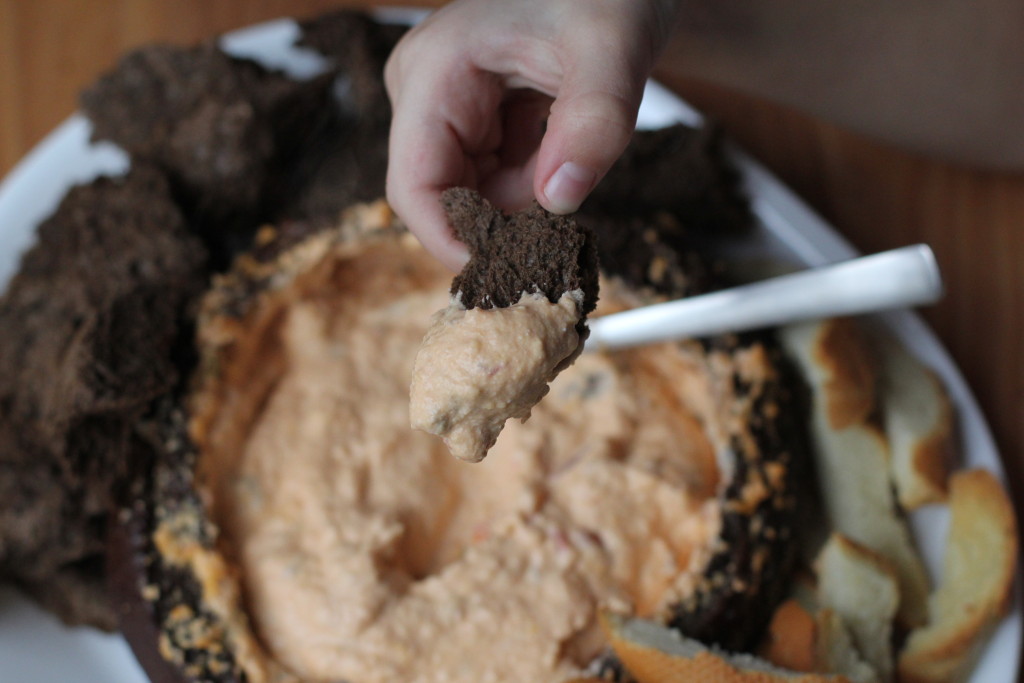 My bachelorette party was really just a big sleepover with my sisters and my best friend.  And bread dip.
Like every New Year's Eve in my adult life – we eat bread dip.
My sister who is the pickiest eater ever even likes it, and makes it for HER gatherings.
When I was pregnant I went through a period where I craved it and ate it for dinner four nights in one week.
Trust me when I say that this will be the fastest disappearing dip at any party or event you host!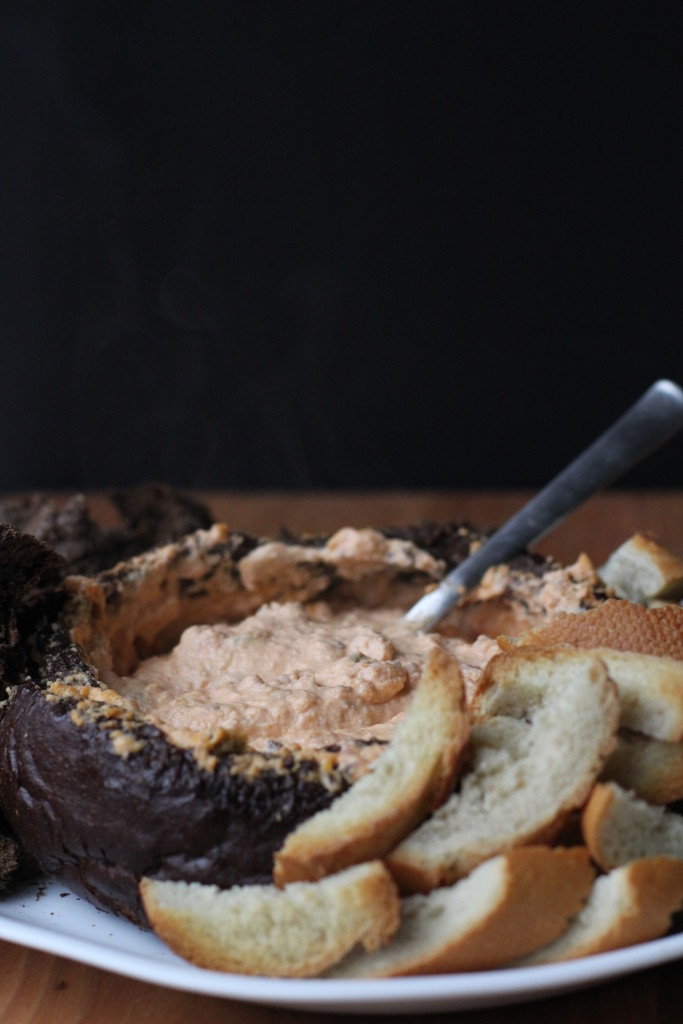 (Check the steam coming off of that dip!  That's because when it comes out of then oven you will legit risk burning your mouth to get that first bite.)
The kicker is that it's so simple – there is absolutely nothing complicated about it.  The only thing that sucks about it is that it takes like forever to bake, so plan ahead.  But I promise you it's worth it.  Every second is worth it.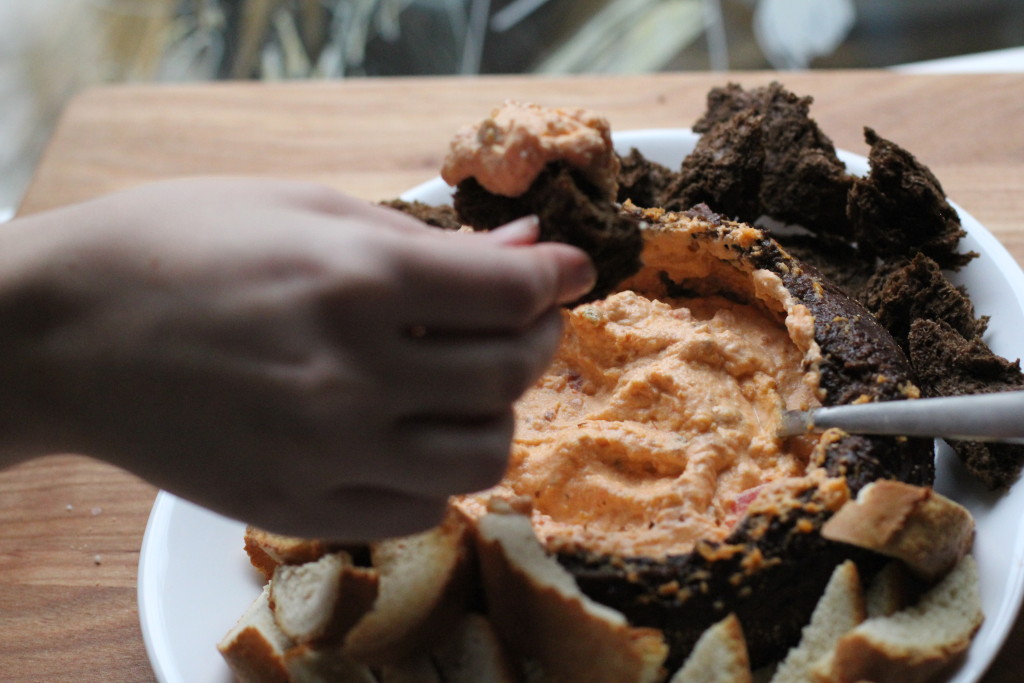 Bread Dip
Serves: However many people you feel like sharing it with. There is no shame in this entire recipe being a single serving size. Well, I won't judge you anyway.
Time: 2 hours tops; make sure you set your cream cheese out to come to room temperature a few hours beforehand
Ingredients
1 round, unsliced loaf of sourdough, rye, or pumpernickel bread
1 small baguette
1 brick full-fat cream cheese, softened to room temperature
1/2 cup full-fat sour cream
1/2 cup thick and chunky hot salsa
2 cups shredded cheddar cheese
Directions
1. Preheat oven to 350 degrees F.
2. Do the bread: Cut the top off the round loaf of bread and set aside, and then dig out the insides to make a bowl. Rip the insides of the bread into bite-sized pieces. Slice the baguette into rounds, and slice the rounds into halves. Lay all of the bread onto a cookie sheet in a single layer. Bake in the oven for 10 minutes. Remove and dump into a bowl for later consumption.
3. Do the dip: Change your oven temp to 450 degrees F. Mix cream cheese, sour cream, and salsa with a hand mixer until well-combined. Mix in shredded cheddar cheese until well-combined. Pour into the bread bowl, and put the bread lid back on the bowl. Wrap the bread bowl well in aluminum foil. I usually wrap once from under the bread bowl, and once from the top of the bread bowl. Bake for 1 hour and 30 minutes. (I know, sorry! That's a long time. You'll be ok. Go run around the block until it's done and then you won't feel so bad about eating the whole thing.)
4. Eat the dip: When it's done, remove it from the oven and unwrap the foil. Take the lid off and stir it together. It will be piping hot but you will probably want to take a bite anyway. Serve on a platter with the toasted bread and take a selfie of your face the first time you take a bite. Tag me on Instagram @sluttyfoodblog and tell me it's the best dip ever.
NOTES
1. Please do yourself a favor and use full-fat dairy when making this dip. This is not the time to cut fat and calories. I typically use Philadelphia cream cheese (IS THERE ANY OTHER KIND?!) and Daisy sour cream because it's extra thick and delicious.
2. Hot salsa is a necessity. I love spice and can't handle hot salsa myself, but hot salsa is what makes this dip not so bland. It's also important to use a thick and chunky brand. I typically use Chi Chi's.